How to Surprise Your Girlfriend on Valentine's Day: 20 Ways
'How to surprise your girlfriend on Valentine's day?' As the most romantic day of the year is approaching, this thought must have flashed through several mind. Even if you happen to your girlfriend quite well, there can be multiple guesses on what can make her really happy.
Can an expensive gift bring a wide smile on her face or just a romantic poem to make her feel unique. There are so many ways available to plan a surprise for your loved one but how to choose from them is a different task altogether.
In that scenario, let us help you select the perfect Valentines day gift for your girl.
How to make Valentine's day special for her
While thinking about 'how to surprise your girlfriend on Valentine's day', it's always good to know her preferences. What gains her maximum attention and what repels her the most. What exactly to get your girlfriend shouldn't be a herculean task if you keep a few things in mind.
You can make any day as special as Valentine's as long as you are thoughtful and considerate. Make her happiness your objective and follow your instincts. If your efforts are genuine, she is most likely to appreciate them and feel happy.
10 ways to surprise your girlfriend at home on Valentine's day
Planning Valentine's day surprises for a girlfriend when she's at home sounds easy and fun. But you still need to put some effort into it. You may think she'll be available and will have ample time to invest in your gift but that doesn't make the occasion trivial.
Let's see what all we can do to make her feel special on Valentine's day while being at home.
1. Make her the center of attention
Unless you have other beliefs, the best surprise for your girlfriend on Valentine's day is to make her the center of your attention. This is something any individual will likely enjoy. Placing the limelight on your girlfriend on this occasion can be the key to her heart.
For Valentine's day surprises for her, you can choose simple yet impactful gestures, such as sending her flowers and a token of your love while she is still in bed.
Of course, you can go all out and prepare something more lavish, but not everybody can manage to be the Richard Gere to his Julia Roberts. So, that's purely optional.
Related Reading

: 

What Happens When There Is Lack of Attention in a Relationship

?
2. Take the day off
Plan something you know she would truly enjoy doing. Another way to give a Valentine surprise to your girlfriend would be to strike up an itinerary with some of her favorite places and activities all the better.
Remember to double-check your wallet, though. Unless you want to end up at your second or third destination unprepared, it would be best to choose wisely first.
How to surprise your girlfriend subtly? It can also be something simple, like going to the first place you two met, followed by a trip to the cinema to watch a nice romantic movie. Just make sure they're all the things that she likes.
3. Get creative
For some women, little gestures made by their partner can be more valuable than a diamond ring. They also have a penchant for handmade gifts holding a meaningful message. You can prepare one at home without much hassle but with a lot of emotions in it.
As Valentine's surprise for her, you can write a moving love letter or 14 notes mentioning why she is so special to you. Hide small nothings that have a special meaning to her throughout the house and let her discover them gradually.
4. Gift a book
Find out what's her favorite book in case you don't know yet and find something similar to her taste. Even though the technology is rendering books inessential, a gift-wrapped, leather-bound, old-fashioned copy of her favorite books or something from that genre would make for aesthetic girlfriend surprise ideas.
5. Gift Basket
Surprise your girlfriend on Valentine's day by gifting an ultimate romantic goody basket. Make a note of things she cherishes and get the ones you can fit into a beautiful basket. From candies, cakes, and brownies, to scented candles, soaps, bath salts, and beauty products – there are many options.
6. Get a gadget
Among all Valentine's day ideas for her, this one is most suitable for a tech-savvy girl. If there's the latest smartphone she's eyeing or a laptop she has wanted to buy for a while, here's your opportunity. Splurge a little and get her the latest smart gadget she adores.
7. Spend the day with her
As adults with a busy working schedule, this is something not everybody can afford. Hence, it's an effort worth adding to the surprises ideas for girlfriend. Quality time is a priceless gift, and offering it to a person will always emphasize how much they mean to you.
8. Movie marathon
Looking for romantic surprises for your girlfriend? Prepare a list of movies you both would like to watch together. Get some snacks and cuddle up on the couch. Take pauses to discuss random moments from the movie. This also adds to ample quality time with your special one.
9. Arrange a home spa
Pamper your girlfriend by booking a relaxing spa session for her and you won't have to think about how to surprise your girlfriend on Valentine's day. Curate the therapy as per her liking. You can also prepare a spa set up yourself through scented candles and a rose bath.
10. Dance party
Thinking of romantic surprises for her? Think of an exclusive Valentine's dance. Decorate the hall with flowers and candles, play a beautiful music track in the background and ask for her hand. Sort out an entire playlist and groove with her for a magical evening.
10 ways to surprise your girlfriend on Valentine's day when she's away
Surprising your girlfriend when she's not at home can be tricky since it asks for the added effort of making your gift available to her. Never mind, there are ways you can adopt to make sure she doesn't miss out on this special day.
1. Plan a date
A well-planned date is a classic, ever-green way to make her feel special on Valentine's day. Some may think of it as cliche but a romantic date goes a long way in sealing her affection for you. Pick a restaurant of her liking, bring her flowers and set the mood.
Related Reading

: 

15 Romantic Date Ideas to Enchant a Pisces
2. Shop for her
Shopping can be a nice stress buster and makes for a really good date idea. Spend a couple of hours on a shopping spree and get her some cute accessories. If you're not one for grand gestures or imaginative surprises, just take her out shopping.
It's also an easy way to appease her if you haven't planned something elaborate yet. If you can't be with her while shopping, send her the items you bought for her with a romantic note.
3. Buy her a pet
Receiving a sweet puppy or a cute kitten as a gift often leaves a person feeling delighted. This is a wonderful idea for women known to be animal lovers. If she's into pet parenting, she will be all hearts for this new family member.
It will not only be a great memory for the two of you to share in the future, but this small bundle of joy will also become a great companion to your girlfriend. Not to mention a surprising gift for girlfriend.
4. Go adventurous
When you're thinking of making Valentine's a quirky affair, plan a nature-based activity for the two of you to engage. Make a list of 2-3 fun activities around and go for it. It can be skying, camping, boating or hiking, whatever suits your taste.
5. Learn a skill together
Go to a class together and start learning a new skill. It can be a fun way to spend time with each other while doing something that interests both of you. Just make sure the skill matches your liking. You can try enrolling in dancing, cooking or pottery class together.
6. Go to a concert
This one needs some prior planning. Book tickets for the concert of her favorite musician or band, whatever is available and surprise her on Valentine's day. You can gift wrap the tickets and send them to her. She'll most likely get excited to receive this gift.
7. Revisit the first date
Make it a nostalgic and full-of-romance occasion for her by recreating your first date. Take her to the same restaurant or place, arrange for the same surrounding and there you go. This can also be a perfect proposal idea if you're at that stage of your relationship.
8. Write a letter
The good old way of expressive love! Writing a love letter to your beloved never goes out of style. Be original and genuine with your words and she'll be spellbound by the efforts and emotions you put into it. You can decorate the letter for added charm.
Related Reading

: 

Wedding Letter Tips: How to Write a Letter of Wedding
9. Long drive
An online survey has found out that over 80 percent of American adults would not like to spend their Valentine's day alone. So just go and give her a surprise visit. Take her for a long drive and buy her favorite snacks on the way.
10. Try a virtual tour together
If you can't meet her for Valentine's day, don't cancel out on your plans. Consider attending a virtual tour together. These days, there are many amusement parks, theme parks, museums and theatres that offer virtual tours through online booking. Just find the one you think of as interesting.
Still have questions?
How to surprise your girlfriend on Valentine's day is a never-ending topic for many people. There can be an endless list of what you can do to make her feel special. In case, you aren't convinced by the ideas shared above, let's try to further simplify the job for you.
What is the best gift for girlfriend on Valentine's Day?
You might come down to this one question when thinking about Valentine's day. What if you tried your best but it wasn't the best gift for her? Well, the answer is redundant here. If you really try your best, your better half is sure to be impressed by it.
The best gift for your partner is the time, effort and emotions you invest in making her happy. If she genuinely loves you, she'll notice how thoughtful you've been.
What do girls like for surprises?
There are a number of things you can do to surprise a girl. Showing your love and appreciation to the woman you love doesn't necessarily need an occasion. She just needs a little reminder that you're thinking about them and it's enough to bring a smile to her face.
In general, a person just likes to be surprised, no matter how much. Talking of women, you can go for something they have been eying for a while. Take your pick from apparel, accessories, beauty products and gadgets.
The best ways to surprise your girlfriend are often heart-driven. Girls who are more emotionally inclined could like to have something more meaningful like a poem or a handmade card. Some also prefer customized items including a piece of jewelry or a trendy handbag.

For more handmade gifting ideas, watch this video:

Making her happy shouldn't be that difficult
Valentine's day is all about spending a memorable time with your loved one. Your mutual affection and care will make it all the more special. There are so many simple things you can do to pamper your partner nevertheless.
Relationship counseling can come in handy, especially if you want to re-discover your love and strengthen the bond you share with your partner.
Don't linger over too many ideas on what to do for your girlfriend on Valentine's day, find one thing that you can do with all your heart, and the outcome of that would be the best valentine's day surprise for her.
Once you make a determined attempt to surprise her, she will not only be impressed but also touched to see you doing something solely for her. The fact that you are willing to go ahead with something that you usually won't simply ascertain how much you truly care for her.
Share this article on
Want to have a happier, healthier marriage?
If you feel disconnected or frustrated about the state of your marriage but want to avoid separation and/or divorce, the marriage.com course meant for married couples is an excellent resource to help you overcome the most challenging aspects of being married.
You May Also Like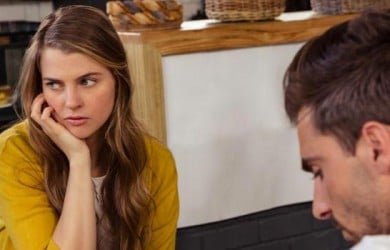 Popular Topics On Married Life