How to Surprise Your Girlfriend on Valentine's Day
Women are complicated creatures. Or so men say…There is some truth to it, though, seeing how one woman's tastes can completely differ from another's.
And in this day and age, where every woman tries her hardest to differentiate herself from the rest, it seems even harder to satisfy your partner and make her feel unique.
However, some things never change. And that is the case with valentine's day surprises for girlfriend.
What to get your girlfriend for Valentine's day doesn't matter if you are seeking to surprise your girlfriend by doing something out of the ordinary or plain as long as you keep a few things in mind.
So, if you are wondering how to surprise your girlfriend on valentine's day or what are the best ways to surprise your girlfriend on valentine's day
Also watch:
Make her the center of attention
Unless you have other beliefs, the best surprise for your girlfriend on Valentine's day is making her the center of your attention.
Placing the limelight on your girlfriend on this occasion will be the key to her heart.
You can choose a simple yet impactful gesture, such as sending her flowers and a token of your love while she is still at work. All the oohs and ahhs from her colleagues alone will make her feel special and worthy of envy.
Of course, you can go all out and prepare something more lavish, but not everybody can afford to be the Richard Gere to her Julia Roberts.
And she might not have an emergency staircase to climb up to her apartment, even if you were willing to do so.
Take the day off to plan
Something you know she truly enjoys doing. Another way for surprising your girlfriend on Valentine's day would be to strike up an itinerary with some of her favorite places and activities, all the better.
Remember to double-check your wallet, though. Unless you want to end up at your second or third destination unprepared, it would be best to choose wisely first.
It can also be something simple, like going to the first place you've met, followed by a trip to the cinema to see her favorite romantic movie. Just make sure they're all the things that she likes.
Be creative and put some effort into it
Contrary to popular belief, most women see the small, cheap gestures a man makes more valuable than a diamond ring. They're also suckers for handmade presents with a deep meaning behind them.
As a Valentine's surprise for her, write a moving love letter or 14 notes mentioning why she is so special to you. Hide small nothings that have a special meaning to her throughout the house for her to discover or cook her special meal.
She's bound to be impressed by the detail and effort you've put into it.
Here are some creative gift ideas for her that you can implore:
Her favorite book: Even though technology is rendering books inessential, a gift-wrapped, leather-bound, old fashioned copy of her favorite book would make for a very aesthetic Valentine's day surprise.
Sexy lingerie: To engage a more erotic and intimate side of your girlfriend, you can gift her some sexy lingerie on this Valentine's day.
Gift basket: Make a note of things she cherishes and like and get the ones you can fit in a beautiful basket. From wine, candies, cakes, brownies, to scented candles, soaps, bath salts, and beauty products. Use them all if you want to and make an ultimate romantic goodies basket.
Smart gadgets: Splurge a little and get her the latest smart gadget she adores.
Spend the entire day with her
As teenagers, this might be more easily achieved, but as adults with a busy working schedule, this is something not everybody can afford.
Out of all the things you can buy with money, time is not one of them. Time with your loved ones is always a precious gift, and offering it to a person will always emphasize how much they mean to you.
Shop for her
Sacrifice yourself and bare spending a couple of hours at a shopping spree. If you're not one for grand gestures or imaginative surprises, take her out shopping.
Your credit card might never be the same again, but it's an easy way to appease her if you haven't planned something out.
Plaster a smile on your face and go along with her as she tries on clothes or jewelry, and she'll probably consider you a keeper. After all, it's just for one day in the year.

Buy her a pet
I have yet to see a woman complain about receiving a sweet puppy or a cute kitten. This is a wonderful idea for girlfriends that are known to be animal lovers.
Whether she already has a pet or not, she will wholeheartedly accept this new family member.
It will not only be a great memory for the two of you to share in the future, but this small bundle of joy will also become a great companion and friend to your girlfriend.
Out of the many things that one can receive as a present, pets are the ones that always leave a lasting impression.
Sacrifice for her love
And, no, I am not referring to anything as extreme as a Romeo and Juliet scenario. Every couple can think of a few things or activities that one partner loves while the other one simply hates.
So what you should sacrifice for love can be several small things such as cooking or going out dancing. Just make sure it's an activity that she truly loves, but which you dislike doing.
She will not only be impressed but also greatly touched to see you doing something solely for her.
The fact that she knows that you generally dislike this yet are still willing to go ahead with it will simply ascertain how much you truly care.
Finally, don't linger over too many ideas on what to do for your girlfriend on Valentine's day, find one thing that you can do with all your heart, and the outcome of that would be the best valentine's day surprise for her that she would have ever had.
Share this article on
Want to have a happier, healthier marriage?
If you feel disconnected or frustrated about the state of your marriage but want to avoid separation and/or divorce, the marriage.com course meant for married couples is an excellent resource to help you overcome the most challenging aspects of being married.
More On This Topic
You May Also Like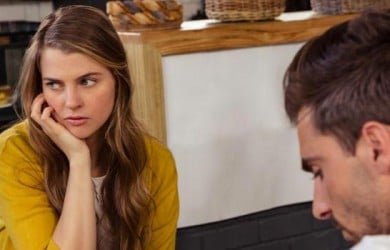 Popular Topics On Married Life