Trust and Betrayal – How to Repair the Fractured Relationship?
Love, trust, and commitment are said to be the foundation for any relationship to flourish. Trust is all about having absolute faith in your partner to love, to support and to be loyal to us.
Trust and betrayal simply do not go together as trust is extremely fragile and tends to break in a split moment and it may take years and years for the person to rebuild it.
Infidelity is one of the major forms of violating one's trust in a relationship.
Having an affair can have devastating effects on one's relationship as well as their partner who may not find it easy to get past it and may take a long time to heal from the damage. Couples who breach trust in their relationship are usually the one seeking counseling or end up going for a divorce.
Listed down below are the effects of betrayal as well as ways on how to repair the damage brought about due to it.
1. Shock, anger, and grief
The emotional impact is one of the most immediate effects on the person betrayed. They may have a number of feelings such as overwhelming sadness, shock, distress and most importantly, anger.
The impact of betrayal is greater when the betrayed had placed a great amount of trust in their cheating partner.
The pain of betrayal is often too much to deal, and people seek therapy to avoid succumbing to the constant depression and, anxiety.
2. Increased suspicion and insecurity
Damaged self-esteem is one of the most common outcomes of being betrayed. The individual suddenly feels incomplete, unappealing and left wondering why did their partner choose someone else.
Individuals may also get increasingly suspicious and be paranoid all the time, wondering if their partner would cheat or lie again. They may turn to keep an eye on their partner's movements, checking their phones, credit card bills, etc. as a way to gain evidence as to how to the betrayal even occurred.
3. Termination of the relationship
While some people do forgive their partners for the sake of their family or relationship and give their marriage another chance, some people are simply unable to work through the long and laborious process of forgiving and reconciliation.
Most relationships do not survive an affair and end up in divorce or separation solely because the betrayed partner loses the ability to trust the other's words and actions.
Repairing and rebuilding trust
1. Earn it back
Acknowledging your mistake and giving a genuine apology to your partner is the first step to regaining the lost trust.
Understand that there are definitely going to be consequences of your actions and provide your partner with the time and room that they need to be able to trust you again eventually. Make regaining your partner's trust your priority, and you will automatically be cautious of your actions, words, and perceptions to your partner.
2. Have open conversations
Make sure that the two of you communicate effectively, face to face and in person.
Make sure that both of your address important subjects and talk about them instead of allowing further misunderstanding to build up.
Moreover, be real and vulnerable to your partner. Share all your feelings and live your truth to make sure that your partner is comfortable enough to live theirs.
3. No more secrets
Couples should never have secrets from each other, and instead, they should keep secrets for each other. This means the two of them are always candid to each other but make sure that their private conversations remain within the vicinity of their homes.
Couples should also be supportive of each other at all times. Knowing someone is there for us and has, or back is a great way to build up trust in a relationship.
4. Be true to your word
Make promises that you can keep. Empty and meaningless promises do nothing but further erode away trust.
It is important to keep promises about little things as well as the big things. Make sure you do things that you said you would even if it is as small as picking up a few items from the grocery store. These minor actions can go a long way in helping you repairing the trust.
Trust and betrayal are complete opposites.
While one makes the bond between two people stronger, the other can lead their relationship towards demise. To be aware of the possible effects of betrayal is of great help to keep you away from committing actions that you might regret later on.
Share this article on
Want to have a happier, healthier marriage?
If you feel disconnected or frustrated about the state of your marriage but want to avoid separation and/or divorce, the marriage.com course meant for married couples is an excellent resource to help you overcome the most challenging aspects of being married.
Learn More On This Topic
You May Also Like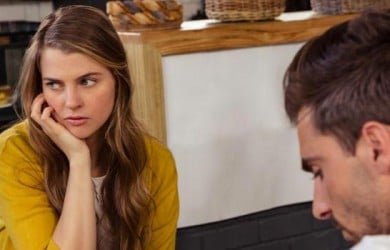 Popular Topics On Married Life