How to Build Momentum in Your Marriage: 4 Strategies
Have you gotten to the point when you are already asking about how to build momentum in your marriage? Have you asked yourself what brought you here? Where did the relationship start getting dry?
Federal data recorded an all-time low in the rates of marriages in the US in 2018. Experts say this may be brought by gender equality and women's independence. The latter leads to many women choosing to delay marriage.
Admittedly, some people choose not to tie the knot early because of fear of failure. They may also be worrying about losing momentum in marriage before they even get into it.
This article will try to unravel the answer to the question, "What is marriage momentum?'
Why do couples lose it in the first place, and how do you avoid experiencing the same fate?
What is marriage momentum?
How will you know how to build momentum in your marriage if you don't understand what momentum in marriage refers to?
Building momentum in marriage is necessary to become familiar with living life with your partner easily. Momentum is what holds you together when everything around you seem to be falling apart.
Momentum in marriage is a work in progress. You'd sometimes experience roadblocks and friction just when you thought everything was going fine.
You will understand what marriage momentum is when the ship starts sailing again. You and your partner move forward with the same attitude and toward the same goal.
How to build momentum in your marriage: 4 ways
Below, we'll outline some of the most effective ways to build momentum in marriage. You may not be having problems with momentum in marriage today, but it will come in handy at a time when you least expect it.
1. Make the marriage stronger
As of 2020, 2.3% of 1000 marriages in the US ended up in divorce.
It has to be your outlook as long as you love each other and both of you are determined to make the relationship work no matter what.
One of the most crucial ways to build momentum in marriage is to work together to strengthen it. But how?
Whenever you come to a point when you would want to give up, think about what made you love your partner. You have to go back to why you said I do in the first place.
You have to spend more time with each other. This will help you understand marriage momentum when you keep learning something new about your partner each day.
One way to build marriage momentum is to continue loving your partner despite their flaws. You must keep everything intact and go through your marriage's ups and downs.
2. Dream together
Another piece of advice you will get when you ask how to build momentum in your marriage is to keep dreaming. This means to dream as individuals but to dream more as partners.
You both have to envision life growing together. What do you want to achieve in a year? Where do you want to go? What investments do you want to pursue in a year or two?
In building momentum in marriage, you will dream about all these things and more as a couple. You can talk to each other about your dreams. Marriage does not have to limit each of your capabilities.
However, it would be best if you spent quality time sharing your dreams as a couple. Simply by talking and sharing your dreams, you will get to know more about your partner.
You will start realizing marriage momentum when you take the small steps to pursue your dreams. As your ideals as a couple start coming true, you will have more bonds and shared experiences.
You will also be prompted to make the marriage work as you try to explore more ways to build momentum in marriage. This is because the two of you are focused on the dreams that you still have to accomplish.
These dreams will give you reasons to hold on whenever the relationship faces a hurdle. They will push you to go past the problems and keep the momentum in marriage.
3. Solve problems as a couple
Problems are inevitable for couples, married or not. These problems can break the momentum.
Or they can open your eyes to the many ways to build momentum in your marriage. No matter what happens, always choose the latter.
Whenever there is a roadblock, talk about it as a couple instead of playing the blame game. The blockage will remain in place if you don't do anything about it.
The problem will only worsen if you choose to blame other people, circumstances, your partner, or the blockage itself.
Always remember that part of a healthy relationship is communication. To stay happy while discovering marriage momentum, you must practice talking openly more often.
Both of you must always be proactive in finding solutions to your problems.
While it's expected to slow down or stop in your tracks when faced with a problem, never allow the moment to linger. Work together, talk, and find ways to solve the problem.
4. Maintain the energy
It's easy to lose momentum in marriage when you or your partner starts feeling low. It can be a problem, the feeling you get when something you planned does not happen, or just a general sense of boredom or loneliness.
Whenever you get to this point, find ways to build momentum in marriage instead of giving up and calling it quits. The first thing you can do to learn how to build marriage momentum is to identify the problem.
What led you to this point? If you are unhappy, when did you begin losing momentum in marriage? Then, you can step back a bit and go back to the answer to what marriage momentum is. It is the steady feeling that the relationship is going somewhere.
After discovering when you stopped building momentum in marriage:
Retrace your steps.

Go back up to the point when you were last happy.

From there, implement the ways to build momentum in marriage.
Find out exactly what you're looking for. It could be either of the following:
Communication problem

Unresolved issues

Broken promises

Dreams you have put off
Identify the factors that caused the relationship to become flat and dull. After acknowledging the problems, could you do something about them as a couple?
By working together towards a goal to become happier as a couple, you are beginning to walk through the steps to build momentum in your marriage.
Looking for marriage advice? Watch this video to know more.
3 mistakes that can kill momentum in marriage
The only good thing about realizing that you need to find ways to build momentum in marriage is that you already understand the concept behind what marriage momentum is.
So what kills it? Here are the top three mistakes you ought to avoid and are often subjected to building momentum in marriage:
1. Lack of intimacy
Sex is crucial in a relationship, especially in marriage. When a partner starts getting cold, the other partner feels neglected.
If you have a problem with intimacy, talk it out or go to a counselor. It would be best if you found ways to build momentum in marriage by learning what went wrong.
You both have to work harder to bring back the intimacy. If you allow the relationship to be sexless for a long time, you are setting it up for loneliness and divorce.
Related Reading: 

How a Lack of Physical Intimacy Can Hurt Your Marriage
2. Giving your partner the silent treatment
It has already been discussed that open communication is essential in building momentum in marriage. Whatever problems you are having as a couple, you will not get any resolution if you will not talk it out.
Part of doing what you've learned about what is marriage momentum is speaking out about what you feel. Please do not keep it. It would be best if you made your partner understand what hurts you or makes you happy – and they should do the same.
This is the only way you can both move forward in doing ways how to build momentum in your marriage.
Related Reading: 

How to Deal With Silent Treatment in Marriage 

3. Constant nagging
Talking is important in keeping the momentum in marriage, but not nagging. If you are having problems, allow your heads to cool down and your emotions to pacify before hearing each other out.
Part of building momentum in marriage is to speak how you feel but listen to the other side. This will help you realize the essence of what marriage momentum is.
When you listen instead of insisting on your outbursts, you are on your way to the healthy practices of building momentum in marriage.
Takeaway
Marriage is bound to suffer blockages as you last in it. To make the relationship lasting and happy, you must find ways to keep the momentum in marriage.
It will be easier to accept the common mistakes people make that hurt the momentum. The important thing here is to keep on fighting. If talking is no longer a solution, you may want to enroll in a relationship course or do counseling.
Share this article on
Want to have a happier, healthier marriage?
If you feel disconnected or frustrated about the state of your marriage but want to avoid separation and/or divorce, the marriage.com course meant for married couples is an excellent resource to help you overcome the most challenging aspects of being married.
More On This Topic
You May Also Like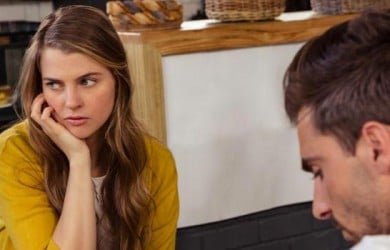 Popular Topics On Married Life