How Creativity Can Be a Positive Aspect of Marriage
Following are excerpts from an interview with Lee Strauss – the bestselling author of the "Ginger Gold Mysteries" series; "A Nursery Rhyme Suspense" series, and young adult historical fiction AND her spouse, Canadian born singer-songwriter, Norm Strauss is a concert/recording artist who has toured extensively in Canada, Europe and parts of the USA, where they discuss how creativity can be a positive aspect of marriage.
Do you find that you have any artistic advantages with being married to another creative?
Lee: Definitely. Because my husband is creative, I know he understands the joys and difficulties of taking a "blank page" and turning it into something entertaining and inspiring. When I say something like, "writing is hard," he knows exactly what I mean by that. He is my creative consultant. We often plot my books together and when I hit a snag or plot hole, we can often sort it out together just by talking it out. I also engage him with writing projects, having him write out rough drafts of blog posts or such. I have confidence in him that he can do it, more than he has in himself sometimes. He also helps me with research, which is a big help. Thankfully he appreciates history and enjoys doing it.
Norm: Yes. I think that having a spouse that is creative gives me more confidence when bouncing ideas off each other whether it's through song lyrics or story arcs. I have this sense that this person who knows me so well also has an intuition for my craft to some extent. She can give solid input that is couched in the knowledge of who I am and our shared history. My concerts basically comprise of me telling stories with a few songs thrown in. They are based on my real life experience and that's how I connect with my audience. She tells much longer stories about fictional characters that people admire and to whom they relate. That's how she connects. They are different methods and yet similar enough that we can give good input and encouragement to each other.
Have there been any moments where there was a clash of creative minds in your home? If so, what happened?
Lee: I can't really say that this has been a problem. I'm not a songwriter, not even a poet, so, even though Norm will ask me my opinion on a new song, I defer to his final decision. He is the owner of his art. He does the same for me.
Norm: Because we are in differing disciplines, that does not happen often. There is mutual respect and deference for each other's expertise although there is certainly room for opinions. For example, she is usually the first to hear a new song. I take her opinion of it very seriously even though there is space for me to disagree, which I have done on occasion. I feel like she also respects my opinion of her work. I think that's healthy. It's good for me to know where my limits are though. I guess I am a 'creative', but I am not really very moody. I am also partially color-blind and get bored watching figure skating or ballet. I last about ten minutes strolling through an art gallery, so I am not a terribly good creative in that sense. I limit my creative opinions to what I think I am good at. I read a lot so I feel like I can go there. Lee can pick the colors for the new paint job in the living room 🙂
In what ways does being married to another creative offer support and understanding to your relationship?
Lee: I love the fact that my husband enjoys a story. When we watch a movie or TV series together we always talk about the writing of the script. We are both avid readers and appreciate good writers. I know when I bring Norm into a story-plot discussion he'll give interesting input. Knowing that he's sincerely interested and invested in what I do is a real boost to my own ability to stay inspired and committed to my oft-times strenuous writing schedule.
Norm: When you have a spouse that has an intuition of how the creative process works and is supporting that process, it certainly goes a long way. My efforts as a singer/songwriter started long before we were married. She realized that of course. After we were married, for many years, I was writing songs, planning concerts, and recording albums while Lee was basically a home-maker with four children. She always intuitively knew that my craft required time and space and that it was important. She made room for that without any jealousy or bitterness despite the fact that she is also creative. Many others probably could not have done that. Later, when she started writing seriously, I also knew that this was an important part of her and that she needed time and space to develop.
Does creativity influence some aspects of parenting?
Lee: We always made room for our kids to express themselves creatively. For instance, I let my daughter dress herself up from a young age and she was very "artsy" in her choices. Now, as an adult, my daughter looks at old pictures of herself and asks (while laughing), "Why did you let me wear that?" The answer is I wanted her to be free to express herself creatively.
Norm: When our kids were young I would go into their rooms at bedtime and make up an on-the-spot silly story while they sat and giggled. They knew the story was just for them and would be different every night. Creativity and respect for art are passed on to your children. All four of our kids have a strong creative aptitude, especially in music and writing, though some have chosen to pursue it more than others. All of them are strongly encouraged to follow their artistic sides.
I often wonder what kind of reaction they get when they are asked: "What do your parents do for a living." A musician and a writer? Maybe their friends picture us as hippies wearing tie-dye shirts while smoking pot and listening to a lot of gentle folk music. The reality is that we watch Netflix and drink red wine.
How do you keep your relationship fresh and exciting?
Lee: We've always put experience before "stuff." We'd rather do something than have something. It's this large collection of shared experiences that bind us together now. We often say we feel like we've lived a thousand lives. And we're not done. Our children are now grown and gone, and that only gives us more freedom to do things. We've recently become snowbirders, which is a Canadian term for people who go to sunny, beautiful, and exotic places for the winter.
Norm: We share a love of traveling and are both inquisitive and adventurous by nature. We have always put adventure over going the safest route possible. This has led to a very experience-filled 31 years. We still do a lot of shared dreaming about the future and are staying involved in the lives of our children. This helps a lot. We also take a big interest in each other's jobs and part of the creative process.
In what ways does your partner inspire you?
Lee: Norm Strauss is an amazing person. He's a good father, a friend to many (much more social than I), a talented musician and performer, a supportive husband, and a man of conviction. I love that we share a faith and can talk about God as easily as we talk about the weather. He's an anchor to me when I get overwhelmed or become uncertain. And he makes me laugh. I love his sense of humor. Not a day goes by that he doesn't say something witty that makes me smile or laugh out loud.
Norm: I am inspired first by her fierce love and dedication to our family. Even her craft is not only about her or her need to express herself. That is only a small part of it. It's way more pragmatic than that; It's more thought of as a way to provide resources so we can help our kids in their futures and us in our retirement. I am the same way with my music.
Second, I am inspired by how she thinks; She seems to be able to see further into the future than me, think bigger than me and strategize with savvier. It's like she can think three-dimensionally and I can only manage two and a half on a good day. Maybe that's why I write short songs and she writes a whole book series. When people ask her details about what she does and what she thinks the future holds I am always a little bit in awe at how knowledgeable and visionary she is. Especially considering she is completely self-taught and is doing quite well in what is a very competitive line of work.
Final takeaway
When you have a creative partner in a marriage, you build a healthy collaboration of shared dreams and passions. You connect better, you start building something together and cruise together hand in hand through tough times. There is a sense of calming familiarity and a common language that cements your bond.
Share this article on
Want to have a happier, healthier marriage?
If you feel disconnected or frustrated about the state of your marriage but want to avoid separation and/or divorce, the marriage.com course meant for married couples is an excellent resource to help you overcome the most challenging aspects of being married.
More On This Topic
You May Also Like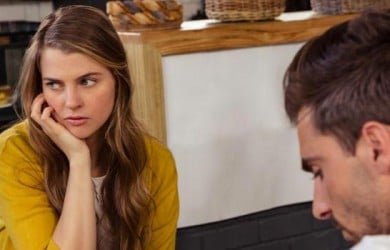 Popular Topics On Married Life