9 Signs of Grandparents Who Don't See Their Grandchildren
It's a tough feeling many grandparents face: the longing to see their grandkids but not being able to. Sometimes, it's because of family disagreements, distance, or other life situations. This pain isn't always easy to spot.
Grandparents who don't see their grandchildren might hide their sadness or try to stay busy.
But deep down, they feel a big gap in their hearts. It's essential to recognize these signs and find ways to cope. Whether it's finding new hobbies, connecting in different ways, or seeking support, there are steps grandparents can take to feel better.
What does it mean when grandparents lose contact with their grandchildren?
When grandparents lose contact with their grandchildren, it often refers to a situation where they no longer communicate or spend time with them due to various reasons. This loss of contact can be a result of family disagreements, parental decisions, geographical distances, or personal choices.
The separation can lead to feelings of sadness, loneliness, and longing on both sides. It's a complex issue that can have emotional, psychological, and sometimes legal implications.
The reasons and dynamics behind such separations can vary widely, but the common thread is the disruption of the bond between grandparents and grandchildren.
9 signs grandparents who don't see their grandchildren
The separation between grandparents and grandchildren can be a deeply emotional and challenging experience. Recognizing the signs can help family members provide the necessary support and understanding:
1. They often reminisce about the past
Grandparents who don't see their grandchildren frequently might find themselves frequently reminiscing about past moments they shared. They might bring up old memories, look at photos, or share stories from when the grandchildren were younger. This constant reflection can be a way of holding onto the bond they once shared.
2. There's a noticeable sadness during family gatherings
Family gatherings can be especially tough. While others are sharing recent stories of their kids or grandkids, these grandparents might be silent or seem distant. Their absence is felt more profoundly during these times, and a noticeable sadness or change in demeanor can be evident.
3. They go the extra mile to connect in other ways
Grandparents who can't physically be with their grandchildren might try harder to connect in other ways. This could mean sending more letters and gifts or trying to engage through technology like video calls. Their efforts to bridge the gap can be a clear sign of their longing.
4. They avoid conversations about their grandchildren
While some grandparents might frequently reminisce, others might avoid the topic altogether. It can be too painful for them to discuss, especially if the separation is due to family conflicts. Avoiding conversations or changing the subject when their grandchildren are mentioned can be a defense mechanism.
5. There's an increased interest in community or volunteer work
To fill the void left by the absence of their grandchildren, some grandparents might immerse themselves in community or volunteer work. Engaging with other children or families in the community can be a way for them to channel their nurturing instincts and find a sense of purpose.
6. They become more private or withdrawn
The pain of not seeing their grandchildren can lead some grandparents to become more private or withdrawn. They might avoid social situations, become less communicative, or seem lost in their thoughts. This change in behavior can be a sign of their internal struggle with the separation.
7. Birthdays and holidays are particularly challenging
Special occasions like birthdays, holidays, or anniversaries can be especially tough. These are times when families typically come together, and their absence is felt even more. Grandparents might seem more emotionally distant or even choose to be alone during these times.
8. They show signs of depression or anxiety
The emotional toll of not seeing grandchildren can manifest in more severe ways, like signs of depression or anxiety.
Feelings of hopelessness, changes in appetite or sleep patterns, or a lack of interest in activities they once enjoyed can be indicators. It's crucial to be supportive and encourage them to seek help if these signs are evident.
9. They make efforts to mend broken family ties
If the reason for the separation is a family disagreement or conflict, grandparents might make efforts to mend these broken ties.
They might reach out to family members, seek mediation, or even counseling. Their desire to reconnect and rebuild the relationship can be a testament to the depth of their love and longing for their grandchildren.
Why do some grandparents not see their grandchildren? 7 reasons
Grandparents and grandchildren share a special bond, but sometimes circumstances prevent them from spending time together. Here are seven reasons why some grandparents might not see their grandchildren:
Disagreements or misunderstandings can lead to strained relationships, preventing grandparents from seeing their grandkids.

Living far apart can make regular visits challenging, especially if travel is difficult or expensive.

Sometimes, the child's parents might decide it's not in the best interest of the grandparents to be involved.

Custody battles or legal restrictions can limit a grandparent's access.

Health issues, either of the grandparents or the grandchildren, can make visits rare or impossible.

Modern life's demands can mean less time for extended family visits.

In some cases, the grandparents might choose to distance themselves due to personal reasons or beliefs.
How can grandparents cope with not seeing their grandchildren? 9 ways
The bond between grandparents and grandchildren is precious. When distance or circumstances prevent this connection, it can be heart-wrenching. Here are nine ways grandparents can cope with such challenging separations.
1. Seek support from friends and family*/ju
One of the most challenging aspects of grandparents not seeing grandchildren is the feeling of isolation. By reaching out to friends and family, grandparents can find solace and understanding. Sharing feelings and experiences can provide a sense of belonging and reduce feelings of loneliness.
2. Engage in new hobbies and activities
Losing grandparents close together or losing a grandchild can leave a significant void. Engaging in new hobbies or activities can help fill this void. Whether it's taking up painting, joining a book club, or learning a new skill, these activities can provide a distraction and a sense of purpose.
3. Attend counseling or therapy
Sometimes, the reasons grandparents ignore their grandchildren or vice versa can be deep-rooted and complex. Seeking professional help through counseling or therapy can provide a safe space to explore these feelings and find coping strategies.
4. Join support groups
There are many support groups available for grandparents who face challenges in their relationships with their grandchildren. These groups can provide a platform to share experiences, learn from others, and find ways to learn how to cope with not seeing your grandchildren.
5. Focus on self-care
It's essential for grandparents to prioritize their well-being. Activities like meditation, exercise, or simply taking a walk can help in managing stress and emotions. Self-care is crucial in navigating the emotional roller-coaster that comes with strained family relationships.
6. Establish alternative means of communication
If direct contact isn't possible, grandparents can explore alternative means of staying connected. Writing letters, sending gifts, or even making occasional phone calls can help maintain a bond, even if it's from a distance.
7. Reflect and self-evaluate
It's essential to introspect and understand the reasons behind the strained relationship. Asking questions like "Why do grandparents not want to see their grandchildren?" or "What to do when your grandchildren don't like you?" can provide clarity. Understanding the root cause can be the first step towards mending the relationship.
8. Educate yourself
Reading books or articles about grandparent-grandchild relationships can provide insights and strategies to cope. Knowledge can empower grandparents to handle the situation better and find ways to reconnect or find peace with the current state of affairs.
9. Set boundaries and manage expectations
It's essential to recognize that every situation is unique. While it's natural to want a close relationship with grandchildren, it's also crucial to set boundaries and manage expectations. Understanding and accepting the limitations of the relationship can help in finding peace and contentment.
FAQs
The bond between grandparents and grandchildren can be complex. Here's a concise FAQ to address common concerns and strengthen this special relationship:
How do I approach my adult child about reconnecting with my grandchildren?
Approaching your adult child about reconnecting can be delicate. It's essential to choose a calm and neutral setting to discuss your feelings.
Express your desire to be a part of your grandchildren's lives without placing blame. Listen to their concerns and be open to compromise. Remember, the goal is to rebuild trust, especially for grandparents who don't see their grandchildren often.
Barbara Nathan discusses several grandparenting tips, including the lessons that every grandparent should try to teach their grandkids:
What can I do if my grandchildren are not responding to my attempts to reconnect?
If your grandchildren aren't responsive, it's crucial to be patient and persistent. Sometimes, the disconnect can stem from misunderstandings or external influences.
Send them letters, cards, or small gifts to show you care. Over time, they might come around. For grandparents who don't see their grandchildren, every small effort can make a difference.
How can I be involved in my grandchildren's lives despite the distance?
Distance can be a challenge for grandparents who don't see their grandchildren regularly. However, technology can bridge this gap.
Schedule regular video calls, send them online games or books, or even watch movies together virtually. Sharing their interests can also help you stay connected. If possible, plan occasional visits or trips together.
At what age do grandchildren lose interest in grandparents?
It's a misconception that there's a specific age when grandchildren lose interest in their grandparents.
Often, it's not a loss of interest but a shift in priorities due to adolescence, peer influence, or other life changes. Grandparents who don't see their grandchildren might feel this more acutely. It's essential to adapt and find new ways to connect that resonate with their changing interests.
Is losing a grandparent a big deal?
Absolutely. Grandparents often play a significant role in a child's life, providing wisdom, love, and a unique bond. The loss can be deeply felt, leading to grief and a sense of loss.
For grandparents who don't see their grandchildren, it's crucial to ensure that the memories and lessons they impart remain a lasting legacy.
Conclusion
The relationship between grandparents and grandchildren is special, but it can also be fraught with challenges. Whether it's due to misunderstandings, external circumstances, or personal choices, the pain of not seeing loved ones can be overwhelming.
However, by seeking support, focusing on self-care, and understanding the underlying issues, grandparents can find ways to cope and navigate these challenges.
Share this article on
Want to have a happier, healthier marriage?
If you feel disconnected or frustrated about the state of your marriage but want to avoid separation and/or divorce, the marriage.com course meant for married couples is an excellent resource to help you overcome the most challenging aspects of being married.
You May Also Like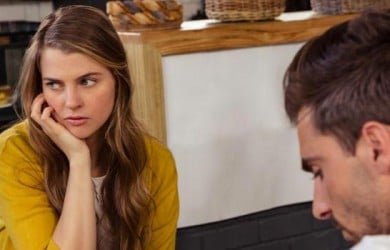 Popular Topics On Married Life