15 Signs of a Taker in a Relationship: Are You a Taker or a Giver?
Ideally, a relationship is supposed to be healthily balanced, with yin and yang, sharing mutual give and take. But is that how it is in all relationships?
That's not how it is in many partnerships, even good ones.
Usually, there's some compensation from a giver for a mate that's a bit more of a taker. How do you designate givers and takers in relationships?
A taker is somewhat more self-focused, while the giver concentrates their efforts on those around them mostly with no intention attached. Their only goal is to help and bring positivity to the world.
While takers willingly receive what's offered to them, it's not necessarily that all these individuals are greedy or entirely selfish. There can be occasions where there is a semblance of appreciation and gratefulness for the effort, but rarely.
When it comes to reciprocity, a taker will either blatantly not be reciprocal or excuse that they cannot do so.
The taker is a slacker in the relationship, the one needing to be carried, and can become reliant on the giver depending on how unbalanced the relationship is, often to the detriment of the giver. Listen to learn more about givers and takers on this insightful podcast.
Understanding the giver and taker partnership
Givers and takers in relationships can either have a healthy balance or compensate for what the other lacks.
There seem to be many instances where one will give more freely. At the same time, the other merely receives with no genuine desire or interest in returning the gesture, feelings or emotions, tokens of affection, tasks, or whatever it is being offered.
In this sort of arrangement, if left to go on askew, eventually, the giver can develop feelings of being taken advantage of, slowly diminishing their self-esteem. At the same time, the taker is not free of detriment either.
Gradually, with all needs being met, a taker can become dependent on the giver losing their sense of self.
It's not beneficial to have someone consistently giving either. There needs to be a median, a nice mix of giving and taking, so no one suffers the consequences of all and nothing.
You'll find details of give and take relationships in this book by Cris Evatt, "Givers-Takers."
Identifying whether you're a giver or a taker in a partnership
A viable partnership should involve a balance of give and take. That doesn't necessarily mean all relationships will consist of a giver and taker. Sometimes there are two givers or possibly two takers. The problem arises when the giving and taking become out of sync.
In those instances, usually, the giver compensates where the taker tends to lack. Identifying what sort of give/take relationship you have will depend on whether you feel that your basic needs are being satisfied.
If you're involved in an unbalanced partnership as the giver, you will likely feel exceptionally positive most of the time because giving fulfills your needs. You have an overwhelming sense of happiness simply by nurturing and providing all you have for your mate.
The taker, on the other hand, your mate, is always looking for more, how they can receive something else. There is little satisfaction, if any. Regardless of how much you give, it's never enough for them.
Ideally, givers should set healthy boundaries with the taker upfront. Many don't see a problem until feeling taken for granted.
At that point, they've already had a kick to their self-esteem rendering them less capable of establishing boundaries with someone who has already drained them of their energy.
What are the signs of a taker in a relationship? Watch this video.
15 signs that you assume the role of the taker in the partnership
When you're all take and no give, your partner does all the work in the relationship. Generally, that means you take no part in worrying if your mate's needs, desires, or wishes are met but have no trouble receiving optimum effort from your partner, albeit demanding more.
As a taker, reciprocating is never a thought. These individuals are too self-absorbed, often creating a reason for their partners to work a little harder in the relationship. Let's look at a few signs of a taker to see if you might fall into that category.
1. Reaching a taker requires a few messages
There is never an immediate answer when a mate needs to reach you, even if it's imperative. Your partner already understands this and is prepared to send a few texts to get a response back.
It isn't necessarily that you don't intend to answer; you only want to do so when it satisfies you.
Again, it's a matter of believing that you have something to benefit from the situation for you to react. People who are takers don't want to serve a purpose for someone else accidentally.
2. Your mate always arranges plans
When looking at givers and takers in relationships, a mate will always be the one to request a date with you. You will not arrange a date or set up the plans as the taker because you know your partner will make the arrangements since they always do at some point.
A taker will give the impression that their schedule is a priority and always much busier than their mates, making it necessary that the taker not be bothered with "insignificant" details. Instead, they play more of a "leadership" role.
3. Just show up and enjoy
In that same vein, the only effort a taker will put into the partnership is showing up where and when expected for the activities since their partner sorts everything.
The expectation is that everything is perfect without any hassles when arriving and that any potential problems are worked out ahead of time.
4. There's minimal satisfaction in any given situation
By identifying what is a taker in a relationship, you will see they always want more, but even then, that's not good enough. Reciprocity is not in their thought process, however.
When you feel you've accomplished something extraordinary and let your taker know how awesome the result was, there will usually be a response of how much better you will be able to do the next time with a bit more effort. There's never a "give," a compliment, or a "well done."
Also Try: 

Quiz: What's the Satisfaction Level in Your Relationship?
5. Takers don't pay attention or actively listen
One of the personality traits of a taker is that they will not listen to what's being said to them. There can be an entire conversation involving this individual waiting for their input, but they haven't paid any attention.
The individual is merely waiting for the opportunity when they can have their turn to begin talking about something about them.
They compare to a narcissist personality with everything needing to revolve around them or being the center of attention.
Related Reading: 

What Happens When There Is Lack of Attention in Relationship?
6. Household responsibilities are not shared
When there are chores to be taken care of around the house, the giver is typically the one who will handle everything. The taker will generally not share responsibilities, including their laundry, helping with the after-dinner dishes, or cleaning up in the bathroom after they've had a shower.
As a rule, in a household with healthy givers and takers in relationships, one person will handle one component of a chore. At the same time, the other does another aspect, like if you do the laundry, the other individual will fold and put it away – give and take.
When you have a dominant take, there is no sense of responsibility around the household.
Related Reading: 

House Chores – The Hidden Challenge Faced by Every Relationship
7. The giver is the sole source of support
In a give and take relationship where the dynamics are skewed, the giver takes full responsibility for all purchases. The taker feels they are entitled to this treatment as the spoiled individual they've become.
The giver is only too happy to use every dime they have to meet their taker partner's needs.
These monies are used for entertainment, dining, anything that the taker needs or wants, but if there's an occasion or a desire for the giver, it's unlikely something will be spent in their honor.
8. The giver's efforts are not recognized
In dealing with people who are takers, givers have the potential for burning out since they work tirelessly to make their mates happy, but the efforts are never recognized.
The attempt is made to do more and try harder, but there is no satisfying a selfish person with endless needs.
When the balance between givers and takers in relationships becomes an unhealthy level to this extent, a giver needs to stop and set some boundaries before the stress affects overall well-being.
9. Affection is generally one-sided
Affection is generally one-sided when givers and takers in relationships are skewed.
The giver tends to shower the taker with their love and affection, but if they hope to receive the same, they either need to ask their mate for attention or anticipate that there will be none.
Even if the taker requests to provide some love and care, that doesn't mean that will occur.
The individual is a self-absorbed person who doesn't want to do anything they don't want to do or give of themself, which would be entirely out of character for who they are.
10. Sex is something a giver must initiate
If a giver intends to have sex with their mate, it's something they must initiate, or intimacy won't occur; that is unless the taker has needs, and then there will be sex on their terms. (Who is this person?)
The giver needs to do all the work when it comes to intimacy in the partnership to ensure that their desires and needs are satisfied because a taker doesn't focus any attention on satisfying the giver's wishes or needs.
11. The taker steals the spotlight at every turn
Givers and takers in relationships celebrate each other's victories and accomplishments.
Still, in an unbalanced partnership where the taker plays the lead role, there is never a time when the giver is given their kudos regardless if they've experienced an accomplishment or an achievement at work or in a life circumstance.
If there is a celebration in the giver's honor, the taker will find a way to put themselves at the center of attention, pushing the giver to the back of the crowd.
12. The taker offers no support
Each person in a partnership needs a support system, and usually, their mates serve that purpose. A taker can't handle that position and wouldn't if asked to do so. However, they expect the giver always to be there and available for them.
13. A taker is the epitome of a user
When discerning the give and take relationship meaning, it's supposed to be that each person equally provides love, support, and companionship. Still, the taker is entirely centered around using their partner for anything and everything they can drain from them.
The taker will either see that they no longer need the giver for their specific purposes, maybe the giver no longer satisfies their needs, or perhaps the giver will have enough and walk away.
Ultimately, there's a realization that the taker only has the giver around for selfish purposes.
14. The giver believes they can change the taker
The giver believes over time, as they show more love, support, and affection to their taker, the individual will eventually soften their outer core, becoming more of a caring person – sort of a lead-by-example scenario or wearing rose-colored glasses when it comes to looking at the taker.
Related Reading: 

Here's Why You Shouldn't Try to Change Your Partner
15. The taker genuinely believes they fit the persona of a giver
Takers have a warped vision of their superiority, believing themselves to be givers and kind-hearted to their fellow man and mates instead of the self-absorbed, egotistical, and lacking partners they are.
How should givers handle takers in a partnership
To change the situation to be healthy, a giver needs to set boundaries that are not to be crossed without repercussions, including moving on to a more beneficial partnership.
The things that a taker is capable of are less than healthy. These are toxic, controlling behaviors for which a giver does not need to be tolerant; they should not be tolerated; instead, they need to walk away. That's how you handle what appears to be an abusive situation.
Final thoughts
For givers finding themself with a taker showing any of the signs listed here, it's beneficial to reach out to a counselor. A professional can guide you toward more healthy thought processes as far as giving with a more constructive approach.
The expert can explain setting good boundaries when it comes to being taken advantage of. Plus, appropriate give-and-take relationships with a decent balance can be taught. Here is a guide from a seminar offering some good information beneficial in give and take situations.
Share this article on
Want to have a happier, healthier marriage?
If you feel disconnected or frustrated about the state of your marriage but want to avoid separation and/or divorce, the marriage.com course meant for married couples is an excellent resource to help you overcome the most challenging aspects of being married.
More On This Topic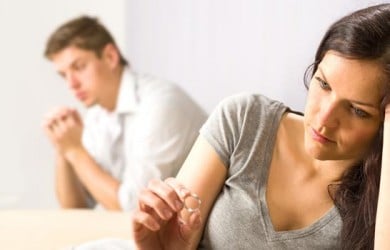 You May Also Like