What are Enneagram Relationships? Compatibality & Types
Enneagram personality types can play a role in determining relationship compatibility. Before diving into Enneagram compatibility, it is important to understand the Enneagram types.
According to the Enneagram Institute, there are nine different Enneagram or personality types, and a scientifically valid test called the RHETI can help people to determine which type best describes their personality. This can go a long way in ensuring better Enneagram relationships.
What are enneagram relationships?
Enneagram relationships evaluate the compatibility of two people in a relationship, based upon their Enneagram personality types.
Different Enneagram personality types have varying preferences, strengths, and weaknesses, and they may be more compatible with certain Enneagram types in relationships.
A test that tells you and your partner, your Enneagram numbers, can help you to determine just how compatible you are. Keep in mind that it is still possible to have a healthy relationship, even if Enneagram types do not appear compatible.
An Enneagram compatibility test is simply a guide that can provide information about what personalities work best together and what can be expected in Enneagram love relationships.
Enneagram personality types- which type are you?
The Enneagram Institute defines nine different Enneagram types, each noted by a number. Understanding these types can help people learn how to manage their Enneagram relationships.
The nine personality types are as follows:
Enneagram type one is a reformer.
This personality type stands true to their moral values and has a strong sense of what is ethical or right. They strive to improve the world and are perfectionists.
Enneagram type two is a helper who tends to be overly friendly and generous.
This Enneagram personality type is known for being warm and sincere, and they feel worthwhile when they are doing good for others.
If you're a three, you have a high level of energy, and you have a desire to stand out from the crowd and impress others. You have a strong need to accomplish great things.
Type Four-The Individualist
The individualist or Enneagram type four is incredibly creative and strives to be different from others.
Fours can be incredibly unique and interesting, but they may struggle with moodiness and feelings of inferiority as a result of their differences.
Type Five-The Investigator
Fives, as investigators, are independent and curious. They present as highly alert, and they are always full of new ideas and insights.
They yearn to increase their knowledge and develop a deep understanding of the world around them.
Enneagram type six values security and can be relied upon to follow through with their responsibilities.
If you are a type six, you are likely to be seen as a trustworthy person and a diligent worker.
Type Seven-The Enthusiast
If you are a type seven, your Enneagram type is extremely outgoing and spontaneous. You tend to be optimistic and playful, and you are probably a fast learner.
While these traits are positive, sevens can sometimes be seen as impulsive or scattered.
Type Eight-The Challenger
Enneagram type eight can be thought of as a dominant personality, as eights are assertive and confident.
If you are an eight, others probably see you as being good at making decisions, but at times you can come across as confrontational or controlling of others.
Enneagram type nine desires peace and harmony, and they strive to avoid conflict.
Nines have strengths such as being supportive, stable and accepting of others, but sometimes, they may ignore problems in order to keep the peace.
Relationship tips for the enneagram types
Now that you understand the different Enneagram personality types, it is helpful to consider some tips that can help your type to enjoy the best of the Enneagram relationships.
Consider the following advice for each personality type:
Type One
What to do if you are a type one
Your drive for perfection can, at times, make you especially critical of your partner.

Try to appreciate your partner for their strengths but allow some forgiveness of mistakes, remembering that your partner is only human.

Since ones value improvement, it may be helpful to view your efforts to

forgive mistakes to improve the relationship

.
What to do if you love a type one
Remind them that they are innately good to reduce their self-criticism

Give them an abundance of kindness

Don't take their nitpicking personally
Type Two
What to do if you are a type two
You tend to have unconditional love for your partners but do not forget your own needs within a relationship.

Trust that others can take care of you and let your guard down sometimes.
What to do if you love a type two
Help them care for themselves

Be a good listener

Fight for them
Type Three
What to do if you are a type three
Know that you are a strong role model, but try not to let your drive for achievement turn into workaholism that distances you from your partner.

Remember that your Enneagram relationship is an area where you can be successful, so it is important to put effort into growing with your partner, instead of focusing solely on career success.
What to do if you love a type three
Support your partner's goals and allow them the time they need to pursue them.

Do not assume that your partner's extra time spent at work means they do not value the relationship.
Type Four
What to do if you are a type four
Try to view your differences as strengths instead of weaknesses, so you do not bring insecurities into the relationship.

Open up to your partner about the things that make you unique.
What to do if you love a type four
Try to appreciate your partner's quirks.

Be willing to listen when your partner opens up to you about fears or insecurities.

Communicate to your partner that the two of you are equals, and both bring strengths and weaknesses to the relationship.
Type Five
What to do if you are a type five
Remind your partner that they are important to you.

Include your partner in on new ideas or activities you want to try.

Set aside time for yourself to think about new things you would like to take on, so you can fully devote your attention to your partner when you are together.
What to do if you love a type five
Do not take it personally if your partner seems emotionally distant; they are probably just lost in thought, and they may even be thinking of you!

Know that the type five is naturally independent, and their ability to spend time on their own does not mean they do not value the relationship.
Type Six
What to do if you are a type six
Practice trusting yourself to choose a fulfilling relationship.

Do not feel the need to hang onto a relationship that is not right for you; you do not have to be loyal to someone who is not a good fit.

Pause before responding to someone, so you can become more grounded and respond rationally instead of emotionally.
What to do if you love a type six
Take time to remind your partner that you are committed to the relationship.

If your partner seems indecisive, do not take this personally. They simply need time to process their thoughts.

Show your loyalty to your type six partner by respecting their preference for routines.
Type Seven
What to do if you are a type seven
Take time to appreciate the joy of the present moment, instead of always focusing on the next new experience.

Focus on your partner when you are with them.

Remember that it is okay to feel and acknowledge negative emotions.
What to do if you love a type seven
Since sevens tend to hold in their emotions, repressed pain may eventually come out as anger or shame. Try to help the seven recognize and process the underlying pain.

Explore your own interests outside the relationship, or you run the risk of the seven feeling smothered.

Recognize that the seven is future-oriented and constantly in pursuit of new experiences. This doesn't mean that you are not enough; it is just their nature.
Type Eight
What to do if you are a type eight
When you are angry, remember to take a step back, assess the underlying reason for your anger, and avoid lashing out at your partner.

Make an effort to include your partner before making decisions, or you may come across as domineering.

Recognize that your partner may need time to think before acting.
What to do if you love a type eight
Do not take it personally if an eight comes across as aggressive; they are simply trying to maintain control over their environment.

Eights tend not to pick up on hints, so be sure to

communicate directly and honestly

.

If you earn the respect of an eight, you can expect them to open up emotionally, but you need to be prepared to put forth the time and effort to achieve this.
Type Nine
What to do if you are a type nine
Be careful not to minimize conflict or avoid important disagreements within your relationship.

Remember that every relationship has conflict.

Practice voicing your own needs and desires.
What to do if you love a type nine
Ask your partner for their opinion when making decisions. They may be more comfortable voicing their opinion if you give them options to choose from, instead of asking an open-ended question about what they want.

Encourage them to talk about things that upset them, instead of bottling things inside.
Which Enneagram types are most compatible?
Given the strengths and weaknesses of the different Enneagram personality types, there are some types that may be more compatible with each other than others.
The best Enneagram relationships, according to Enneagram compatibility, may be as follows:
Type One with Type Seven and Eight
Type ones are disciplined and perfectionistic, but type seven and type eight can balance them out by helping them to step outside their comfort zone, according to experts.
Type seven and type eight can introduce type one to fun pursuits to bring more enjoyment to their lives.
Type Two With Type Eight and Three
Type twos are committed to helping others achieve their goals, and they are, therefore, nicely complemented by eights and threes. This makes for strong Enneagram compatibility.
Threes and eights tend to have lofty goals, and the helpful type two can find a sense of purpose, helping them to achieve these goals.
Type Three with Type Two and Four
As high achievers, the Enneagram type three can lose touch with their emotions.
This makes them compatible with twos and fours, who are deeply emotional and provide balance to number three who is an achieving type.
Type Four with Type Five and Seven
As an individualist, type four simply wants someone who understands them. They tend to be drawn to type five and type seven, who are intelligent and passionate.
Type Five with Type Four and Seven
Fives are introverted but enjoy learning, so they will need someone who can help them to open up while also being able to stimulate their intelligence.
This makes fives compatible with fours, who are deeply emotional, and sevens, who demonstrate their intelligence by exploring a variety of interests.
Type Six with Type Nine and One
With their strong need for security, type six has Enneagram relationship compatibility with the kind, peacemaking type nine and the one, who tends to be dedicated to relationships.
Type Seven with Type One and Three
As an enthusiast, type sevens are always full of ideas and may have trouble settling.
They have Enneagram compatibility with type one and type three, which can add stability to the seven's lives.
Type Eight with Type Two and Three
As a confident, domineering personality type, the eight has Enneagram compatibility with certain types.
Type two, as a helper, is an excellent cheerleader for type eight's pursuits. On the other hand, the ambitious three will be able to keep up with the eight's demands.
Type Nine with Type Six and Five
The type nine, as a peacemaker, pairs nicely with the type six who craves security, which the nine can provide.
Enneagram type five is also compatible with the nine, as the five is a deep thinker who can help the peacemaker to overcome their doubts to make an Enneagram relationship successful.
Does Enneagram compatibility really matter?
The above Enneagram types demonstrate compatibility, but some people may wonder if Enneagram compatibility even matters.
According to the Enneagram Institute, both negatives and positives can arise between any two Enneagram types in relationships.
Enneagram compatibility can give you an idea of what to expect based on your partner's Enneagram type. It can provide a guide for the best Enneagram relationships, but it is not foolproof.
No single pairing is perfect, and there are no two Enneagram types that are destined to fail in a relationship, either.
While some Enneagram types in relationships may naturally mesh better than others, an emotionally healthy person can have a successful relationship with any personality type.
On the other hand, someone who is not psychologically well may struggle to have a satisfying relationship, even if they have Enneagram compatibility with their partner.
Do same-type pairings work?
Beyond wondering if Enneagram compatibility even matters, some people may question if same-type pairings can have successful Enneagram relationships.
As the Enneagram Institute explains, same-type pairings can be attracted to each other because of their similar traits, but on the other hand, these similarities can also cause problems in Enneagram relationships.
For example, when two type twos come together, they are both helpful and nurturing, and they tend to be warm and affectionate toward each other. Twos will also be deeply committed to the relationship, but since they are so committed to being helpers, they may have trouble accepting love from their partners.
Being aware of potential issues that can arise and taking steps to minimize them can help same-type pairings to have successful Enneagram relationships. Still, some people may prefer those who are a different Enneagram type.
Does gender affect which Enneagram types are compatible?
The Enneagram personality types were thought up for universal application since no type is innately masculine or feminine.
Nevertheless, research on Enneagram relationships suggests that social stereotypes and diverse cultures convey certain gendered expectations to the types that can impact their relating style.
Also, as per a study conducted on 457 couples, it was found that gender can influence the choice of personalities for their mates.
For example, in the same study, it was found that male nines with female fours were pretty common ( sixteen couples) as compared to female nines with male fours (just two couples).
Do you want to check your Enneagram compatibility?
Watch this video:

Conclusion on Enneagram types in relationships
People tend to take an interest in Enneagram compatibility in relationships because the Enneagram test can provide insight into each individual's unique personality.
Knowing your Enneagram type can provide you with the specifics of your preferences, tendencies, and habits. This information can also help you determine what you need in a partner.
While the Enneagram can provide useful information about who you are most compatible with, Enneagram relationship compatibility does not guarantee a successful relationship. Two people who do not have Enneagram relationship compatibility can still find happiness together.
Ultimately, if you are emotionally healthy and committed to having a strong Enneagram relationship, you can find happiness with any Enneagram type.
Even if you aren't focused on Enneagram relationship compatibility, taking an Enneagram test can help you determine what to expect from your partner's personality type. This can help you to understand your partner better and prepare you for disagreements that may arise.
Share this article on
Want to have a happier, healthier marriage?
If you feel disconnected or frustrated about the state of your marriage but want to avoid separation and/or divorce, the marriage.com course meant for married couples is an excellent resource to help you overcome the most challenging aspects of being married.
More On This Topic
You May Also Like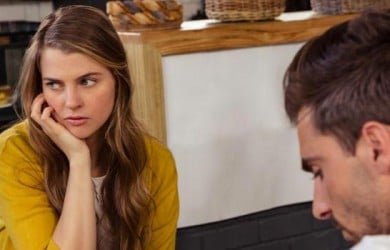 Popular Topics On Married Life