What Is Cognitive Dissonance in Relationships? 5 Ways to Deal
Most of us must have encountered situations where our reality clashes with our expectations in life. Such clashes make us uncomfortable, so we tend to compromise by accepting the reality we did not bargain for or changing our belief.
Cognitive dissonance can sound intimidating but if you understand how it works and affects our lives, you'd see how important it is.
Did you know that cognitive dissonance in relationships exists? It's no surprise since it's all around us. Learning about cognitive dissonance in relationships can teach us many things.
What is cognitive dissonance in relationships?
In its most basic form, cognitive dissonance refers to a circumstance in which a person's actions contradict their views or beliefs.
It significantly impacts many aspects of our lives, including our relationships.
Such situations might bring mental discomfort as the person tries to justify their actions. This state of affairs is the foundation for a theory called cognitive dissonance, proposed by psychologist Leon Festinger in 1957.
One of the most examples of cognitive dissonance is the internal struggle over flirting. Despite being aware of the negative effects of flirting in one's relationship, some people still flirt and even cheat.
As a result, they feel uneasy and guilty every time they do this. There are three possible strategies to reduce guilt or uneasy feeling:
Stop flirting.

Recognize that despite the negative effects of what you're doing, you enjoy it. So, you decide to succumb to temptation.

Try to find evidence to support that it's natural for humans to flirt.
3 causes of cognitive dissonance
Several circumstances can generate conflicts and high levels of cognitive dissonance. It's not just with cognitive dissonance in relationships but also in our daily lives.
If you're curious about the reasons for cognitive dissonance, here are the three major causes:
1. Learning new information
Cognitive dissonance might be a result of learning more about something.
For instance, you might feel awkward if you engage in behavior that, later on, you discover can be damaging. This is where you feel the need to stop what you're doing.
However, the people who influenced you or your peers might try to rationalize these unreasonable actions with new facts.
Related Reading: 

15 Things You Learn in Relationship Counseling
2. Social pressure
You might occasionally act in ways inconsistent with your views or thoughts because of external expectations. This is common in the church, workplace, school, and social situations.
For example, due to peer pressure, even if you're already unhappy and you know you are doing something bad, you continue to do it because you will be considered an outcast if you stop.
3. The urgency to make a decision
Every day, we decide. Big or small, we always have two or more choices.
This is where cognitive dissonance steps in. It's hard for us to choose because both options presented are equally appealing; both have their advantages and disadvantages.
After deciding, that's when we should feel at ease because that is where we would stand by that decision. You can do this by justifying the reasons you chose that specific options.
5 signs of cognitive dissonance
Since we understand the concept of cognitive dissonance, the next step is to know the signs.
Here are some of the seven most common signs of cognitive dissonance:
1. Overall uneasy feeling
Feeling queasy—that uneasy sensation in the pit of your stomach—is unquestionably a clue that you might be experiencing cognitive dissonance.
You might try to divert your thoughts, but overall, your body is giving you signs that it's experiencing cognitive dissonance.
2. You always try and avoid conflict
Some of us prefer to avoid conflict. We despise it. Cognitive dissonance enters the picture at this point.
When given a chance to decide, we usually choose the option that presents the least difficulty. If you base your decision on the same reasoning, then that's a sign of cognitive dissonance.
Related Reading: 

The Challenge of Conflict Avoidance in Relationships
3. You ignore the facts
Do you ignore facts and look the other way when faced with facts? It could be because the choice that you have is easier.
Some people want to avoid starting over, making tough choices or even trying to change their views, so they choose simpler rather than ones founded on the truth. This is another form of cognitive dissonance.
4. You need to make yourself feel better
Cognitive dissonance also manifests in circumstances where, despite your decision, you still feel the urge to comfort yourself.
Essentially, it is persuading oneself that you made the right choice against a previous opinion.
5. You experience "Deer Eyes"
Another common sign of cognitive dissonance is what we call 'deer eyes.' Your eyes get big and wide, much like a deer's.
It means you're excited and are easily swayed by your peers. Mostly, this involves money. It could involve following the newest fashion trends or excessive shopping.
When you choose to act on an impulse rather than using logic, you are acting irrationally.
Just picture the embarrassment you would experience if you did something you claimed you wouldn't do. That is your battle between right and wrong, and you chose the latter?
After making a poor choice that went against your principles, you might struggle with the grief of your decision. Your feelings of remorse or even embarrassment could show cognitive dissonance.
These signs will lead to a feeling of guilt. You know that there might have been a better option per your values, but you were persuaded to go in the opposite direction.
If you have these feelings or realizations, it only means one thing, you've experienced cognitive dissonance.
5 examples of cognitive dissonance
As we understand cognitive dissonance and how it affects our daily lives, we move on to learning some of the cognitive dissonance in relationships and even cognitive dissonance examples.
Situation number 1: Drug abuse
John Doe may abuse drugs, although he firmly believes drug abuse is wrong. As a result of the inconsistency between his perspective and actions, he suffers internally. To reduce his mental tension, he can decide between the following two options:
Stop abusing drugs because it is against his belief, or

Abandon the idea that abusing drugs is not bad.
Situation number 2: The path to choose
This example talks about cognitive dissonance in relationships. Steve just got a promotion with lots of benefits.
However, you and your partner need to relocate and be far away from your aging parents. You want to let him know about it, but you don't want to shatter his dreams.
You explain why you can't move and propose a long-distance relationship.

Move with him and just visit often. After all, this opportunity comes once in a lifetime.
Situation number 3: A happy family
Mary and Larry are in love. However, Larry wants to have five or more kids, but Mary only wants two.
She's now torn between following her husband's wishes or proposed family planning.
She could propose family planning and explain why having only one or two kids is best.

She could embrace that your home would be happier if you have many kids. After all, Larry is a good provider and a loving husband.
Related Reading: 

3 Simple Ways to Become a Happier Family
Situation number 4: A wife's duty
Jane and her husband, Tom, are also best friends. Their relationship couldn't get any better.
But Tom wants Jane to stop working. He has a stable and high-paying job and wants his wife to stay home and care for the kids.
However, Jane doesn't want to stop working since her career is starting. She had dreamed of this her entire life, and giving it up would hurt her.
Jane might consider her husband's wishes. She could get back to work once the kids are older. She can also justify her husband's wishes since it would be better for the kids.

She could try to explain her situation to her husband and refuse to quit her job. It's about her dreams, too.
Related Reading: 

Wife Duties of a Good Wife
Situation Number 5: Being too friendly
Mark is in a relationship and knows about boundaries. Unfortunately, he has so many friends of the opposite gender, and he couldn't help but engage in flirtatious acts.
Mark can justify that it's only natural to flirt and it's "harmless" as long as they don't go more than that

Stop being too friendly and touchy because he's in a relationship and knows this will hurt his partner.
5 ways cognitive dissonance affects your relationships
Cognitive dissonance occurs in almost every kind of human relationship- familial, romantic, or platonic.
It can affect how we behave or react and take our relationships towards a different route which may or may not be healthy. Here are some ways cognitive dissonance in relationships is related.
1. In platonic relationships
Anxiety arises when people disagree on something, no matter how close they may be. It threatens the peaceful rhythm of their friendship.
To resolve the tension, one party overlooks the other's views or actions to keep stress at bay.
For instance, Jane and Bianca have been best friends since pre-school. After going their separate ways in college, their friendship is strained because of their opposing political views.
Bianca, who craves unity and peace, decides to stop debating with her friend on political topics. Instead, she limits herself to supporting and encouraging Jane when politics isn't involved.
In another instance, Mike is a research scholar who ardently believes in human rights but does not believe in euthanasia.
When his esteemed supervisor opts for euthanasia to end his agony of cancer, Mike goes through mental turmoil. To calm his anxiety, he adjusts his views on euthanasia, justifying that it is better for his supervisor and it is his right to do so, after all.
Related Reading: 

How to Handle Platonic Relationship and Marriage
2. In familial relationships
Every family faces its fair share of troubles.
Whether the conflict lies between the parental figures or between a parent and a child, one of the people involved may decide to adjust so that the problems can be resolved.
For instance, a conservative mother against homosexual relationships learns that her beloved son is gay. To maintain her internal consistency, she may purposely overlook that her son is homosexual.
Alternatively, she may change her opinion on homosexuality to accept the truth about her son's sexuality.
Related Reading: 

The Importance Of Maintaining Healthy Family Relationships
3. In romantic relationships
One of the most common tie-ins where cognitive dissonance occurs is in a romantic relationship, especially one that is toxic or abusive – physically or emotionally.
On the one hand, divorce, infidelity, and abuse may be the outcomes of attempts to solve cognitive dissonance. On the other hand, forgiveness, denial, or selective reality could be the alternative outcomes.
For instance, Jack and Carrie have been in love for the past six months. They are enjoying their honeymoon phase, thinking that they know everything there is to know about each other. However, Jack unexpectedly hits Carrie during a fight.
This results in cognitive dissonance in Carrie as her perception of her partner now clashes with his undesirable actions. She knows that she loves Jack, but not his actions. She can either end their relationship or rationalize Jack's abusive behavior as a 'one-time thing.'
Although we can find similar examples and go on ad nauseam, the above illustrations are enough to get the gist of how it usually goes.
4. In work relationships
Another form of cognitive dissonance in relationships is in our workplace. Our job is very important to us, and sometimes, this becomes the very reason we experience cognitive dissonance.
Kim loves and values her job. Unfortunately, her morals are tested every time her boss asks her to do a favor.
For example, her manager might ask her to change the clock-in time of a fellow team member to avoid suspension and say that she deserves another chance.
Kim is an outstanding team member and knows that doing this is unethical and constitutes cheating. However, refusing to comply with this "request" could create a hostile work environment and perhaps result in her losing her job.
She could either turn a blind eye, do what her manager asks, or follow her beliefs and report the toxic workplace act.
Related Reading: 

How to Make a Relationship Work: 15 Ways to Help
5. In situationships
A situationship is an undefined romantic relationship that is less than a partnership but more than a chance encounter or booty call.
For example, Nancy knows very well that being in a situationship isn't something that will fit her morals, especially once her family finds out. However, she can't help but allow the situationship to happen because of her developing feelings.
This makes her feel guilty and ashamed. She could allow the situationship to continue, justifying that eventually; it would progress into an actual relationship.
Or she could stop it as soon as possible because she knows it's not going anywhere and deserves better.
Related Reading: 

15 Signs You're in a Situationship and How to Deal With It
5 ways to deal with cognitive dissonance in relationships
You may have related to some of the examples given. Now, the question is how to deal with cognitive dissonance.
What are the steps to be more aware of our emotions and thinking and to learn how to overcome cognitive dissonance in relationships? Here are five steps to consider:
1. Learn to be mindful
Being mindful helps us to learn how to overcome cognitive dissonance.
Mindfulness is when you develop a greater awareness of and openness to whatever is arising.
For example, instead of being swayed to buy the latest phone, you will still use your phone that's working properly and save money for your future.
When mindful, you will prevent compulsive decisions that could lead to cognitive dissonance.
Related Reading: 

5 Tips on Mindful Parenting For a Better Bond With Your Child
2. Create a journal
Journaling is one way to deal with cognitive dissonance. It's one of the most popular ways to open up and learn more about yourself.
You write down your ideas and feelings as you reflect on your life so that you can read and process them later. You start observing your own thinking, just like reading a book.
By doing so, you can alter your viewpoints and better comprehend your thought processes.
3. Practice creating healthy boundaries
To deal with cognitive dissonance in relationships, you must learn the importance of seeing healthy boundaries.
A person who knows and sticks with this boundary will allow no one to persuade them to compromise their beliefs.
For example, you don't want to smoke, but your peers want you to try it. Setting your boundary will let them know you respect yourself.
4. Practice self-love and self-care
If you practice self-love and self-respect, then you are also learning how to deal with cognitive dissonance.
Self-love will make you prioritize what is good for you, thus preventing you from choosing a not-so-beneficial choice based on other people's influence.
For example, a woman experiencing physical abuse for the first time will choose to leave rather than justify that relationships are just like that.
A person with good self-esteem will always make mindful choices.
Andrea Schulman, an LOA coach and educator from Raise Your Vibration Today, discusses three easy self-love exercises.
5. Seek the help of a relationship therapist
Another helpful way to deal with cognitive dissonance in relationships is to seek the help of a relationship therapist.
These licensed professionals will help you and anyone close to you deal with cognitive dissonance, especially when you think it's going out of hand.
There are tried-and-true methods through which you can learn various strategies for dealing with cognitive dissonance under the guidance of a therapist.
Final takeaway
Cognitive dissonance can either hurt or help you, individually or interpersonally.
Depending on your decision, you may grow or dwindle as a person because of certain obstacles and hindrances in life. Cognitive dissonance in relationships can either be good or bad, depending on how you decide and face the situation presented to you.
It can strengthen or sever your bond with others. It can also help you understand yourself better or be indifferent.
By understanding cognitive dissonance in relationships, its signs and how to deal with it, you will be able to use it to benefit you and your life.
Share this article on
Want to have a happier, healthier marriage?
If you feel disconnected or frustrated about the state of your marriage but want to avoid separation and/or divorce, the marriage.com course meant for married couples is an excellent resource to help you overcome the most challenging aspects of being married.
Learn More On This Topic
You May Also Like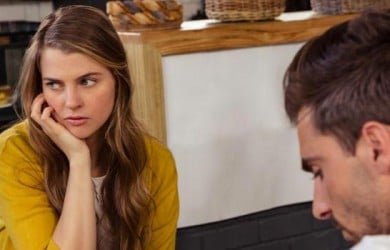 Popular Topics On Married Life