Does Cognitive Dissonance Help or Hurt a Relationship
Most of us must have encountered situations where our reality clashes with our expectations in life. Such clashes make us uncomfortable and so we tend to compromise by either accepting the reality we did not bargain for or changing our belief itself.
For instance, John Doe may abuse drugs although he firmly believes that drug abuse is wrong. As a result of the inconsistency between his perspective and actions, he suffers internally. To reduce his mental tension, he can decide between the following two options:
Stop abusing drugs because it is against his belief, or

Abandon the idea that abusing drugs is not that bad at all.
Such situations might bring in mental discomfort as the person tries to justify his or her actions. This state of affairs is the foundation for a theory called cognitive dissonance proposed by psychologist Leon Festinger in 1957.
Can cognitive dissonance affect interpersonal relationships?
Cognitive dissonance occurs in almost every kind of human relationships- whether it is familial, romantic, or platonic.
It can affect how we behave or react, and proceed to take our relationships towards a different route which may or may not be healthy.
In platonic relationships
When people disagree on something, no matter how close they may be, anxiety arises. It threatens the peaceful rhythm of their friendship. To resolve the tension, one of the parties involved chooses to overlook the other's views or actions to keep stress at bay.
For instance, Jane and Bianca have been best friends since pre-school. After going their separate ways in college, their friendship is strained because of their opposing political views. Bianca, as a person who craves for unity and peace, decides to stop debating with her friend on political topics. Instead, she limits herself to supporting and encouraging Jane in situations where politics isn't involved.
Another instance, Mike is a research scholar who ardently believes in human rights but does not believe in euthanasia. When his esteemed supervisor opts for euthanasia to end his agony of cancer, Mike goes through a mental turmoil. To calm his anxiety, he adjusts his views on euthanasia, justifying that it is better for his supervisor, and it is his right to do so, after all.
In familial relationships
Every family faces its fair share of troubles.
Whether the conflict lies between the parental figures or between a parent and a child, one of the people involved may decide to adjust so that the problems can be resolved.
For instance, a conservative mother who is against homosexual relationships learns that her beloved son is gay. To maintain her internal consistency, she may purposely overlook the fact that her son is homosexual. Alternatively, she may change her opinion on homosexuality to accept the truth about her son's sexuality.
In romantic relationships
One of the most common tie-ins where cognitive dissonance occurs is in a romantic relationship, especially one that is toxic or abusive – physically or emotionally.
On one hand divorce, infidelity, and abuse may be the outcomes of attempts to solve cognitive dissonance, whereas on the other hand forgiveness, denial, or selective reality could be the alternative outcomes.
For instance, Jack and Carrie have been in love for the past six months. They are enjoying their honeymoon phase, thinking that they know everything there is to know about each other. However, Jack unexpectedly hits Carrie during a fight.
This results in cognitive dissonance in Carrie as her perception of her partner now clashes with his undesirable actions. She knows that she loves Jack, but not his actions. So she has at least two ways of resolving her mental stress. She can either end their relationship or rationalize Jack's abusive behavior as a 'one-time-thing'.
Although we can find similar examples and go on ad nauseum, the above illustrations are enough to get the gist of how it usually goes.
So how does it help or hurt relationships?
We can conclude that cognitive dissonance is a situation where you decide to justify your actions or others' actions so that your internal conflict is drastically reduced.
As the saying goes, everything has a negative and positive side.
Cognitive dissonance can either hurt or help you, whether it is individually or interpersonally. Depending on your decision, you may grow or dwindle as a person because of certain obstacles and hindrances in life. It can strengthen or sever your bond with others. It can also help you understand yourself' better or be indifferent.
Share this article on
Want to have a happier, healthier marriage?
If you feel disconnected or frustrated about the state of your marriage but want to avoid separation and/or divorce, the marriage.com course meant for married couples is an excellent resource to help you overcome the most challenging aspects of being married.
More On This Topic
You May Also Like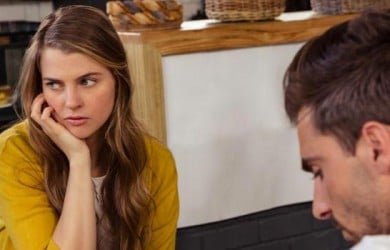 Popular Topics On Married Life