Things to Consider Before Divorcing an Entrepreneur
You've been married to an entrepreneur for years, but you have finally decided to file a divorce. In a battle between his/her love for the company and love for you, the company always seems to win.
Every divorce is hard. Emotionally and financially. But when you are divorcing an entrepreneur it gets thousand times more complicated. Here are few tips on how to handle this situation without losing your mind:
1. Think twice before you file the papers
It could be that you feel like you have been suffering for years due to your spouse's preoccupation with his job. Maybe you sense that you grew apart so much that you don't know each other anymore. Or your partner may be just starting up his business. No matter what the external circumstances are, you should think twice before deciding to divorce.
If your partner is just establishing his enterprise consider this- first three years or starting a new business are usually the hardest. When the startup period is over your relationship might get better.If, at the moment, your partner is tired, stressed and too involved in something seriously demanding it doesn't mean it will always be like that. Show understanding and support, if you decide to help them by changing your role in the family and becoming an important part of their business, things might change.
Also, when the storm passes and your spouse earns enough money to hire assistants, managers and so on, he/she will have much more time for you and your family. So, don't give up too soon. Remember, you did say for better or worse.
2. You'll be dealing mainly with their lawyers
If you still decide that you should go through with your decision, be ready to hear from their lawyer instead of them, on a daily basis. You've realized by now how much the company means to your partner. It sure means enough that it cost them their marriage. That is why you should be ready for the fact that they will do anything they can to protect their business.
You are probably just tired of being with them, and you don't really care about the money as long as you and your kids have enough to live, but at this point, your spouse doesn't think the same. So, make a concrete decision on what you want to gain from a divorce process and stand behind it.
Hire a lawyer for yourself too. Finance specialist also might be a good idea. They will help you figure out your rights and make sure that the fight stays fair till its very end.
3. Alimony might be great, but…
If you have children together and you are the one who gets custody, you will get alimony too. If your spouse's business is successful, this will be probably a large sum that will regularly be paid every month, right on time. On the other hand, if your partner is struggling with their entrepreneurship, things won't be so simple.
You will still have right to receive alimony, but will you get it as you should? No one knows. If something like that happens, be ready to make another call to your attorney and let them handle the situation. Your kids should be in a first place, and they should always have everything they need.
On the other hand, alimony is not enough. You divorced your spouse for one main reason – they neglected you and your kids. This probably won't change after the divorce. They might pay generous sums to assure their children's well-being, but they still won't be here. They will call to reschedule visits and even when they find time to see their kids, they will probably be distant and thinking about work.
Make sure to talk to your children about that kind of experiences. Explain to them that even when adults have to work and don't find enough time to spend with them, that doesn't mean they don't love them, care for them or worry about them. Don't be your ex-partner's enemy and don't turn your children against them.
If you find this task too difficult and you feel like your emotions might cloud your judgment, hire a professional. Child psychologist, therapist or counselor might help them with the whole process of divorce and transition to the life with a single parent.
Also watch: 7 Most Common Reasons for Divorce
4. What if you are running a business together?
This is a specific and tricky situation. Once you become ex-spouses but current business partners, you should be careful about your relationship. Don't let old problems kick in.
You are in advantage in some way, because you have a business partner you truly know. Be honest, divide responsibilities and take a vacation once the divorce is over. You deserve a few days to relax and prepare yourself for seeing your ex every day, but not romantically.
Stay strong; divorce is not the end of the world. You might even realize that you feel much better this way.
Share this article on
Want to have a happier, healthier marriage?
If you feel disconnected or frustrated about the state of your marriage but want to avoid separation and/or divorce, the marriage.com course meant for married couples is an excellent resource to help you overcome the most challenging aspects of being married.
More On This Topic
You May Also Like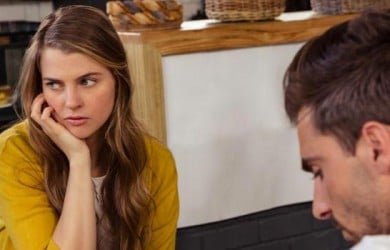 Popular Topics On Married Life