What You Should Know About Dating a Guy with a Kid
All relationships come with some baggage. Especially if you are in your thirties or older, and perhaps re-entering the romance arena, it is natural that the men you meet will be carrying baggage that is more than just a light daypack. Even if you had always sworn never to date a man with kids, love may have had other plans for you: here you are falling for a single dad. What are some good guidelines to follow to help you navigate this uncertain, but certainly interesting, territory?
Introduction with the kid: It's his call
So you have maturity and seeing how he prioritizes his child's time and welfare, all while giving you the attention and love you deserve. You sense it is time to step things up a bit and are anxious to meet his child. This would be a good time to talk with your boyfriend about his timeframe for making this all-important introduction. Even if you are ready, he might not be, and this is his call. He knows his child and knows how introducing a new love interest is going to affect that small person.
You will need to follow his lead and let him set the pace.
In all cases, it is optimal to wait until you and your new partner are in a truly committed relationship before you make the child part of who you are.
Your relationship with his child will take time to build
You and your man may have gone from zero to sixty fairly fast, from the first date to intimacy in a couple of weeks (or less). But you are adults, making rational choices using your good communication skills.
With a child, the bond will take more time to build, and it has to be constructed carefully, always respecting the child's well-being and rhythm.
Children know when you are trying too hard, so showering them with gifts or pretending like you are a second mom too soon will not work in your favor.
After your initial introduction, stand back and let the child come to you. You can prompt this behavior with light questions, such as "who's your best friend at school?" or "Tell me about your favorite show on tv". Practice patience as you create your special relationship with this child; the rewards in terms of love and closeness will be outstanding.
Be prepared for wavering loyalty
Even after you've built a nice bond with his kid, know that the child's ultimate loyalty will be with their mom, even if she is negligent, absent, or just a bad mom. It is best to view yourself and your role not as a second mom, but more as another adult who can provide love and security to this little human. Motherhood is not a contest, and you do not want to play at seeing if you can be "more loved" than the child's actual mother.
What you want is to become another loving person in the child's circle of protectors.
Prepare yourself for hearing the inevitable "You're not my mother!" at some point, and just realize that the child is correct.
Watch him parent
You know how touching it is to watch a man play with his dog? It's kind of sexy, right? The funny little voice he uses when interacting with the pup, and the openly loving way he hugs that furry creature? Well, get ready to be turned on when you watch your guy doing his dad thing.
There are few things more heartwarming than watching your man explain the world to his kid.
Stand back and observe, because this will tell you a lot about his caregiving skills.
Dating a dad demands flexibility
When you dated single men with no children, you could do things according to your own schedules, such as spur-of-the-moment evenings and weekends. With a dad, the landscape is much different. He is working with a custody schedule that demands compliance, with little wiggle room for romantic escapades, decided hours in advance. A good way to manage this is to be informed of his custody schedule—nights, weekends, etc—so you both can plan your time together around that. Do be aware that children get sick, and the ex may call upon your guy for help in certain situations, so when that happens, stay calm.
His child is his priority, so you'll need to be flexible from time to time when these little things pop up.
Reap the rewards
Dating a dad may not have been your ideal choice when you set out to create a new relationship. But now you are in it, and you will see that extending your circle of love to include his little one will have the lovely effect of making you a more loving, giving, and generous person.
Having this child around will teach you valuable life skills that you can transfer over to your adult relationship: patience, listening, seeing things from another's point of view, and most of all, unconditional love.
Because that first time that little kid snuggles up to you and asks you for a hug and a kiss, just because? Your heart will melt. This is love in its purest form, and lucky you—you get to be part of that inner circle.
Share this article on
Want to have a happier, healthier marriage?
If you feel disconnected or frustrated about the state of your marriage but want to avoid separation and/or divorce, the marriage.com course meant for married couples is an excellent resource to help you overcome the most challenging aspects of being married.
More On This Topic
You May Also Like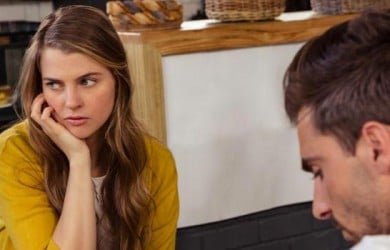 Popular Topics On Married Life