Bird Nesting a Possible Solution for Child Custody
This is the second article in my Custody Arrangement Transition series.
"Birdnesting" is a custody transition approach that sparks a lot of interest for recently separated parents.
This arrangement involves the parents remaining in the family home but living relatively separate lives with specific periods of responsibility for the kids using the original family residence as the primary custody base.
In many "Birdnesting" arrangements the parents continue to cohabit the family home but sleep in separate bedrooms.
Another variant of this approach is that the parents alternate living in the home with the children for a specified period each week, while the "off duty" parent lives in a separate residence or stays at the home of a friend or family member.
The "Birdnesting" arrangement became more popular after the economic recession of 2008.
An attractive financial option, with the possible added benefit of reducing the emotional impact of the separation on the children.
If you are wondering about birdnesting divorce custody options or is bird's nest custody the best solution for your family then let's shed some more light on this topic.
Pros and cons of bird nesting divorce plans
"Birdnesting" is not without challenges. This is especially true if the parents plan on using this approach long-term. It is common for emotional tension between parents to arise post-separation.
This tension usually eases with the passage of time as the parents get on with their new lives. In the "Birdnesting" scenario, however, this tension can continue to simmer or even build as they share the same home, even on different days.
Another reason for favoring this type of custody arrangement is that for one or both parents there may be ambivalence about the separation. This could be due to their concerns about the impact of the divorce on the kids or their own feelings of loss or guilt regarding the split.
Over time, however, "Birdnesting" can create obstacles to the parents' ability to move on and fully live their own lives.
An important reason parents are drawn to the idea of "Birdnesting" is that they believe that it is in their children's best interests for the family to remain intact in some fashion rather than to fully separate.
Although the benefit of a gradual transition via "Birdnesting" may provide some comfort to the children in the initial separation phase. As a long-term solution these arrangements can be more difficult and confusing for the kids than a two-household solution might be.
It's understandable that parents would want to mitigate the emotional damage experienced by the children due to a physical separation from the other parent. In this regard "Birdnesting" can seem like a good compromise.
Unfortunately, it's not possible to be "kind of" divorced. The fact is that having to go your own way, leaving your familiar life for the unknown, is difficult.
In the long run, however, that difficult journey is safer for you and your children. Living a semi-separate existence from the other parents in the same home is generally not a sustainable long-term solution.
One serious pitfall of this type of arrangement is that the longer parents must contend with each other in close quarters once they decide to split, the angrier and more resentful they may become.
Legal and clinical professionals deal with issues related to parents sharing or cohabitating a common residence on a regular basis.
Their intervention is required due to the escalation of parental conflict that this type of arrangement engenders. This conflict can lead to charges of domestic violence and subsequent restraining orders.
In my latest book "Change Your Mind" I highlight the potential for increased conflict and the possibility of domestic violence occurring as the result of tensions that arise between the parents post-separation.
If a finding of domestic violence is established against a parent, it creates major barriers to that parent sharing Joint Legal and Joint Physical Custody of their children.
"Birdnesting" can also have unintended consequences for the kids. Residing in the former family home, the scene of so many memories both good and sad can become emotionally overwhelming for a parent.
Kids can sense how their parents are feeling. An emotionally upset parent, no matter how adept at disguise, can distract the kids from focusing on school, friends and extracurricular activities.
Additionally, long-term parental cohabitation may create confusion for the kids who view the parents continued cohabitation as a sign that they will eventually reunite.
Managing bird-nesting: The new trend in co-parenting
If you truly are unable to leave the family residence, there are ways to mitigate the stress and protect yourself from accusations that could interfere with your custody rights.
Here are some suggestions:
– Seek legal advice regarding your situation and possible options.
– Don't allow yourself to be provoked by the other parent. If you lose your temper and the police are called your ability to share joint custody will be severely compromised.
– Seek clinical support to help you process your emotions during this challenging time so that you can maintain a steady emotional presence for your kids.
– Don't directly involve the kids in your separation anxiety, anger or sadness even though for you these emotions are normal, understandable and justified. The emotional and behavioral example you set will play a big role in how they adjust to their parents' separation.
– Ensure that the kids get your undivided attention despite the stressful situation you find yourself in.
– Support your kids focusing on developmentally appropriate tasks such as school, friends and extracurricular activities.
Although it may work for some parents, generally, "Birdnesting" as a long-term solution and can result in an inability to truly leave the nest.
The well-intended compromise you make to cohabit, beyond the expiration date of your relationship as a couple, may come at the cost of that which is most valuable, your freedom.
Share this article on
Want to have a happier, healthier marriage?
If you feel disconnected or frustrated about the state of your marriage but want to avoid separation and/or divorce, the marriage.com course meant for married couples is an excellent resource to help you overcome the most challenging aspects of being married.
Learn More On This Topic
You May Also Like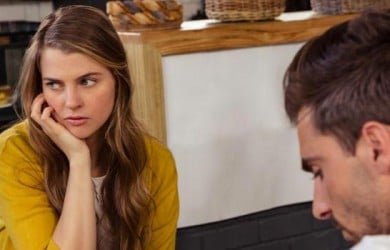 Popular Topics On Married Life