6 Joyous Pre-Marriage Latin American Wedding Traditions
When two people decide to marry, many things must be considered to make the big day perfect. One of the most important aspects of a religious wedding is the pre-marriage rituals. Pre-marriage Latin-American wedding traditions are essential to many of these weddings, especially those in Christian culture.
Many customs in Latin-America and traditions vary depending on the country of origin and cultural background of its people, but most pre-marriage rituals involve some type of preparation or cleansing ceremony.
6 pre-marriage Latin-American wedding traditions
In this section, we will explore some of the most common pre-marriage Latin-American wedding traditions and offer tips on how to make them work for your own Christian wedding ceremony.
1. Attending counseling sessions
It is not uncommon for Christian couples in Latin America to attend pre-marriage counseling sessions. This helps ensure that the couple is on the same page regarding their values and expectations for marriage. The sessions also allow the couple to get to know each other better and learn how to resolve conflict healthily.
In addition, the counselor can help the couple to identify any areas of concern that might need to be addressed before or during the marriage. By attending pre-marriage counseling sessions, couples are able to start their marriage on a solid foundation.
Related Reading: 

Things You Can Expect from Marriage Counseling Sessions
2. Lazo ceremony
One of the most important pre-marriage Latin-American wedding traditions is the "Lazo ceremony." The Lazo is a white cord that is placed around the necks of the bride and groom during the ceremony. It symbolizes their union and their commitment to each other.
A priest or minister usually blesses the Lazo before it is placed on the couple. After the ceremony, the Lazo is often displayed in the home as a reminder of their special day.
3. Arras ceremony
The arras ceremony is another popular pre-marriage ritual that originates in Spain. In this ceremony, 13 gold coins are placed in a bowl or platter. The groom then gives the coins to the bride as a symbol of his commitment to providing for her.
The number 13 is significant because it represents Jesus and his 12 disciples. This ceremony is often combined with the Lazo ceremony.
Check out this ceremony video to understand it better:
4. Veiling ceremony
The veiling ceremony is a tradition that is often seen in Catholic weddings. The bride's veil is placed over her head in this ceremony by the groom or his mother. The veil symbolizes the bride's purity and commitment to her husband.
After the veil is placed on the bride's head, she will usually say a prayer or read a scripture passage.
Related Reading: 

How to Plan Your Own Wedding Ceremony
5. Wedding sponsors
In many Latin-American Christian weddings, the couple will choose a wedding sponsor or godparent. This person is typically someone who is spiritually significant to the couple, such as a pastor or close friend.
The sponsor plays a vital role in the wedding ceremony, offering prayer and often giving a reading from Scripture. In addition, the sponsor may also help with pre-marriage counseling and offer support and guidance during the first year of marriage.
By choosing someone who is spiritually supportive, couples can ensure that they have someone to turn to during times of difficulty.
6. Marriage banns
In some Christian denominations, it is customary for the couple to post their marriage banns before the wedding ceremony. This serves as a public announcement of their intention to marry and allows anyone who might object to the marriage to come forward.
Posting the banns also gives friends and family members time to pray for the couple as they prepare for marriage. By following this tradition, couples can enter into marriage with the support of their community.
6 must-know tips for planning a Catholic wedding
Planning a Latin wedding involves following specific Latin wedding traditions and rituals. From choosing the right readings to selecting the appropriate music, it's important to understand the religious significance behind each decision.
Here are some tips to help you have a beautiful and meaningful Catholic wedding celebration.
1. Have a small, intimate wedding
You can still have all the important people in your life without spending much money. Talk to your priest about what is possible and what the guidelines are.
Related Reading: 

10 Steps Towards a More Intimate Marriage
2. Get married in a church that you love
This will be a place that you visit often and will have meaning for years to come. It doesn't have to be a big, fancy cathedral – any church that has significance for you will do.
3. Have a reception afterward at a restaurant or someone's home
You don't need to have an expensive sit-down dinner; a buffet or potluck will be just as memorable and cost a lot less.
4. Use your own talents and resources
If you can't afford to hire a professional photographer, ask a friend who is good at photography to take pictures. If you know someone who is musical, ask them to play or sing at your ceremony. Use your creativity and resourcefulness to make your wedding unique and special.
5. How to save money on a wedding cake
You can save a lot of money by making your wedding cake or having a friend or family member make it for you. Many simple and elegant cake recipes are easy to make and won't cost much money.
Related Reading: 

Top 15 Ways to Save Money on Your Wedding in Dominican Republic
6. Can't afford a fancy wedding?
Don't worry – a simple wedding can be just as beautiful and unique as a more elaborate one. Talk to your parish priest about what options are available to you. Many churches have wedding coordinators who can help you plan a cost-effective ceremony.
The most important thing is that you are marrying the person you love. Focus on what is truly important, and don't let the details stress you out.
By following these tips, you can have a beautiful and meaningful Catholic wedding without spending a lot of money. With creativity and planning, you can have the wedding of your dreams on a budget.
Related Reading: 

9 Ways to Organize an Unconventional Wedding for Yourself
Takeaway
Many other pre-marriage Latin-American wedding traditions are practiced in their culture. These are just a few of the most popular ones.
Whatever traditions you choose to incorporate into your wedding ceremony, make sure they are meaningful to you and your spouse. With thoughtful planning and a little bit of research, you can create a wedding that is both beautiful and unique.
Share this article on
Want to have a happier, healthier marriage?
If you feel disconnected or frustrated about the state of your marriage but want to avoid separation and/or divorce, the marriage.com course meant for married couples is an excellent resource to help you overcome the most challenging aspects of being married.
More On This Topic
You May Also Like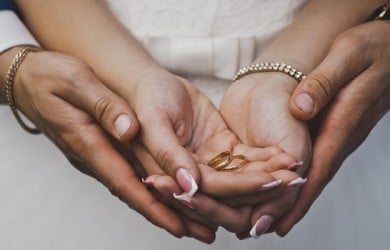 Popular Topics On Getting Married