5 Simple Tips on How to Plan a Cheap Wedding
If you are planning to get married any time soon, then the budget of the wedding might be a big issue for you.
You might be wondering how to organize a cost-effective wedding without compromising on the quality of the ceremony. If you want to have a great wedding within a limited or low budget, it is important for you to have a very clear idea about how much money you can spend.
This is especially true if there are multiple funding parties.
You can spend as much money on your wedding as you want. It could be an exorbitant amount or could be absolutely minimal. But, the ultimate point is to have a decent wedding ceremony without burning holes in your pocket.
The first step towards planning a cost-effective wedding is to plan your budget systematically and realistically. In this way, you can save a lot of careless spending and can canalize your existing funds much more effectively.
Here are some tips that are going to help you plan a beautiful wedding within a limited budget.
1. Talk your parents out off funding your wedding
If the parents are paying for your wedding ceremony, then have a talk with them about the monetary issues right at the beginning.
It is important for you to know how much money they can spend. They might tell you that they are going to pay for certain things like the flowers or the food. They can also have certain preferences of how you should spend the money.
Misinformation and misconception can lead to undue and extravagant expenditure, causing a lot of tension later.
So, for organizing a cost-effective wedding, you need to consult all the funding parties and have a perfect idea about the limits of expenditure.
2. Be aware of your financial constraints
If you are aware of your financial constraints right from the beginning, then you can plan a beautiful cost-effective wedding by distributing the money consistently on every aspect of the ceremony.
This will also help you to prioritize.
You cannot possibly curtail the essential services, and you would not want to compromise on certain things that both you and your fiancé want badly. So, find out those fancy things which are redundant.
Some people give very expensive gifts to the wedding guests as token or memorabilia. But alternately, a heartfelt 'thank you' card can be more special, intimate, and cheap.
Recommended – Pre Marriage Course Online

3. Never undermine the importance of budgeting
The importance of planning a budget can hardly be overstated. If you do not have a budget, then the money just keeps on slipping from your hand through impulsive and whimsical purchases and unorganized expenditure.
If you have a budget, then you will think twice before buying an expensive wedding cake or dress. Instead, you can spend your energy looking for great choices within your budget. Having a budget does not mean you will never overshoot it.
So, you can have a buffer fund kept separately for the extra expenditure.
A cost-effective wedding does not mean an inferior wedding.
It means better planning and utilization of your financial resources to have an organized and neat wedding ceremony. If you are thinking of how to plan a cheap wedding, then do not feel unduly concerned or pressurized about it.
It is very much possible to have a great wedding on a small budget. You just have to use your resources better and use innovative ideas of cost-cutting.
4. Keep the guest list small
If you are wondering about how to plan a cheap wedding, then keeping the guest list small might help.
You can make an initial draft.
There will be some people whom you can afford not to invite in your wedding reception. You can call them later at a private dinner party and so on. Many people do not invite all their office colleagues to their wedding. They have an informal celebration later.
This is a very good way of cost-cutting.
But, it is important that you make your guest list very carefully and do not meet out preferential treatment to the same category of people.
If you are equally close to all your neighbors but cannot invite a few of them, it is better that you do not invite any of them to your wedding ceremony. In this way, they will understand your constraint and will not feel snubbed.
Another good way of keeping the guest list small is by issuing an invitation to the couples instead of the whole family. You can have your invitation cards addressed as Mr. and Mrs. (invitee). In this way, you can cover a lot of your acquaintances but at the same time, your guest list will not go out of your hand.
If you are worried regarding how to plan a cheap wedding, then you have to adopt certain cost-cutting measures.
A smaller guest list means you can save a lot on the catering, the food, the drinks, the venue etc. It will also be more stress-free and intimate for you and your family and chances are you will enjoy your wedding more.
5. Cheap wedding favors
Many people also spend quite a lot of money on buying a very expensive wedding favors for their guests.
Wedding favors are meant to be memorabilia or token from your wedding.
If you are thinking of how to plan a cheap wedding, you do not need to be very extravagant with those. Instead, a more innovative and personal wedding favor can impress your guests.
The internet is full of ideas regarding wedding favors within a limited budget, and there are online shopping portals that are going to offer you great deals.
One good way of having classy wedding favors within a limited budget is to go for personalized items. This could be personal mints, pens, mugs and anything that will suit your budget.
These things look very special and cost surprisingly less.
Some people also use homemade stuff as wedding favors. You can make innovative banners with your names on it and distribute it amongst your guests.
Work harder for attaining perfection at a lesser cost
Your concerns regarding how to plan a cheap wedding can be put to rest by following these simple steps.
However, if you are planning to do something innovative, you have to work harder for attaining perfection.
But if you can pull it off, your wedding will only be low on cost but high on innovation, warmth, and entertainment.
Share this article on
Want to have a happier, healthier marriage?
If you feel disconnected or frustrated about the state of your marriage but want to avoid separation and/or divorce, the marriage.com course meant for married couples is an excellent resource to help you overcome the most challenging aspects of being married.
Learn More On This Topic
You May Also Like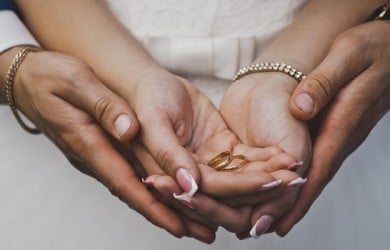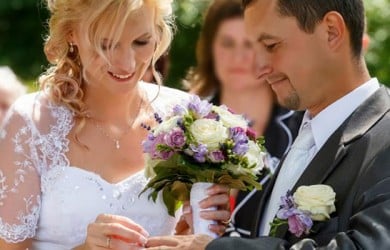 Popular Topics On Getting Married