When Marriage and the Baby Carriage Collide
We all know the nursery rhyme: "First comes love, then comes marriage, then comes baby in the baby carriage." In the 21st century, this isn't nearly the case as it had been previously. Couples that are eager to start families might find themselves in the position of being engaged and simultaneously expecting. How does this then get managed as both events are fairly pivotal in a person's life?
An unexpected pregnancy can cause havoc in such details like the wedding date. Some couples prefer to schedule sooner than they anticipated doing to accommodate while others decide to wait until after the baby is born. Some couples decide to be "officially" married by going to a justice of the peace and then wait to have their ceremony and celebration with family and friends. Others prefer to go ahead as scheduled and will try to accommodate the pregnancy or baby as best they can.
Effects of pregnancy
For most women, the second trimester is the ideal time to do anything, especially like plan a major event such as a wedding. This is the point in pregnancy that any first-trimester symptoms have waned, energy is restored, the baby bump starts to show (but isn't all encompassing), and you can start to feel some movement without it seeming like your child is trying to climb into your ribs. Unfortunately, most weddings take more than a few weeks to plan, so preparation usually begins in the first trimester (or before).
Two life-altering events can take a toll on extended family too, as one bride recounts, "I think the first thing I thought of was that my family in particular was SOOOO excited about a big wedding — one they have been hoping would happen for 40 years. It was especially celebratory because I waited so long to find my husband. Before I knew I was pregnant, my parents were continuing to send me a list of high-profile, lovely venues in the NY area. I became concerned that a large wedding under the circumstances would appear tacky. That perhaps I'd be shattering my parents' dream of an "ideal" wedding for me. As planning continued and as I fessed up about the pregnancy, [my family that knows this news] have felt that if anything it adds to the excitement and enjoyment of the occasion."
Keeping two big events in mind is no easy task, and often brides that are parents-to-be start with whichever event is coming first (whether it is their new arrival or their nuptials) and stay single focused until that event has passed. Holding two milestones in mind is cognitively a "big ask" so the approach to plan one, celebrate it, and then plan another makes sense. A point to consider is that a bride/mom will have far more control over the details of her wedding than she will over the details of the birth. Any type of planning in which she can let go of the latter will be beneficial.
Strategies like making lists, delegating responsibilities and tasks, and even outsourcing can be essential. Many couples (even without a baby on the way) will hire a wedding planner to assist with the details and minutia that they didn't even think to ask about. Baby concierges or baby planners are becoming popular in metropolitan areas, and have been popularized by the reality series Pregnant in Heels which focused on Rosie Pope. Concierges can provider virtual or in person assistance and their services range from assisting with the registry or nursery, lactation support, sleep assistance, baby sign language…and the list, goes on. One can even become a certified baby planner from a variety of online sites.
For both events, it doesn't hurt to have a group of girlfriends close by who can lend the "been there, done that" experience and potentially help to steer clear of "rookie mistakes." They can help you to laugh when your wedding dress doesn't quite fit as pictured at your last fitting or when you have done the third load of laundry in a day so that you can have a clean shirt (absence of spit up). If you have the energy to keep a journal, that can be helpful too, as both events can happen in a blink of an eye. Most importantly, do what you can to enjoy some of the moments even with the stress, the hurrying, and discomfort.
Share this article on
Want to have a happier, healthier marriage?
If you feel disconnected or frustrated about the state of your marriage but want to avoid separation and/or divorce, the marriage.com course meant for married couples is an excellent resource to help you overcome the most challenging aspects of being married.
More On This Topic
You May Also Like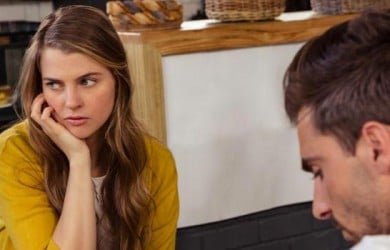 Popular Topics On Married Life