"Traffic Lights" in Premarital Counseling
How often do we pay attention to the traffic lights of our life? Is it safe to run a red light? What about a yellow light? Can we force light to turn green? What do traffic lights have to do with marriage?
The "Traffic Lights" approach in premarital counseling deals with issues and topics that most couples experience in their marriage. The goal is to be as educated as possible to the challenges ahead so that they are less of a problem if or when they occur.
If love is to grow and flourish, doesn't a marriage need a good foundation for this to happen? A foundation of knowledge, truth, confidence, love, and acceptance greatly improves the odds of a long marriage. If we are willing to face our issues before they become problems and make decisions about whether or not we can accept the possibilities, then, and only then, with this education, will we be prepared to move forward with confidence that this marriage will endure.
Paying attention to the traffic lights
In the Traffic Lights approach to premarital counseling, we reflect on the twenty-one topics or issues most commonly encountered in marriage. These are:
Age,

Attitude,

Career/Education,

Children,

Drug use,

Exercise/Health,

Friendships,

Goals,

In-laws,

Integrity,

Leisure time,

Living environment,

Looks/attraction,

Money, (the biggest reason why people get divorced)

Morals/character,

Parenting,

Politics,

Religion,

Sex/intimacy
Recommended – Pre Marriage Course
In this process, each potential spouse reflects on one topic at a time, for example, "money." I pose a list of detailed questions about the selected topic. Then the potential spouse shares the position or view they anticipate following after they are married. The listening spouse does not judge but only asks questions, if necessary, to be clear about where their fiancé stands.
This is not the place to negotiate views. The goal is to decide if what they hear from their potential spouse about a particular topic is acceptable to them.
Once the listener feels they totally understand their potential spouse's stance, I then ask them to give a rating using the traffic lights metaphor:
GREEN means "I like what I hear, and I have no problems having that approach to <money> in the marriage."
YELLOW light means "I like some of what I hear but I hope some of my potential spouse's approach will be different after we are married." This is very dangerous—just like running a yellow light. You might be ok, but????
RED light means that your potential spouse's approach to this topic is a deal breaker. You feel opposed to much of what you hear and you would find it difficult to have in your marriage.
Average Wedding Cost
Although regional costs vary widely, the average wedding cost in the United States is skyrocketing. According to www.costofwedding.com, a wedding in Camarillo, California, for example, averages $38, 245 with couples there spending between $28, 684 and $47,806. And this usually doesn't even include the cost of a honeymoon and other extras! With so much money spent on a wedding, how much money is spent on the marriage? Which is more important, the wedding or the marriage?
With more than half of all marriages ending in a divorce, it's clear that not enough effort is invested in a marriage. What if a couple invested an equal amount on the marriage as they did on the wedding? Would that change the results? What is necessary to improve the odds of a marriage lasting "until death do us part"? Is it love? Money? Compatibility? Or maybe it's something else? How much do we really know about the person we choose to marry?
Frequently, couples who are divorcing say, "He (or she) changed and that's why we're getting a divorce." Their conclusion is, "We grew apart and now we are different." It's interesting that most people would agree and realize that just about everybody is different from their spouse from day one of their relationships, and so—do people really change? Probably not. But did we take the time to really get to know our potential spouse?
At the very least, I think it's time we have the discussion in the early stages of wedding planning to create a plan of action for identifying the foundation of a marriage, increasing the odds of its success. Perhaps a new emphasis on what it means to be engaged might be appropriate. Currently for most, being engaged means "We are in love and we are going to have a great wedding!" What about a great marriage? Maybe to be engaged means "It's my last, best chance to do all that I need to do to identify the necessary ingredients for the foundation of a strong marriage."
The ultimate goal of the Traffic Lights program is not to ensure a couple gets married, but rather that if they still decide to get married even after reviewing these twenty-one topics, they get married with their eyes wide open. In my experience, this process diminishes the need for a divorce. In so doing, we greatly improve the odds of achieving real knowledge, truth, confidence, love, and acceptance.
Share this article on
Planning to get married?
Just engaged or contemplating marriage? Discover how to transition smoothly into the next phase of your relationship with Marriage.com's Pre-Marriage Course. Begin your incredible journey with this guide designed by experts and lay a strong foundation for your path of togetherness - forever!
More On This Topic
You May Also Like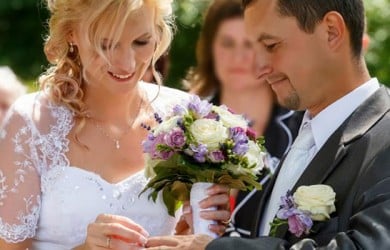 Popular Topics On Getting Married