20 Techniques To Reignite your Nights
All marriages require intimacy and sexual action to keep them healthy, balanced and satisfying. Even if you apply efforts daily to keep your marriage working it's common that sometimes your sex life can become a little stale – or even non-existent, which isn't ideal.
It's times like this when you need some inspiration to reignite the fire, and so we've decided to help you along the way with 20 techniques to reignite your nights.
1. Plan a date night
Topping our list of 20 techniques to reignite your nights is the good-ol' fashioned date night.
Date nights might have been pushed to the back burner in your marriage as life has taken over, but maybe it's time to bring them back.
Tonight, take your lover's hand and walk to a nice restaurant or watch a movie or maybe just take a long walk under the stars – enjoy your time together.
2. Listen to some music
Listening to music together is a frequently overlooked experience proven to bring people together. If it can bring different people from around the world together, it can surely bring you and your husband or wife together. Play some of your old favorites and sit down and get your groove on together.
Listening to music is beneficial to your sex life. Studies have proven that listening to music helps your brain release dopamines, the feel-good hormone. No wonder there's a whole lot of odes about making love!
3. Write vows… again
Remember when you and your wife were standing at the altar? Remember how you carefully put together your promises days before the wedding?
Bring back the love with the feelings of writing your spouse a vow.
Being married doesn't mean that you have to stop writing vows, it's quite the opposite. This is a fantastic technique to reignite your nights because there's nothing hotter than a committed husband (or wife).
4. Flirt with your spouse
Why not send a flirty text to your husband right now? Use the power of SMS to quickly flirt with your husband by texting him: 'Hey, Sexy!'
It's a guaranteed way to bring a smile on your husband's face in the middle of the workday which could serve as your foreplay for a little fiery night. Flirting shouldn't stop even if you're married keep the flirting alive to keep the fire burning in your marriage.
5. Buy your partner something that reminds you of them
Gary Chapman's states in his 5 Love Languages that giving gifts is a crucial technique to reignite your nights.
If you're the type who loves receiving gifts, you must know how nice it must feel like to receive one.
It's a surefire way to spark something in the heart of your spouse knowing that you got them something that reminded you of them.
6.Relax by the fire together
If it's a cold night out, share a cup of hot chocolate with your spouse under a blanket. This is igniting your night, in a much cozier way.
7. Eat
Some foods are known aphrodisiacs and aphrodisiacs are substances or food that stimulate your sexual desire. There's a whole number of foods that were found to be an aphrodisiac and among the most basic are chocolates and wine. These two, on their own, are the perfect combination to reignite your nights.
8.Massage your spouse
Getting a massage can be quite expensive so, why not do it at home.
Mimic the ambiance of a spa by lighting up candles, buy some aromatherapy oils and encourage your spouse to relax. Let this be the time that you two can quiet down to each other.
9. Get naked
Walk into the room where your spouse is… WITHOUT ANY CLOTHES ON and let their eyes marvel at the body of the person they married to. Nothing says "I'm ready for some sexy time" than coming up to your partner naked.
10. Wear sexy lingerie
A husband is always going love to see his wife in sexy lingerie. Here's a tip, wear it in your husband's favorite color too!
Men are very visual, let their imagination play with this image of you. It's an awesome way to reignite your nights.
11. Watch something together
This could serve as a date night idea to … a great one actually!
If you have kids, put them to bed early and cozy up to each other and watch whatever show or movie you fancy, but we highly suggest something sexy.
12.Exercise together
Exercise pumps the heart, and when the heart gets pumped, blood gets circulated all over the body. There's a saying that goes: "couples who exercise together, stay together" and well, it's probably because all that focus on each other's bodies is sure to reignite your nights!
13. Spontaneously kiss your partner
Kiss your partner! On their nose, on their cheeks, on their lips!
Kiss your partner on the lips deeply and passionately every day of your lives together.
To kiss your partner in such a way signals that you love them and that you want to make love to them.
14. Shower together
"Save water! Shower together!"
15. Write a love note
You don't have to be Shakespeare to string a bunch of words together, but if you do, it will remind your spouse how much you love them.
You can even let them know in your note that you'll be ready for their "Loving'" by the time they are home.
16. Get food in the bedroom
We've talked about eating aphrodisiacs in the earlier part of this article but why not go beyond that and involve food IN THE BEDROOM. Get naughty with some whipped cream, some chocolate sauce or edible underwear! Your options are endless and when it comes to food.
17. Play games
Do you have a deck of cards laying around the house? Play strip poker or a game that you two both enjoy but make sure to make your games have a sexy twist!
18. Do chores together
While this may sound a bit boring and counterproductive but if you help out your spouse with the household chores, you'll have more time to spend together in the bedroom.
It's also a big plus for your spouse! Not only does helping out bring good feelings of togetherness, but your spouse will be grateful that you did a good deed for them!
19. Disconnect to connect
Cellphones and other gadgets that keep on ringing at home is such a distraction when you should be focusing on your spouse.
Tonight, just turn off your phones, shut down your computers, and relish in each others' company and just talk. This might be all you need to reignite your nights… a little late night talking.
20. Just do it!
Do not wait for your partner to go first. Take the reins and just go for it! Your partner might even appreciate your spontaneity which will breed a more positive and spicy cycle when it comes to relating to you and focusing on the relationship.
Share this article on
Want to have a happier, healthier marriage?
If you feel disconnected or frustrated about the state of your marriage but want to avoid separation and/or divorce, the marriage.com course meant for married couples is an excellent resource to help you overcome the most challenging aspects of being married.
Learn More On This Topic
You May Also Like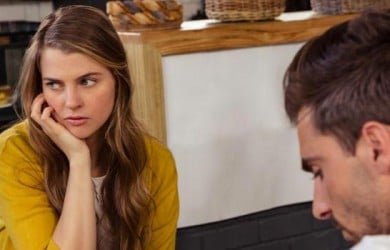 Popular Topics On Married Life