How to Improve Your Mental Health in Marriage
Between the demands of your partner, children, and work, you might have come to a point in your marriage where you often feel more exhausted than not.
Perhaps your spouse is working while you stay at home or vice versa. Somehow, one person is doing all or a greater share of the household chores and is taking care of the kids.
Maybe your marriage is undergoing some financial strain, and there are disagreements on spending. Or perhaps, lately, you and your partner can't seem to see eye to eye on any issue.
When our marriage is strained, we must focus on how to be mentally healthy and look for ways to take care of yourself.
Improving mental health in marriage and taking care of our wellbeing helps us navigate relationship bumps and has other benefits that extend into our daily lives.
Why mental health in marriage comes first
Life is full of stresses, small and large, but some couples manage their marriage and mental health better than others.
We show up as the best selves in our relationships when we prioritize our mental health in marriage.
Awareness of our thoughts and feelings is key to managing emotions that allows us to work towards a healthier relationship.
Self-awareness starts with taking the time to ask yourself some reflective questions.
What's been particularly challenging about your relationship lately?

Do you seem frustrated by the small things like an unwashed dish or some comment your significant other made?

Are you attributing stress from work to your partner? You may feel like your boss or colleague is making your life more difficult than it needs to be, or maybe you're working on an especially challenging project.

Have you had trouble sleeping lately? Poor sleep may leave you feeling more irritable and sensitive.
This sort of self-awareness will help you slow down and put your own mental health needs first.
It can be easy to neglect your mental health in marriage when you feel like you don't have the time or space to do so.
By taking time to reflect and write out all of your thoughts and frustrations, you may identify what is your part in creating friction in your marriage.
Can any of this be resolved by simply acknowledging your feelings and their sources? How have your feelings shown up in your actions towards your partner?
It could be a good idea to discuss this insight as a couple.
Take care of yourselves to take care of your relationships
We must understand ourselves first and the role we play in our marriage to navigate any turbulence.
The next time you feel a negative feeling bubble up, take a deep breath, and remember that you are in control. Acknowledge your feelings and communicate them. You are not your emotions.
You have the choice of how to respond despite any feelings of frustration, exhaustion, or sadness.
Self-awareness and the mental wellness of both parties are core components of a strong relationship.
Also, watch how to increase your self-awareness:

Other ways for controlling your emotions
Emotional management, self-awareness, and self-care are all closely related. There's always an underlying reason as to why we feel a certain way.
For example, that irritation from something you or your partner might consider "small" on the surface might have a deeper, underlying reason.
Continue to ask yourself why you feel a certain way. If you can anticipate and acknowledge your feelings, you'll have more control over your actions.
Regardless if it's feeling annoyed or feeling sad, we can always benefit from a little space and self-care.
Take a moment to pause and reflect on the small things in life that bring you joy, whether it's your playful pup greeting you in the morning or the spring breeze ruffling through the trees outside your window. Write down three things you're grateful for every day, a practice that is both cathartic and healing.

Make a to-do list

and throw on all the

little things that make up your day

, even if it's the little things like making your bed in the morning. Celebrate your mini achievements, which so often go unnoticed, and give your brain a small boost of

dopamine

!

That being said,

build flexibility into your daily schedule

and show yourself lots of self-compassion. You won't always get everything you plan to get done finished, but that's ok. We can be self-compassionate and let go of perfection.

Go outside and experience nature.

It doesn't have to be big; it can be smelling the flowers in your neighborhood or brushing your hand along the trunk of a tree. Nature is both refreshing and powerful. The cycle of blooming, growing, and shedding old leaves reminds us that with all things in life, change is natural and cyclical.

Unplug.

It's easy to become attached to our technology, but we need time away from it. Power down and relax. This is an especially helpful thing to do before bed, since looking at bright screens tells your brain it's time to be awake.

Write

. As mentioned above, with self-awareness, write. Write a stream of consciousness, write to check in with yourself, write to remember, and reflect. When you look back at your entries, you may see that you have changed or that things have changed.
What if nothing is working
If you've tried all the methods available to you, and nothing has worked, it may be time to consider getting some friendly help from a professional mental health care service like Cerebral.
Nowadays, there are remote mental healthcare companies that can provide consultations through live video and deliver medication through the mail.
People meet with a prescribing provider to determine a course of treatment, then meet with care counselors monthly, who check-in on their treatment progress, share evidence-based techniques to work on mental wellness and provide psychosocial support.
Since everything is done remotely, it can be a great option when it is difficult to get mental healthcare in person, like during a worldwide pandemic.
You might feel like there's a stigma to mental health in marriage, but when you've tried your best and still feel stuck, there's nothing wrong with outside support. It might be the best thing you do for yourself and your relationship.
Seeking or accepting support is not a weakness; it takes strength and self-awareness. Your partner may benefit from this help, too.
In any relationship, you must first prioritize your mental health.
If you feel like you might benefit from seeing a professional about your symptoms of depression, anxiety, or insomnia, feel free to check out "good professional mental health care service providers" for more information or general wellness tips.
Your wellness and better mental health are important and in your control!
Share this article on
Want to have a happier, healthier marriage?
If you feel disconnected or frustrated about the state of your marriage but want to avoid separation and/or divorce, the marriage.com course meant for married couples is an excellent resource to help you overcome the most challenging aspects of being married.
More On This Topic
Recent Articles
You May Also Like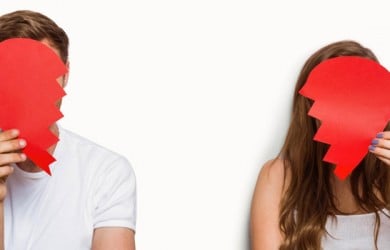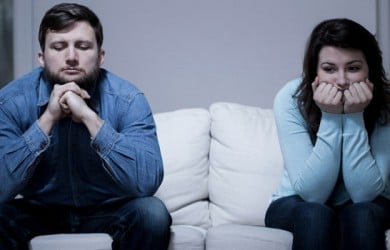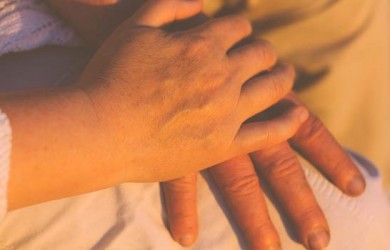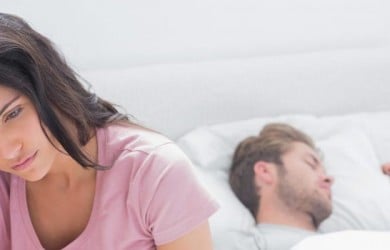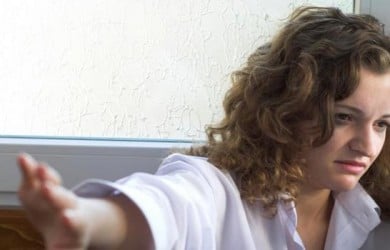 Popular Topics On Marriage Help