What Does Love Have to Do with It?
Recently my wife and I are were preparing supper for a few guests when she realized the hors-d'oeuvre did not have crackers. "Honey," she said to me. "Would you mind rushing to the store and grab some crackers for this appetizer? Our guests will be here any minute."
I really did not want to go out in the cold to the store. But I knew how hard she worked to entertain and make things nice for guests. OK, so I went to the store and quickly returned with crackers just to make her happy. Instead, that's when the fight started.
"I said we needed crackers!" she yelled at me. "These will not work with this appetizer. What is wrong with you?" "They are so to crackers," I argued back. "Saltines are crackers. Everybody knows that."
"No," she said. Saltines are Saltines and Triscuits are Triscuits. We use Triscuits all the time. You should know that's what I meant."
"You didn't tell me 'Triscuits'," I said in my defense. "And anyway; I'm not a mind reader. You should have told me."
She snapped back; "You should have asked me what kind of crackers I meant."
What do you think is holding your marriage or relationship together?
90% of the couples I work with sooner or later will use the "love" word as they talk about their relationship. It often is in response to my question, "What at the moment do you think is holding your marriage or relationship together?" Usually, it's several reasons including, "We love each other."
"I love you. Will you marry me?" "Because you love me please do such-and-such for me." "Since we love each other we should be able to work out our differences and not need therapy." The use of the word love continues in a myriad way between couples who say they are in love.
Love is not enough to make modern relationships work
However, "love" is not enough to make modern relationships work. If it were, I'd be out of business.
To understand the couple when they use that four letter word "love", I ask each person what they mean by love. Usually, that question is answered with blank stares and bemused tilted heads, as if to say, "Good grief, Dr. Anderson. "You don't know what love is?"
No, I really don't and I am with Tina Turner when I ask what's love got to do with it? How do you really know each other if you have not plumbed the meanings peculiar to each of you when you use the word love?
What does love have to do with good communication skills?
Loving your kids doesn't make you a good parent any more than loving brain surgery makes you a good physician. To be a good parent, you have to be taught. Unless you've gone to medical school, you will not help people when you do brain surgery.
In the same manner, unless you learn the skill sets necessary to communicate, solve problems and negotiate compromises, odds are high your relationship will not be much fun.
No other human endeavor in American life risks such huge life-impacting consequences, based on vague words and undefined concepts, as we do in our relationship life. No one would take any kind of job if the boss says, "Sure this job will pay you. You'll get a few dollars for a few hours of work. How does that sound?"
My guess is that's not good enough. We want details to be specified. Work hours need to be clearly determined. A job description is a must for any job and the more consequential the job, the more clearly the words are defined.
They think their trouble is that they have a communication problem
Couples will say to me they think their trouble is that they have a communication problem.
Truth is, they are right, but not in the way they think. Their so-called communication troubles are really the results of misunderstandings.
What a couple misunderstands is that their communication process lacks specificity and definition of meanings, which leads to misunderstandings.
When having critical conversations, each person is using the meanings and definitions they have attached themselves to the words being used, not those their partner is using. Neither do they stop and ask, "What do you mean when you tell me you love me?"
It's a deal breaker when people have no idea about how far apart they are in their meanings until it's too late.
They might as well be talking about crackers using different languages, but expecting total and clear mutual understanding. That's when the fights start.
Couples will feel better connected to each other when they clarify to each other what the word "love" means to them and what it has to do with anything.
Share this article on
Want to have a happier, healthier marriage?
If you feel disconnected or frustrated about the state of your marriage but want to avoid separation and/or divorce, the marriage.com course meant for married couples is an excellent resource to help you overcome the most challenging aspects of being married.
Learn More On This Topic
You May Also Like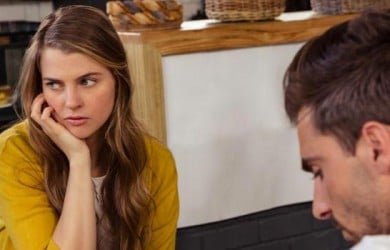 Popular Topics On Married Life