What Do You Need to Get a Marriage License?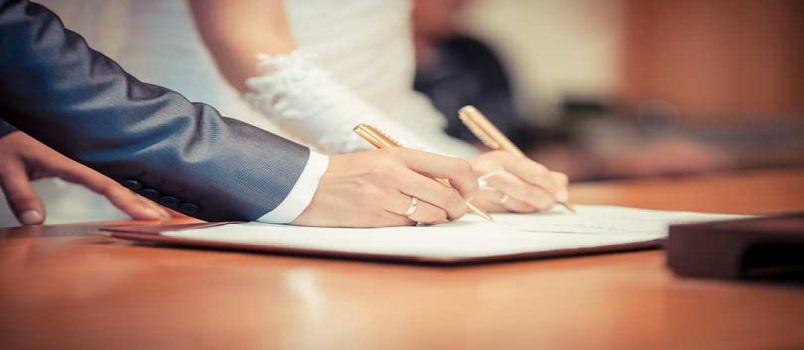 If you are planning on marrying in the future, it is important to know the answer to the question: "what do you need for a marriage license?" A marriage license is essentially a legal permit that states you and your partner are legally allowed to marry, and that there are no qualifications which would disqualify you from a legal marriage.
There are several requirements you must meet in order to obtain a marriage license. These requirements include physical items such as personal records, as well as other qualifications related to your age, mental status, and more. Let's take a closer look at what you need for a marriage license.
What do you need for a marriage license?

You will need to bring certain personal records to your clerk's office in order to apply for a marriage license. The exact records can vary from state to state, but most states will require these basics:
A state-issued photo ID of you and your partner
Proof of residency for both you and your partner
Birth certificates for both you and your partner
Social security numbers for both you and your partner
Again, some states require more specific records than others. If your state requires you to take a physical examination or submit to certain tests (such as for rubella or tuberculosis) then you will likely have to provide proof of these examinations as well. If you are under 18 but live in a state where you can marry with parent/guardian consent, your parent/guardian will need to come with you to apply for the license. You may also need to prove that you are not related to your partner.
Divorced or widowed?
When most people ask "What do you need for a marriage license?" they don't consider people who are divorced or who have been widowed. If you had a previous marriage which ended, whether through a death or divorce, you will need to bring proof of the first marriage—as well as proof that it ended. While it may seem harsh, especially in cases where the first partner died, marriage clerks must be able to prove that the marriage is legal, which requires knowing that any previous marriages are now void.
You may need a check-up
Most states in the USA used to require mandatory physical examinations before marriage; these examinations also included testing for certain diseases, including venereal disease as well as serious contagious diseases such as rubella and tuberculosis. These laws were originally created to help stop the spread of these diseases. Today, however, mandatory testing is not the norm—although there are still some states which require testing for rubella and tuberculosis due to the serious and contagious nature of the disease.
To find out whether or not you will need a physical examination before you can apply for a license, look up your state's specific marriage requirements. If you do require an exam, you will likely need proof from the physician with you when you apply in person for your marriage license.
Want to have a happier, healthier marriage?
If you feel disconnected or frustrated about the state of your marriage but want to avoid separation and/or divorce, the marriage.com course meant for married couples is an excellent resource to help you overcome the most challenging aspects of being married.
More by Mary Fisher