5 Tips to Avoid Inheritance Issues in Second Marriages
Second marriages can be complex affairs, whether you're recently divorced or marrying again later on in life. There are bound to be concerns about what this means for inheritance and provision for any existing children in the event of the death of a parent.
Second marriage inheritance issues can cause a degree of unwanted acrimony if it isn't acknowledged and resolved prior to nuptials taking place. It therefore goes without saying that you should seek legal advice before you sign on the dotted line, and we also recommend taking the following steps.
Related Reading: 

6 Challenges of Second Marriages and how to overcome them
What are the legal rights of a second spouse?
Does a spouse automatically inherit everything?
When you get married to your second spouse, he or she will be entitled to inherit most of what you own if you pass away. This can leave your children from a previous relationship with very little or, worst-case scenario – nothing. When you marry for the second time, your Will is no longer valid. Hence, you need to update it if you want your children to receive anything.
In the absence of a Will, your new spouse could inherit the first £250,000 of your estate, meaning in some cases, your children may not benefit at all. The situation can present difficult choices. For example, suppose you leave the marital home to your spouse from your second marriage. In that case, your children's inheritance is in potential jeopardy because it will form part of your second spouse's assets when they later pass away.
There is nothing to say a second spouse cannot change the beneficiaries of their estate or change their Will. Careful planning and forethought are required to ensure all parties are happy with any pre-arrangements, and options such as Life Interest Trusts should be considered.
How do second marriages actually work? Watch this video to know more.
5 tips to avoid inheritance issues in second marriages
How can you avoid second marriage inheritance issues? Here are five tips you can consider.
1. Discuss the situation with your children
Addressing the issue of inheritance with your children pending a second marriage could feel a little awkward, especially for them, but it is really important. Once you have broached the subject, it should reduce some of that discomfort and allow you to have a conversation about what your plans are and how this new marriage may, or may not, impact upon their inheritance.
You may find that it brings a level of relief as it can be the elephant in the room that nobody wants to discuss for fear of becoming too money-focused at a time of celebration.
Being upfront and clear about the situation with your children can help you avoid second-marriage inheritance issues.
2. Be open about your feelings or concerns with your spouse-to-be
Discussing the subject of wealth and inheritance is probably the last thing on your mind when caught up with the more pleasant side of planning a wedding, which is often why it is ignored or set aside. It will also give your spouse some peace of mind about what would happen to them if they were suddenly and unexpectedly bereaved.
It is definitely advisable to make sure you both have life insurance policies that cater to your spouse and any children, along with a funeral plan to cover any expenses. Apart from your children, you should also be clear about second marriage inheritance issues with your to-be spouse.
Related Reading: 

How to Share Your Feelings With Your Spouse
3. Update your will
Again, this should go without saying but unfortunately, updating your will is still something that people commonly neglect to do, and it can cause all sorts of difficulties down the line. It is one thing to tell people what you want, but you must make sure that it is properly documented or it simply doesn't count.
We strongly recommend that you seek professional legal advice and make sure you have dotted all the i's and crossed all the t's with this one. Sourcing the services of a good solicitor will go a long way to help with this, providing peace of mind for you and your loved ones should the worst happen. It will help you avoid second-marriage inheritance issues.
4. Take divorce into consideration
Although the divorce rates have fallen in recent times, it's prudent to at least consider what you would do if your marriage did end this way before you tie the knot. Doing whatever you can during this optimum period can help ensure you are not left in a financially difficult situation.
Although it may not feel intuitive to have a conversation of this nature with your future spouse, you should find a way to talk about this and perhaps extend the conversation to a legal professional with more in-depth knowledge.
Related Reading: 

5 Important Legal Considerations for Getting a Divorce
5. Consider all your options
The reality is that you can feel torn when entering a second marriage. You may want your spouse to be financially supported and, at the same time, ensure your children receive an inheritance from you. There are a number of choices available, and all should be considered, even if they are dismissed.
A prenuptial agreement is one option while keeping your assets separate or setting up a trust fund are two others. Addressing these issues in a timely and sensitive way can eliminate any future emotional distress for your family.
Related Reading: 

Do's and Don'ts of Prenuptial Agreements
Conclusion
The key takeaway for second marriage and inheritance issues is to be aware of your legal rights and the rights of others involved or potentially affected. You can educate yourself to a degree, but if your matter is more complicated or you need clarification on certain areas, then it's wise to seek professional advice.
The long-term implications of your decisions can have a lasting effect on family dynamics, so although things need to be handled sensitively, they should not be a subject that is avoided.
Share this article on
Want to have a happier, healthier marriage?
If you feel disconnected or frustrated about the state of your marriage but want to avoid separation and/or divorce, the marriage.com course meant for married couples is an excellent resource to help you overcome the most challenging aspects of being married.
More On This Topic
You May Also Like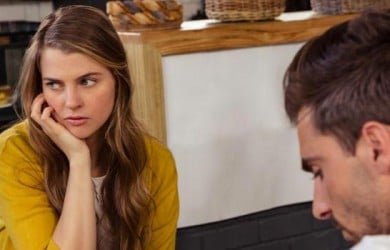 Popular Topics On Married Life