Vows for Marriage around the World
Marriage vows are an integral part of many wedding ceremonies. An exchange of vows is intended to be a public declaration of love between two people who have decided to spend the rest of their lives together.
But, these standard wedding vows follow no legal jurisdiction and are not implemented, universally. And, you may be surprised to learn that marriage vows are not applicable in Eastern Christian Marriages.
Also, read – The truth about marital vows in the Bible
Yet, these matrimonial vows are trending lately.
What are 'vows of marriage'?
According to the Western Christian norms, these marriage vows are nothing but promises that couples make to one another in the event of a wedding ceremony.
The exact nature and wording of wedding vows can vary greatly from person to person, with factors such as their religion, personal beliefs, personality, and various other details which determine the vows that they use.
Although most people associate marriage vows with a typical Christian wedding—"to have and to hold, till death do us part," and so on—marriage vows are not a Christian phenomenon. Or, follow the most basic marriage vows that sound something like–
"I, ___, take thee, ___, to be my wedded husband/wife, to have and to hold, from this day forward, for better, for worse, for richer, for poorer, in sickness and in health, to love and to cherish, till death do us part, according to God's holy ordinance; and thereto I pledge thee my faith [or] pledge myself to you."
Now, people from all religions and all walks of life exchange vows. Let's take a closer look at some of the most interesting vows for marriage from around the world.
Also, read – 11 Examples of moving marriage vows
Vows for marriage in Hindu weddings
Indian weddings are elaborate and pompous affairs, so are the marriage vows. The concept of marriage is the same across the world. But they differ in terms of customs, rules, and practices. And, Indian weddings consummate through a series of rituals and traditions, quite a spectacular event by itself.
The original marriage oath is broken into seven steps or saath pheras which the couple has to complete by walking seven steps around the Holy Fire.
A Hindu couple will not recite a typical wedding vow–instead, they declare that they will follow the Seven Steps of the Hindu religion.
The mantras recited by the priest are usually in Sanskrit. For example:
First step or phera
The couple prays to the Almighty for provision and nourishment
Second step or phera
The couple prays for strength in sickness, health, good times or bad
Third step or phera
The couple seeks wealth and prosperity to live a comfortable and satisfying life.
Fourth step or phera
The couple promises to stand by their families through thick and thin
Fifth step or phera
The couple seeks blessings for their future progeny.
Sixth step or phera
The bride and the groom pray to the Almighty to bless them with a healthy life.
Seventh step or phera
The couple prays for a long-lasting relationship that is enriched with love, loyalty, and understanding.
In detail, the marriage vows involve the couple promising to –
Practice healthy lifestyles and not form a personal

relationship

with people who may hinder that lifestyle

Continue to develop their mental, spiritual and physical health

Provide for each other and their future

family

through honest, honorable methods

Strive to understand and respect each other to keep the marriage happy and balanced

Raise children who are honest and courageous

Practice self-control over their bodies, minds, and spirits

Continue to nurture and develop their relationship and friendship for the rest of their days
Japanese wedding vows
Shinto is the ethnic religion of Japan and its main focus is on ritual practices, carried out, to build a connection between present-day Japan and its ancient past.
Many modern weddings in Japan have been westernized. They tend to follow a more traditional Western wedding vow. Yet, some Shinto couples still prefer to have traditional weddings, which include conventional marital vows from that religion.
Now, Japanese weddings are celebrated in a variety of ways. But, presently, the traditional Japanese and Western elements are fused to match the changing preferences of the young Japanese couples. So, are the marriage vows.
The following is an example of some of the standard vows for wedding, observed in a Shinto marriage ceremony –
"On this fortunate day, before the Gods, we perform a wedding ceremony. We pray for our future to receive the god's divine blessing. We will share our joys and sorrows together; we will live a peaceful life together. We vow to have a life full of prosperity and descendants. Please protect us forever. We humbly offer this vow."
Non-denominational vows
There are couples who prefer secular or non-denominational weddings and work towards adding a personal touch to the wedding rituals and customs.
Also, read – 10 steps to writing your own standard marriage vows
Non-denominational vows for marriage are standard with couples who either do not practice religion, or have different religions, or do not wish to include religion in their ceremony. The couples of a secular wedding ceremony like to introduce creative traditions and functions which fit their taste and preferences.
But, at times, non-denominational vows of marriage written by the couple are also sometimes included in religious ceremonies.
For example –
"______, I promise to be faithful, supportive, and loyal and to give you my companionship and love throughout all the changes of our life. I vow to bring you happiness, and I will treasure you as my companion. I will celebrate the joys of life with you. I promise to support your dreams, and walk beside you offering courage and strength through all endeavors. From this day forward, I will be proud to be your wife/husband and your best friend."
Buddhist marriage vows
Like the Hindu religion, Buddhist ceremonies do not necessarily have the expected standard marriage vows—unless the couple specifically wants to use them. Instead, most Buddhist ceremonies involve the couple reciting guiding principles together.
These principles are often recited in unison, and include the following promises –
Acknowledging that the couple will practice nurturing their relationship to the fullest extent

Listening to each other without judging

Being fully present at the moment by feeling all of their emotions

They will increase their happiness everyday, and

They will view every obstacle in the relationship as teaching meant to make their hearts more open and strong.
No matter what the culture, the basic idea behind all the vows for marriage around the world is making a promise to the life partner to be by each other's side no matter what happens.
Share this article on
Want to have a happier, healthier marriage?
If you feel disconnected or frustrated about the state of your marriage but want to avoid separation and/or divorce, the marriage.com course meant for married couples is an excellent resource to help you overcome the most challenging aspects of being married.
More On This Topic
You May Also Like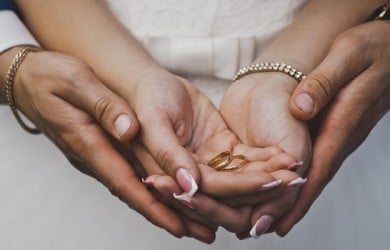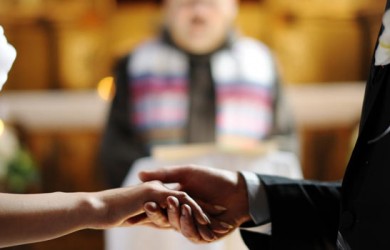 Popular Topics On Getting Married