What to Do When Your Job Is Hurting Your Marriage
When you have been married to someone for an amount of time, it is easy to see if things are not going so well between you all of a sudden.
While there are many factors which can contribute to this situation, your job could very well be one that could make things cold between you.
If you notice the first signs of your relationship going through some tough times, you should make sure that you're doing everything you can in order to take away the easy-to-avoid problems. In order to help you make your love and marriage work, here are some things you can do if your job is hurting your relationship with your loved one.
1. Don't talk about work at home
While talking about your everyday problems at work might be a great stress-relief for both of you, it might not be a great idea to talk about them in your home environment on a daily basis.
This is especially important if you have kids, as it can put an extra burden on them.
One thing you can do in order to still have positive communication with your spouse and avoid nervousness is to spend some time outside the house, where you can relax, have some good wine and talk about everything that bothers you.
You will both feel a lot happier being on a date every now and then and the different environment will allow you to focus on having a nice time rather than taking your stress out on each other. This will also help you find better solutions and actually listen to each other's problems and concerns.
Keeping your relationship and your work separate is always important in a marriage as you are two different people with different obligations.
It's good practice to have an online writing service available at all times so that you can delegate some of your urgent work while you are at home. You will need to know when you're focusing too much on your work problems rather than the joys of your marriage.
2. Find ways to alleviate your stress
Most married people believe that they should be doing everything together when they have free time.
The truth is that you will most likely have different interests in hobbies and that you will need some alone time every now and then. If your job is causing either of you to stress out and you end up taking your work related issues out on your partner, you should definitely consider taking up a hobby which will help you be creative and take your stress away.
Some good options include yoga and meditation, martial arts, dancing and anything that can help you spend time in nature, like hiking and horseback riding.
You can even do some of these together with your significant other and help the both of you beef more relaxed and calm.
3. Avoid fights every chance you get
Put yourself in this situation. You come home from work late, you have been up the entire day, had a lot of issues at work and you can't wait to just go home and take off your clothes and shoes. When you arrive, you realize that your spouse is in an equally bad mood and hasn't cooked or done a certain chore in the house that you needed them to do for that day.
As you feel nervous and tired, it is way more likely for you to pick up a fight, especially in such a situation where there is no reason for it to happen. What you should do instead, is let your partner know that you had a rough day and you are upset.
Let them know you don't wish to talk about anything stressful and that you wish to avoid a fight as much as possible because it's just not worth it. Order some food, have a drink and play an old movie while you lay on the couch. Have some quiet time and let the stress of the day fade away.
The less you fight with your partner for no reason, the more likely your marriage is to work out in the long run.
4. Give couples therapy a try
Last but not least, if nothing else seems to be working for the two of you, you should consider giving couples therapy a try.
Seeing a therapist who will potentially help you make your marriage work shouldn't be considered bad by either of you and you should do your best to follow their instructions in order to bring the spark back in your relationship and keep the work-related issues at bay.
There are great therapists both online and in offices around you, so you should first of all talk about it and see which option will work the best for the two of you.
In any case, this is a step which can help you find some time to actually talk about what bothers you in regards to each other's' work, and actually find solutions which will help you save and improve your marriage.

Making your marriage work
Your job can put a lot of pressure on your relationship with your spouse and you should find ways to separate work time and time spent on your relationship. Your marriage is important and investing time and effort into making it work is what's most important.
How do you make your marriage work despite the issues that come up from your job?


Share this article on
Want to have a happier, healthier marriage?
If you feel disconnected or frustrated about the state of your marriage but want to avoid separation and/or divorce, the marriage.com course meant for married couples is an excellent resource to help you overcome the most challenging aspects of being married.
More On This Topic
You May Also Like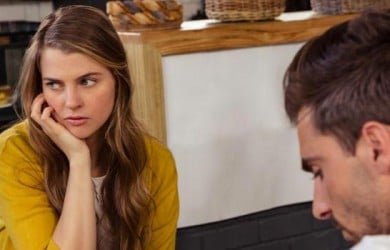 Popular Topics On Married Life