What Is Breadcrumbing: 10 Signs & How to Deal With It
Have you ever been in a situation when you are interested in someone, and you think it is mutual, only to discover that they were leading you on? It would be hard to discover that they were not interested in you because they showed signs of being committed.
If you have asked, "What is breadcrumbing?" This article explains what it means, its signs, and how to wriggle free from being led on no matter how strong the flirtatious signs are.
Breadcrumbing is the act of leading someone on without the intent of being romantically linked with them. They give you the impression that they are interested in you, only to discover that they have other hidden and selfish purposes.
Breadcrumbs are the core of leading someone on. They are the calls, messages, gifts that keep you interested and invested in them. Such people drop breadcrumbs because they don't want you looking else except in their direction.
Breadcrumbing is a type of emotional abuse since it involves control and manipulation. If someone truly loves you, they will come out straight instead of dropping breadcrumbs. Also, they will make you feel worthy, loved, and cared for.
According to research by Tim Cole titled Lying to the One you love, you will learn the deception that people use in their romantic relationships because of selfish interests.
It might be difficult to tell if you are being breadcrumbed, except you know the signs to look out for. Here are some signs that someone is leading you on without any committal intentions.
1. They are inconsistent
One of the ways to spot a breadcrumbing relationship is when you notice their inconsistency. They might keep tabs on you for some weeks, making you believe they are interested in you. Suddenly, they ghost off, and they do not reply to your messages or return your calls.
When you have almost forgotten about them, they emerge with the intent of rekindling the flame. They can repeat this several times because they are sure that you will always want to go down that road with them. Therefore, you will start from scratch again.
Related Reading: 

What Happens When There Is Lack of Attention in Relationship?
2. They keep postponing planned dates
Another way to know someone is breadcrumbing is when they don't keep to appointments like dates or hangouts. Before the scheduled date, they will raise your hopes and make you look forward to the meet. Then, when the date is close, they cancel on you for some reason.
If you notice that they repeat this, it is one of the signs of breadcrumbing, and it is best not to take them seriously the next time.
3. They like to play the victim
If you have wondered how breadcrumbing someone feels, the perpetrator likes to play the victim every time, even if they are at fault. For instance, when they go incommunicado for a period, they come back and blame you for not checking on them.
Also, if you leave them texts and they answer after a long period, they will fault you for not attempting to call them to check why they didn't answer your texts.
Also Try: Am I in a Relationship With a Victim Quiz
4. They prefer to communicate at odd hours
One of the breadcrumbing examples is how they communicate with you. Generally, they communicate with their victims during periods when they are most vulnerable.
If they know you are single and you are spending the night alone, they will contact you. This would be their perfect opportunity to fill your head with lies and sweet words because your loneliness is being felt more at that period.
However, they can avoid communicating with you during the day because they are busy breadcrumbing other people.
Related Reading: 

Top 10 Causes of Relationship Communication Problems
5. They change temporarily when you find out
When you confront and let them know that you are being breadcrumbed, they will deny it. To disprove your point, they will act normally and keep in touch in the meantime. When they discover that you have forgiven them and you are back on talking terms with them, they will return to their old ways.
People who breadcrumb others are fully conscious of what they are doing. So, when they realize that you have noticed, they will change for a short time. Hence, if you have asked what is breadcrumbing, this is one sign to watch out for.
6. Their messages are ambiguous
One of the reasons why it might be difficult to clearly understand the text message of someone who breadcrumbs is they have mixed feelings. For someone who breadcrumbs, a part of them would consider starting something serious with you.
On the other hand, they will weigh the prospects and feel it is better to play around in the meantime. This is why they will send messages that would be hard to decipher because they are unsure of what they want.
To know what to do when you are breadcrumbed with ambiguous messages over text, watch this video:

7. Your relationship with them is not substantial
When you keep going back and forth with someone, it would be hard to understand the benefits of your relationship with them. You might have deep conversations with them, but there is usually no substance in their message.
Some of them don't feel the need to know more about you because they don't want to be committed. At first, you might think that they care about you. However, you will realize that they care about themselves alone, and they only need you for temporary companionship.
8. They breadcrumb you via various channels
If you notice that they are all over you on social media and other communication channels, they might be breadcrumbing you. For instance, they can leave your messages unread on WhatsApp, and they will continue interacting with you on Facebook.
If they don't interact with you through other channels, they will monitor your activities without engaging you. This way, you will find it hard to forget about them because they keep lurking around until they are ready to converse with you.
9. They make you feel bad about yourself
When someone breadcrumbs via texts or calls, you will get elated hearing from them. However, you will realize that this excitement is not "bone-marrow" deep.
You are only happy to hear from them because they are one of the few who have spiked your interest. But you are still unsure about what they want.
If they compliment you, it is because they need something from you and not because they want you to feel better. Therefore, you will keep feeling bad about yourself, and you will look forward to their compliments to ease the pain.
10. They want sex always
If things get physical each time you see, then they are only interested in your body. For those who are couples, this is one of the signs of breadcrumbing in marriage. They will fill your head with lies that they miss you and want to meet up.
However, when you meet physically, it ends with sex every time, and they seem to lose interest for a short time before resurfacing. Such people do not have any long-term plan for you, and they don't want a committed relationship. So, they will keep using you to satisfy their sensual needs.
It is important you know the signs that the individual is not into you, and that they are breadcrumbing you. Hence, Yaz's Place's book titled: Signs he's not into you, is a robust guide that provides you with lots of dating advice and tips.
To have a vivid idea of what breadcrumbing looks like, here are some examples to guide you.
They ask questions like, "What are you doing presently?"
This question is to allow you to talk extensively about your present activities while they just listen. Hence, you will feel they are good listeners, but they have a hidden agenda.
Some of them send some emojis that suggest flirting or a sensual activity. When they send this regularly, it means they want something.
They engage your social media posts
They lurk around your social media channels because they want to be updated with what is going on in your life.
They make statements like "Let's meet up soon."
They give you the impression that they want to meet, only to cancel the appointments when it is time.
Breadcrumbing can be difficult to handle because you keep going back and forth without knowing what to expect from your admirer or partner. If you have ever asked how to respond to breadcrumbing, here are some ways to help yourself.
1. Discuss with them
It is important to have honest and open communication with anyone who is breadcrumbing you. You need to make them realize that you are aware of what they have been doing. Typically, they would apologize to you and promise to change.
Watch them carefully if they do! When you notice that they revert to their old ways, you can conclude that their apology was not sincere, and you can consider parting ways with them.
2. Cut ties with them
Going separate ways with someone who has been breadcrumbing you is a wise decision. Once you realize that they have taken you for a ride, you need to cut ties with them soonest.
Doing this will give you control over your emotional and mental well-being. You will not keep thinking about them because you know what they want.
Also, it would be easier for you to focus on other prospective partners. When you cut off someone who has been breadcrumbing you, it shows that you want to get your self-respect back.
3. Be honest with yourself
You might be breadcrumbed to the point where you begin to deceive yourself that they are interested in you. Also, you might think they want to have something serious with you and that you need to be more patient with them.
One way to be upfront with yourself is to know the signs of someone who is truly interested in you. In addition, you need to sincerely answer if they are honest and open with you or not.
Related Reading: 

Why Honesty in a Relationship Is So Important
4. Ignore their tactics
You can decide to turn a blind eye to their game so that they can get frustrated. When they observe that it is impossible to hoodwink you, they will get tired and give up. It is important to understand that people who breadcrumb others see themselves as Chess Grandmaster where they think they are in control.
Therefore, the best way to beat them at their game is to avoid participating instead of being an active player. If they really want you, they will amend their ways and come up straight with you instead of playing around.
5. Beat them at their game
Since you know you have been breadcrumbed, you can turn things around by playing their game. When they send flirtatious text messages, you can reply in the same vein. Also, if you schedule dates or hangouts, cancel them before they do it.
Ensure you replicate their actions so that you can leave them confused. This might be difficult to achieve, especially if you are interested in them.
However, remember that they have been playing with your feelings because they do not want to be with you. Therefore, you can get back at them by providing the balance through being an active participant in their game of wits.
Related Reading: 

20 Ways to Help Your Partner Understand How You're Feeling
6. Have dates with other people
Usually, when you are breadcrumbed, it might be difficult to notice other people who have a crush on you. Similarly, it would be difficult for you to be interested in other people.
Hence, when you begin to realize that you have been breadcrumbed, you can break out of their chains by hanging out with other people.
This might be difficult to do but, you can start by meeting up with friends and acquaintances. Along the line, you will meet other people who are interested in you, and you can go on dates with them.
When the person breadcrumbing you realizes that you have been going on dates with other people, they will rethink their actions. If they truly want you, they will come up straight with you and request to take things between the both of you to the next level.
7. Respect yourself
If you don't respect yourself, you will experience being breadcrumbed severely. One way to start is by realizing the importance of confidence and high self-esteem. Always tell yourself that you deserve the best, and you should not beg for love, care and attention.
Breadcrumbing is a manipulative way of getting someone to fall in love with you, and remember that you don't deserve this kind of love.
When you begin to realize that the person you like keeps placing bread crumbs for you to pick, you need to reconsider your relationship with them. Such people might have selected you as their backup plan; that is why they keep playing with your heart and mind.
It's high time you stopped falling for unavailable people. Here's a book by Dr. Marni Feuerman titled: Ghosted and Breadcrumbed. This book teaches people how to handle situations where prospective partners keep ghosting in and out of their lives.
Conclusion
People who ask questions like what is breadcrumbing now have a good idea of what the phenomenon means. It can be difficult to break free from being breadcrumbed because you would have the impression that they want you.
However, be careful not to be taken in by their tricks because if you finally have something serious to do with them, the relationship can become toxic. Therefore, you need to watch out for the signs that you are being breadcrumbed and keep your distance from them.
Share this article on
Want to have a happier, healthier marriage?
If you feel disconnected or frustrated about the state of your marriage but want to avoid separation and/or divorce, the marriage.com course meant for married couples is an excellent resource to help you overcome the most challenging aspects of being married.
More On This Topic
You May Also Like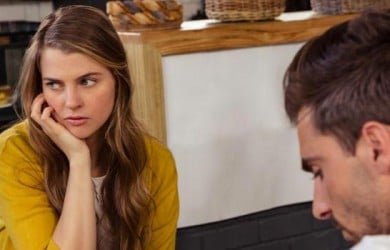 Popular Topics On Married Life