How to End a Dysfunctional Relationship Cycle
It's true. It shouldn't be too hard to accept because it's the absolute truth.
80% of couples in the United States of America are in dysfunctional relationships, unhealthy, and probably not going to change.
What is the number one reason for this?
For the past 30 years, number one best-selling author, counselor, and minister David Essel have been helping individuals and couples uncover why relationships are so terrible, and why the trend continues today.
Below, David shares his thoughts on what we need to do to turn the terrible statistics of our dysfunctional relationships.
The reason
"Have you ever heard when people say, after another failed relationship, "I must have a bad picker"?
It's a cop-out. There's partial truth to it, but mainly it's a cop-out.
So what is the number one reason that we continue to go into dysfunctional relationships?
Here's the answer, whether you want to hear it or not.
It has nothing to do with your "relationship picker."
It has nothing to do with what many people say is that women just want to be financially supported, and men just want sex.
But it has everything to do with this: we refuse to slow down, look in the mirror, and look at the patterns we've been repeating probably since our first date, that have never served us.
Does that make sense?
The number one reason we end up in a dysfunctional relationship. Is us!
It's not that we can't find good men or women, or we can't pick good men or women, or the fate of love is not on our side.
It simply because we're too lazy to spend the time, effort, and money to look in the mirror and figure out what we are doing wrong over and over again.
I love that statement, "you are the only common denominator in all of your failed volatile relationships"
It's true, and no one wants to admit it.
Watch the short video by David Essel on what to do if you are in a Dysfunctional love relationship.

Never-ending dysfunctional relationship patterns
In our top-selling book, "Love and relationship secrets That everyone needs to know!"we go to great detail explaining how the dysfunctional behaviors and patterns we carry forward in life, will 100% predict us being in dysfunctional relationships in the future.
The patterns, set in the subconscious mind, derail us from looking for the truth, derail us from looking in the mirror, and derail us from hiring experts like myself, to help us get to the core reasons why love relationships suck.
The patterns could be given to you from childhood, unknowingly tucked into your subconscious as you watch your mom and dad battle, argue, be passive-aggressive with each other, be codependent, and be demeaning to each other.
Or maybe you had parents that showed no physical touch, no physical affection, and no words of affirmation.
Well, the odds are you're gonna come out of that period and repeat one or both of your parent's teaching, and all this is tucked in the subconscious mind.
Remember, we feed the subconscious by sitting in environments that are unhealthy.
So if you have been in one, two, or ten unhealthy dysfunctional relationships and you've never gone to a counselor and worked through them to figure out what your deal is, what your mistakes are, those patterns stay stuck in the subconscious, and you're going to repeat them.
But through the work with a counselor or therapist or relationship coach, you can start to see how the patterns you're carrying forward from early childhood to your teens or maybe even your college days are sabotaging great relationships.
Changing the pattern
No one wants to slow down and take time off after a failed dysfunctional relationship to see what our role is and how do I get out of a dysfunctional relationship pattern.
We'd rather point the finger and make it look like it's the other person's fault, and then we go and just repeat the damn stuff all over again!
Anyone can change the subconscious mind's patterns through the help of a professional who truly wants to.
So if you're ready for deep love, get ready to take at least six months off, no dating at all, and work with a professional to get to the core of your issues.
"When you clear up your issues, you open the doorway for Love to blossom."
David Essel's work is highly endorsed by individuals like the late Wayne Dyer and celebrity Jenny Mccarthy says, "David Essel is the new leader of the positive thinking movement."
His work as a counselor and minister has been verified by Psychology Today and Marriage.com has verified David as one of the top counselors and relationship experts in the world.
To work with David from anywhere via phone or Skype to get your love life back on track, visit him at www.davidessel.com.
Share this article on
Want to have a happier, healthier marriage?
If you feel disconnected or frustrated about the state of your marriage but want to avoid separation and/or divorce, the marriage.com course meant for married couples is an excellent resource to help you overcome the most challenging aspects of being married.
Learn More On This Topic
You May Also Like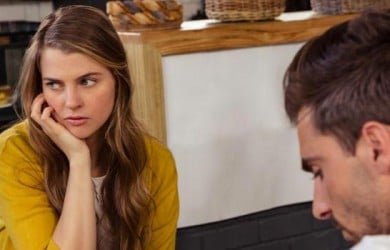 Popular Topics On Married Life