Expert Tips to Not Feel Let down This Valentine's Day
Valentine's Day, the biggest day of the year for lovers, can actually have a negative or dark side as well.
And what do we do if we are tired or cynical towards this love holiday?
For the past 30 years, the number one best-selling author, counselor, master Life Coach, and minister David Essel have been helping people to deal with their own anger, resentment, and grievances against holidays just like Valentine's Day.
Below, David shares his thoughts if this holiday is one that gets you irritated.
"A few weeks ago, a new client started via Skype with me, and she was just angry as can be when she started talking about the upcoming holiday, Valentine's Day.
"David, my relationships in the past I've always been with guys that forget Valentine's Day, or get drunk or just make a mess out of it.
And then I see all these sappy commercials on TV, and people being deeply in love, and I just can't wait for February 16 to hurry up and get here. "
A little jaded? I'd say she was passed a little jaded.
But she's not alone!
Valentine's Day disappointment
Millions of people on Valentine's Day, just like my client, cannot wait until the next day, when all of the hooplas around love and jewelry and chocolate and flowers finally comes to an end… At least for another 364 days.
Their unhappiness could be just a sign that they're unhappy with themselves.
Their unhappiness could be a sign that they have resentments and anger at past individuals that they've never taken care of… that they really need to.
Their frustration and anger at Valentine's Day could actually come from their childhood. If mom and or dad were negative in nature about these types of holidays, it could be just something stuck in the subconscious that we carry forward into our adult world.
People for generations have complained that it's a materialistic holiday, a worldly celebration, it's all about spending money… Instead of about the real purpose, it's supposed to be: the expression of deep love.
How to not feel let down this Valentine's Day
It is natural for you to get disturbed if either your girlfriend or boyfriend forgot valentine's Day or because your boyfriend didn't do anything for Valentine's Day.
Whatever be the reasons, if you are jaded regarding this romantic holiday, consider the following ideas not to feel let down.
Sleep it away
Just go to sleep for the Day. Just pull the covers over your head, take a personal day off, so you don't have to be out in the environment of seeing people buying candy and handing flowers to their loved ones, etc.
Just sleep it away, you'll be fine on February 16.
Evaluate your grievances
Evaluate your grievances, evaluate your jadedness, evaluate your negativity regarding love, relationships, and Valentine's Day.
Work with a professional counselor, coach, or minister in order to get to the bottom line of why you're so jaded about this one day a year.
Also watch:

Don't hold onto resentment
In working with a professional, ask them for tips and ideas on how to remove your irritations, whether it's about Valentine's Day in general or about your current or past partner.
Holding onto resentment will surely hurt you much more so than anyone else you may be jaded or resentful against.
In our new top-selling book that was released just in time for Valentine's Day, "Love and relationship secrets… That everyone needs to know! ", we go into great detail about forgiveness writing exercises, how to begin, how to end them, and how true the power of writing we can release our grievances and our jaded attitude regarding love, lovers and even Valentine's Day.
Grab the book, and it will literally change your life.
Use this Day to serve others
If, after doing all this work, you're still jaded, still resentful about Valentine's Day, consider taking this Day as a day to serve others.
Contact your local Salvation Army, rescue mission, soup kitchen, pet shelter, and give the love in your heart to someone else who desperately needs it.
In this way, love stays the central theme of Valentine's Day, but it's the kind of love that you give, without expectations of receiving, in order to be a more positive and powerful person having a beautiful impact on this world.
This year might be the year your life totally changes if you've always been jaded about Valentine's Day. "
David Essel's work is highly endorsed by individuals like the late Wayne Dyer, and celebrity Jenny Mccarthy says, "David Essel is the new leader of the positive thinking movement. "
His work as a counselor and master Life Coach has been verified by Psychology Today, and Marriage.com has verified David as one of the top relationship counselors and experts in the world.
For more information and all that David does, please visit www.davidessel.com
Share this article on
Want to have a happier, healthier marriage?
If you feel disconnected or frustrated about the state of your marriage but want to avoid separation and/or divorce, the marriage.com course meant for married couples is an excellent resource to help you overcome the most challenging aspects of being married.
More On This Topic
You May Also Like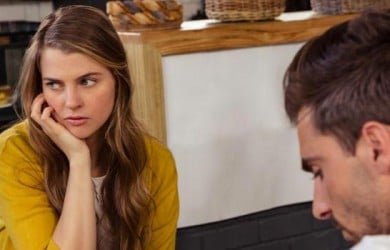 Popular Topics On Married Life