Understanding the Things Women in Love Needs
No matter how much we say that we will never fall in love or we would try our best not to fall in love – it still happens.
Why? Because love is an emotion, the strongest emotion that we can ever feel and sadly, no matter how hard we try our best to not fall in love – we eventually do.
Understanding women in love is both complex yet simple at the same time. To better understand how women, fall in love, we must first understand how to make them fall in love in the first place.
A woman in love – everything for love
Have you ever been in love? How do women fall in love?
Experts say that the chemistry of our brain along with some of the most important chemicals in our body play a crucial role on how we fall in love.
Let's understand how these chemicals help us fall in love.
Dopamine

– It is the chemical that our brain releases when we are feeling happiness or pleasure. This is why a person who makes us laugh and happy, can also make us fall in love.

Testosterone – An increase in dopamine will also trigger the production of testosterone. We may all know this chemical as a male sex hormone but even women release it and cause them to have a stronger sex drive – which increases the attraction that women feel towards someone.
Norepinephrine and Phenylethylamine

– Going forward, women who are in love will have more norepinephrine and phenylethylamine in their systems which gives them the feeling of "magic" in their relationships.

Oxytocin

– This will make you seal that love as it will make women feel attached and, in a way, women become easily attached than men as women produce more oxytocin than men. This is the reason why women are most likely to

fall in love

faster than men.
No one should underestimate women in love because you'd be surprised to know how much they can sacrifice just for the sake of love and being in love.
We've seen so many stories about women doing everything for love even if it may not make sense at all, even if would look like they're being used – they still believe that it's true love.
How far can you go to fight for the one you love?
How to make a woman fall in love
How women fall in love will depend on a lot of reasons.
Can you still remember the first time you fell in love and what was the reason why you fell for that special someone?
We all have our own criteria as to who we get attracted to but the reality is, you can't tell who you'll fall in love with and when it will happen – we just do.
Though, just how do women in love start to fall? How can you make a lady fall in love with you?
Be sincere – How to make women fall in love with you? Be sincere! Nothing beats that. Many will be charming and even handsome, but not all of them can have pure intentions. Attraction can get a woman's attention but sincerity will keep her.
Be funny – We all know how women like handsome and hot men, but did you know that a funny guy can equally be as attractive? You'd be surprised to know how many have fallen in love with a funny guy.
Treat her like a princess – Women in love still have that fairy tale princess in them, so make sure you treat her well. Be a gentleman and care for her like she's a fine piece of jewelry and make sure that even if you're already in your first or second year, you are still consistent with your actions.
Be protective – Many women are independent. They can't help but fall for someone who is protective and makes them feel like they are the most precious thing in the world. No matter how strong and independent these women are, they will always have a soft spot for protective guys.
Be great in bed – All the other traits are so important to make a woman fall in love with you, but don't forget to be great in bed as well. Make her experience unforgettable and she'll definitely yearn for more!
Be responsible – Sure, falling in love is beautiful but don't forget that security is as important as well. If you want to spend your life with her, be responsible and make sure to stay consistent. Women nowadays, though in love also have priorities and won't settle for irresponsible men.
Be faithful

– We don't even have to explain this further.

Women in love

expect their men to be faithful. No excuses no lies!
Women in love quotes
A woman in love can move mountains and can be as blooming as a red rose. Sharing some of the most beautiful women in love quote collections.
"You don't love someone because they're perfect, you love them in spite of the fact that they're not."
― Jodi Picoult, My Sister's Keeper
When you've finally found love, you realize that it's not about perfection. It's not about him having a nice body, a handsome face or even a fat wallet. You just love this person because he is who he is.
"There is never a time or place for true love. It happens accidentally, in a heartbeat, in a single flashing, throbbing moment."
― Sarah Dessen, The Truth About Forever
Even if you plan on loving someone when you reach a certain age or plan to fall in love with someone you want to because of their traits, just then you find yourself falling in love to the most unlikely person and the most unexpected time.
Your plans, criteria and even your own mindset will betray you once you have found the "one".
"You know you're in love when you can't fall asleep because reality is finally better than your dreams."
― Dr. Seuss
Finally, you know you are in love when you can't sleep because of the overwhelming love and excitement that you have. That waking up brings a smile on your face – bright and beautiful ready to face another day.
If you ever see some women in love – be happy for them as they were able to finally find someone who makes them feel complete and happy.
Share this article on
Want to have a happier, healthier marriage?
If you feel disconnected or frustrated about the state of your marriage but want to avoid separation and/or divorce, the marriage.com course meant for married couples is an excellent resource to help you overcome the most challenging aspects of being married.
More On This Topic
You May Also Like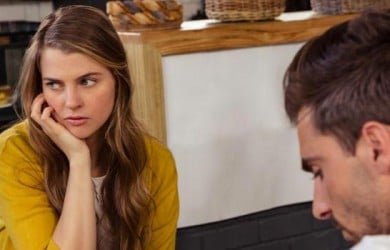 Popular Topics On Married Life