Understanding Textual Compatibility in a Relationship
Even though we haven't emphasized it well enough, textual compatibility is required if your relationship will be successful in today's world. In a world that is mostly tech-driven, you must ensure that yourself and your partner spice up your textual communication, as this would help you enjoy your relationship well.
Country-wide statistics show that the average American adult is two times more likely to text than call, as the regular text messaging user sends and/or receives an average of 42 messages per day.
Then again, when coupled with the convenience it brings, texting has become one of the most preferred means of communication worldwide.
Considering just how much time, you may spend apart from each other on an average day (due to work and other personal engagements) and the convenience of having a mobile phone with you, textual compatibility is a must-have in your relationship.
Here's where it gets sweeter. Textual relationships aren't just built overnight. Even if you don't love texting, you can train yourself to adapt to it – just for the sake of your relationship. In this article, you will learn how to do that.
What does textual compatibility mean in a relationship?

By this time, you're most likely asking, "what is textual compatibility?"
Simply put, textual compatibility is a measure of how compatible you and your partner are over text. Compatibility, in this sense, speaks about how much you both share the same texting habits and preferences.
Here's a practical example.
If you're someone who loves to keep in touch with your loved ones via text, and you get involved with a workaholic who can drop their phone for hours and not bother to check their text messages, you may soon experience challenges in the relationship seeing as both of you don't share similar beliefs about texting.
At some point, you may think they're snubbing you on purpose while they think you're being annoying with the frequency of your texts.
Textual compatibility in a relationship helps eliminate any friction that comes up between yourself and your partner in the future by making sure both of you see text messaging from the same perspective.
You both either love and enjoy texting, or you unanimously agree that it isn't for you.
How texting impacts relationships

Although it can easily be seen as 'a little thing,' texting impacts relationships in more ways than you can imagine. To ensure you have a bird's eye view of the subject, here's how texting affects relationships.
What does it mean to gauge textual compatibility

Gauging textual compatibility is the fancy name given to the process through which you understand if you and your partner have the same textual preferences. When you gauge textual compatibility, you dig into your core beliefs as individuals to identify if you hold the same values/beliefs about texting.
One way to know that you are textually compatible is to evaluate your texting habits after you have dug deep into your mind concerning the subject. If you discover simpler texting habits and expectations from yourselves, you're textually compatible.
If your texting habits and expectations greatly vary, that could be a sign that you're textually incompatible. Note, however, that textual incompatibility doesn't automatically mean that your relationship is doomed. It just implies that you'd need to work harder to improve your communication skills via text.
Some questions you can ask as you gauge textual compatibility in your relationship include;
Who is more likely to text the other person first?

Do both of you tend to misinterpret your texts often?

What do you consider a 'reasonable timeframe' during which your partner should respond to your texts?

How do you feel when your partner doesn't respond to your texts within that time frame?

Have you both ever argued over your texting styles?

Are their texts similar to yours in length, tone, and style?
How to know if you are textually compatible in a relationship
Since over 33% of American adults would rather text than use any other form of communication, determining your textual compatibility is necessary – especially at the start of your relationship. Answering these questions will help you know for sure.
1. Does your partner return the same energy over text?
No matter how caring and supportive you are, you may soon start getting irked if your partner constantly replies to your detailed texts with casual dismissive responses.
One of the easiest ways to define your textual compatibility is to check if they return the same energy you give off. The length, tone, and style of your texts should be similar or even the same.
2. Do you text the same amount?
It almost makes no sense if you text your partner 6 times a day and they only text you (both in response to your messages or just initiating a conversation) only once. Only acknowledge textual compatibility when the frequency of your messages is matched.
3. Do they initiate the conversation as much as you do?
One way to know when someone wants to communicate with you over text is to check if they initiate your chats as much as you do. Your text messages should feel like you're both putting in the same amount of energy; both in initiating and keeping up the conversation.
Communication may be greatly affected when it feels like it is the sole responsibility of one person to initiate the conversation while the other strings along like they're being coerced into texting their partner.
Related Reading: 

12 Ways to Have an Intimate Conversation With Your Partner
4. Do they just check in on you via text?
Another way to determine textual compatibility is to define if your partner just checks in on you via text. Do they interrupt their day to send you some beautiful messages reminding you of the love they have for you? Do they send you snippets of their day via text?
No? That could mean textual incompatibility.
5. Does texting frustrate you now?
The biggest sign of textual incompatibility in a relationship is that texting now frustrates you. You used to enjoy texting your partner at first, but now it feels like you've struck a brick wall. Texting should be enjoyable and not seen as a painful chore.
You should also be careful about toxic text messages to send in this scenario.
Related Reading: 

How to Get Someone to Stop Texting You? 25 Effective Ways
How important is being textually compatible in a relationship?
The role of textual compatibility in a relationship cannot be overemphasized. Here are some reasons why you should prioritize this in your relationship.
1. It enhances communication
Considering the fact that almost everyone owns a mobile phone now, text messaging remains one of the easiest and most convenient ways to disseminate information and stay updated on the things that matter to us.
It gets better when it's done between lovebirds.
When you're textually compatible with your partner, communication is enhanced. At odd times in the day, you can pick up your phone and shoot them a text about how your day is going, break the good news to them, or remind them of the immense love you feel.
Then again, you can keep your partner in the loop concerning the things that matter to you when there's textual compatibility in your relationship. You can always shoot them a quick message when you win that large contract, receive the promotion you've worked so hard for, or taste a sumptuous meal.
Related Reading: 

Couples Therapy Techniques To Improve Communication
2. Communicate without being a nuisanc

Another reason why you must be textually compatible in your relationship is that texts are considered a powerful way of disseminating important information at critical times.
Think about this for a second.
It's a work day and both of you have reported to your offices for the day's work. Suddenly, you receive an important message and you need to communicate with your partner immediately, without interrupting their activities (because they could be in a board meeting for all you know).
At this time, text messaging would be your go-to option because they are short, instant, and wouldn't constitute a nuisance (as a phone's loud ring in the middle of a quiet office full of focused employees).
Textual compatibility is required at this time for your partner to prioritize your messages and not procrastinate on attending to a text that could be life-altering.
3. Textual compatibility can affect your self-estee

Imagine sharing your biggest win with your partner over text and expecting them to share in your excitement, only for them to leave your message on read or answer with less enthusiasm than expected.
Imagine, also, that after confessing your undying love to your partner over text (once again), they only respond with a lousy 'thank you' after what feels like forever.
If left to go on for a long time, textual incompatibility can affect your self-esteem as it can make you believe you're not worth being excited about or that your partner gets bored when they have to talk to you.
If, on the other hand, your partner returns the same energy you give over text, you're encouraged to keep the conversation going and your self-esteem can be boosted as well (especially when they use words of affirmation over text).
4. It helps you get to know your partner better
You may not remember all the things you should ask your partner over a lunch date. Hence, you may need to ask them more questions (as you get to know them better) later on.
Is there a better way to do this than via text?
However, textual compatibility is required for this to work. When you're both on the same page about how to text, your partner won't be put off when you try to get to know them better over text. Instead, they'll provide as much information as they can while prompting you to open up to them as well.
5. It helps you stay connected when apart
According to a recent report, over 4 million married Americans live apart from their spouses. Some of these people are in long-distance relationships, while others are living apart together.
Regardless of your unique situation, the concept remains unchanged. You won't always be close to your partner. Hence, you must keep up communication if your relationship will survive these times apart.
This is where textual compatibility comes in. to remain connected when you can't be physically present with your partner, you need to have similar approaches to text messaging. Trying to spark up a conversation and meeting casual dismissive responses each time will be frustrating.
Then again, your long-distance relationship may fold if communication is hampered.
Why do some couples struggle with textual compatibility?
Now that we have clarified the role of textual compatibility in your relationship, here are some reasons why some couples struggle with textual incompatibility in their relationships.
1. Ineffective communication
Ineffective communication of needs, wants, and expectations remains one of the biggest reasons why some couples struggle with textual compatibility. Until you talk to your partner about what they want from you in this area, you may keep falling short of their expectations.
Related Reading: 

Is the Lack of Communication Harming Your Relationship?
2. Different attachment styles
Our attachment styles affect the way we text others, whether romantic partners or platonic friends. People with anxious attachment styles use texting as a means to vent. When they feel anxious, unsafe, or threatened, they may fire off a series of messages to their partner, who may interpret this the wrong way.
Then again, these people prefer to be in contact with those they love. Hence, they don't mind sending dozens of texts every day. If their messages go without a response, they may think you're angry with them.
Those with the avoidant attachment style, on the other hand, prefer their independence. They would rather figure things out on their own instead of boring anyone with tidbits about their life; not even their partner.
If you have this type of partner, you may call them 'secretive' because they strongly believe they can figure everything out. Then again, they may experience some innate challenges with texting as they tend to struggle with communication in general.
Want to know what your attachment style is? Watch this video:
3. Daily itinerary

Due to the nature of some people's daily activities, they may not have what it takes to always be available for texts, even if they want to.
For example, a surgeon who has to be on her feet for 12 hours of her shift may not have the luxury of time to check her phone every time it beeps.
If you're in a relationship with her, you may think you're struggling with textual compatibility because she doesn't prioritize texting when the problem might just be due to the nature of her job.
4. Their general disposition toward mobile phones and social media
Different people have different reactions to social media and mobile phone use. For example, a recent poll revealed that over 55% of Americans believe that social media platforms do more to divide the country than unite it.
One factor that can affect your textual compatibility is the relationship your partner has with their mobile phones and social media accounts.
Do they prefer to keep their smartphones aside and engage with the physical world? Do you practically have to drag them before they agree to snap and upload a photo on Instagram? All these are signs that they may not be textually inclined.
How to improve textual compatibility in a relationship

If you're looking to enhance your skills at being textually compatible with your partner, try applying these strategies to improve textual compatibility in your relationship.
1. Improve your communication

One of the most effective ways to make a change in any aspect of your relationship is to have a chat with your partner. Discuss your expectations about how you text yourselves and let them see how their lapses (if any) are affecting your emotions.
Compromise will play a major role as you figure out your textual compatibility issues. If you're with someone who's averse to texting, you may want to focus instead on improving your physical connection and communication skills.
2. Understand your partner's personality typ

As we already discussed, some personality types are more prone to be clingy or too standoffish when it comes to texting. The first step to improving your textual compatibility is to understand your partner's personality type.
Afterward, create coping mechanisms to help them adjust. For example, if your partner is the avoidant personality type, one coping mechanism might be to spark up the conversation. At specific times of the day, you can send them a text asking about their day.
If, on the other hand, your partner possesses the anxious personality trait, you may want to mentally prepare yourself for a barrage of texts whenever they feel anxious or excited. Just prepare yourself emotionally and mentally for this.
3. Understand their schedule and be ready to accommodate

No matter how hard we try, a time comes when we're all unable to reply to a text as quickly as we should. Sometimes, this can be due to reasons beyond our immediate control.
At some point, you may wish for your partner to respond sooner, only for them to do so after many hours. You may pray to catch them online, only to discover that they haven't been online for some hours.
At some point, they may leave your messages on read (maybe because a work emergency suddenly came up).
Get ready to accommodate these flaws. Instead of trying to make them change immediately, give them time and grace to work on how they respond to you via text. Then again, work with them to understand their itinerary.
Are there specific times of the day when they're unavailable to text? It would help for you to be aware so you can send your texts at the right time; when you're most likely to receive a response from them.
Related Reading: 

10 Ways of Dealing With Incompatibility in Relationships
Be text-ready for your partner!
Textual compatibility is a necessary part of communication in every romantic relationship. To fully enjoy your partner, both of you must be on the same page about the value you place on text messaging.
Apply the steps we have covered in this article to improve your textual compatibility. Then again, consider couples therapy if you need the help of an expert to navigate these issues.
Share this article on
Want to have a happier, healthier marriage?
If you feel disconnected or frustrated about the state of your marriage but want to avoid separation and/or divorce, the marriage.com course meant for married couples is an excellent resource to help you overcome the most challenging aspects of being married.
More On This Topic
You May Also Like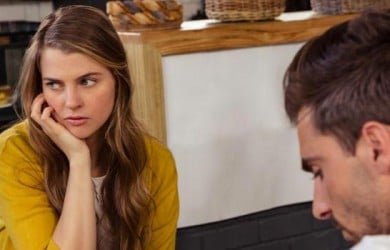 Popular Topics On Married Life