5 Signs That Your Relationship Is Over
An outsider might wonder – do you really need signs to tell you that your relationship is over? Isn't it obvious? But yes, most couples, especially those in long-term relationships or after years of marriage need some tangible telltales.
This is because most relationships decline gradually. Or, they were equally toxic and explosive from the start, so one can't say when it's just plain too much.
Although all of what we'll be talking about in this article is something that might be fixable with the right kind of help by a professional, these are signs that your relationship might also be a sinking ship.
1. ALL conversations became mission impossible
Even the most compatible couples get into an argument. Even the worst kind of a quarrel isn't a sign that a relationship is bad. What is the sign that you should be thinking about getting out of there is whether you still have at least "islands" of normal, healthy topics and conversations.
If you fight equally bad over who's going to take out the trash, as over, let's say, infidelities or mortgages or any such "big" issue, it's not looking good.
The same applies for couples who stopped talking altogether. The façade of a functioning relationship that relies on the spouses not actually talking isn't a relationship anymore.
2. There isn't any physical attraction left
People and couples differ in their sexual appetite. There are most happy sexless marriages as well as disastrous relationships where sex is the only thing that functions. In other words, the frequency or kind of sex isn't really an exact indication of what goes on in the relationship.
Nonetheless, if you once were attracted to each other physically, and now you aren't, then you should start thinking about what's really going on. You aren't talking just about making love.
Hugs, kisses, gentle pats and caressing – if you lost interest (or feel repulsed by the idea) of doing any of these, you might have fallen out of love with no hope of falling back in.
3. You forgot what "display of affection" means
You once surely were no stranger to small gestures of love. You had a need to show your partner how much you care. You would touch, hug, wink at each other in public places. You would sit next to them in gatherings. You used to search for ways to make their life more beautiful.
In a relationship that might be a lost battle, partners lost their zest to do any of this. They don't feel the urge to sacrifice themselves for their spouse anymore.
They don't even look like a couple in social situations in many cases. They don't want to get creative and find ways to show their love. It's because the love is probably gone forever.
4. You can and do envision your future without your partner
Among the most intimately felt signs of a relationship that has passed the point of no return is how partners see their future. In therapy, you can often hear partners saying that, when they first got together, all they could imagine for themselves necessarily included their spouse.
Their plans, but also their less concrete vision of themselves in the future would always include their partner.
When a relationship is over, both or one of the partners usually admits to not seeing their future as inseparable from their spouse. They suddenly can see themselves alone, or with someone else.
Some even make plans based on this new image of their future. The most obvious sign is putting a stop on all planned shared investments (of time, energy, and yes, money).
5. You are held back merely by the inconvenience of a divorce
When one gets to the point of realizing that their relationship isn't what it used to be anymore, this final sign that it's over might step in.
Many clients in therapy admit to being held back from divorcing their spouse merely by the practicality of their marriage.
They share finances, mortgages, property. They see many issues with children and custody issues if they get divorced. And they don't feel up to the challenge of such an extensive life change.
However, even when two people don't file for a divorce, when they reach this stage, their relationship is over. They might still share many things, but what's gone is love. They went through an emotional divorce. When the "real" one will occur, at that point, becomes merely the question of time and convenience.
Share this article on
Want to have a happier, healthier marriage?
If you feel disconnected or frustrated about the state of your marriage but want to avoid separation and/or divorce, the marriage.com course meant for married couples is an excellent resource to help you overcome the most challenging aspects of being married.
Learn More On This Topic
You May Also Like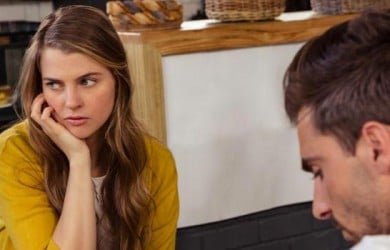 Popular Topics On Married Life