20 Clear Signs Your Ex Is Waiting for You
Breakups can be hard. You suddenly lose an important part of your life, and the partner goes away suddenly.
Even after days, you may still be reminiscing about the happy moments you spent with your ex. You are still looking for signs your ex is waiting for you in your heart.
After all, you loved with your heart and soul and still want the person back in your life. Do you often think about what if my ex wants to get back together?
But does the person want to get back? Well, not impossible. Modern research has shown that nearly 50% of ex-couples, especially young couples, reconcile after a breakup.
But, you need to be extra cautious when looking for possibilities. This article will find the signs that tell you that your ex is looking for a second chance.
How to know if your ex is trying to win back you?
You are still not over the relationship and breakup. You are still trying to find "is he waiting for me to reach out?"
It has been days, and yet you cannot move on with this breakup. But, what is your ex doing at this moment? Is the person trying to get back?
If you want to check out his intentions, look for signs your ex is waiting for you.
Check if your ex is making contact and is trying to ask for a meet-up.
On top of that, check out what your ex is doing.
Is your ex still single? Or does the person seem to have found a partner? Or the person still comments on your social media posts.
If the individual displays some particular signs that tell you the person still wants a second chance, you probably need to think about that.
Is it worth waiting for your ex to come back?
Well, if you love the person, it is worth waiting. You can wait for a few months to check out for the signs your ex is waiting for you.
But besides that, also take your time to heal yourself. You may not be fortunate enough to get a second chance.
On the flip side, it is not worth waiting if the relationship is unhealthy, with many fights and mental issues. Leaving the scary past behind is better to ensure you live happily.
How long should you wait for your ex to come back?
You have broken up and have gone your separate ways, probably! But, your heart tells you to wait for the person to give the relationship another chance. You have started to wonder, "should I wait for my ex to come back or move on."
Yes, there are incidents where people get back even after a breakup. Most people may take one to three months to reconcile after a breakup.
But is your ex worth waiting for in your case? Well, maybe or maybe not. So, if you have decided to wait, it is not bad.
But, how long should you wait for someone to come back? Maximum four to six months. You will find signs your ex is waiting for you within this time.
But, also prepare yourself for the worst. You will be heartbroken if you do not find the right signs that your ex wants to reconcile. Hence, use this period to heal yourself.
Prepare yourself to move on if your ex does not show up at your doorstep to take you back. After all, it is life, and anything can happen!
Related Reading: 

Why Do Exes Come Back After Months of Separation
Should I talk to my ex or stay away?
There is no hard and fast rule in this case. You may feel that talking will help you find signs your ex misses you. But that may not be possible in your scenario.
In many cases, continuing regular conversation with an ex may become a challenge due to the past you two shared once.
If you two have broken up amicably and harbor no hard feelings for each other, talking is normal. If you share an office with the person or have to maintain a professional relationship with your ex, you will have to talk.
In such scenarios, try to maintain a cordial relationship with the person. Interact only when needed.
But, if you two have a messy breakup and there was much drama before the breakup, stay away from the individual.
Those who have had an abusive relationship should also stay away from their ex. In some cases, avoiding it may be the best policy.
20 clear signs your ex is waiting for you
So, you are heartbroken and lonely. You feel like you lost a part of your soul after the breakup. You also want to get back with your ex desperately.
In your mind, you are always looking for signs your ex misses you and wants to become one together again.
But it is not always easy. Yes, there are chances that he may want to reconcile. But understanding a man is not always easy. You are confused and thinking, "should I wait for my ex or leave the past behind."
Here are the top twenty signs your ex is waiting for you to help you decide.
1. They contact you again
After the breakup, they seemingly stopped connecting with you and blocked your number. But, suddenly, you find your ex texting you back from their number or a new number.
Probably they have already started to miss you and want you back. Consider this among the most positive signs your ex is waiting for you.
Here's how you should respond to your ex's messages:
2. They tell you about their present life events
So, your ex has contacted you again. You have conflicted feelings. Out of the blue, they also start to share minute details about recent life events. It is one of the main signs your ex wants to get back together.
They want to connect with you romantically again by sharing his present life stories. Indirectly, they are trying to show you that their life is void without your presence.
3. They ask to be friends again
It has been days since the breakup. But, out of the blue, your ex texts you again. They express their desire to become friends.
Well, it is not possible to be ex-turned-friends. Yes, ex-couples can maintain a cordial, professional relationship, but not more than that.
So, if they are asking for friendship, they might be waiting for you to come back.
They are ashamed that he broke up and is taking it slow to ensure you are emotionally ready to be with him again.
4. They ask to meet up
Did your ex text you to meet again for a cup of coffee? Did they request politely ask for your time so that he can meet you?
Well, it is a good sign. Their eagerness to meet you proves they are already trying to reconcile with you.
5. They flirt with you
How to know if your ex still loves you? Well, take a closer look at their behavior. They often compliment you on social media and comment with flirty quotes on your posts.
Then they may still be madly in love with you.
Related Reading: 

Why Do People Flirt? 6 Surprising Reasons
6. They text you on important days
So, your ex texts you on birthdays and holidays. Even if they send a simple message, it comes with a lot of importance.
They still remember those days after the breakup. It is a sign that they are waiting for you.
7. They ask about your relationship status
Does your ex ask you about your present relationship status? Are they interested to know whether you are dating? Do they get jealous when you say you are looking forward to dating a new person?
Then it is one of the signs your ex is waiting for you.
8. They ask your friends about you
How to know if your ex wants you back? Ask your friends if your ex has enquired about you. They will surely find ways to ask you again for a relationship if he has.
9. They are still single
It has been months since the breakup. But your ex is still single. They have not dated anyone nor declared any intention to do so.
You are astonished. But, don't be so. Probably your ex is sending subtle signs that they are trying to reconcile with you and has no intention of having any other woman in his life.
Related Reading: 

25 Unexpected Benefits of Being Single
10. Take a look at their social media accounts
You often wonder –"is he waiting for me to reach out?" After all, they stopped contacting you after the breakup.
Then take a look at your social media account. If you find that your ex is still friends with you even after the breakup, they may be waiting for you, indeed.
They will also try to post cryptic updates and quotes related to breakups and mistakes on their social media account.
11. They post too many pictures with others
You are connected with your ex on social media, even after the breakup. Suddenly, you find them posting regular pictures with other people.
But, this can be among the signs your ex is pretending to be over you, while the reality is different.
They are probably doing all these things to make you jealous and attract you back into your life.
12. They take the blame for the breakup
How to know if your ex still loves you? They take the blame openly and say that they made a mistake by breaking off with you.
They are not bothered to hurt their ego and open his vulnerable side to you again. They are not ashamed to admit their mistake. Then count this as the signs your ex is waiting for you to reconcile.
13. They often seek help from you
You often find your ex asking you for suggestions and help. They may ask to buy a new gadget or even seek suggestions for vacation planning.
It is also one of the main signs your ex is waiting for you.
14. They are constantly available to you
Whenever you text or call your ex, they are always available to you. Maybe they were not even that attentive when they were in a relationship with you.
So, why this sudden change? Probably they have realized that they were not attentive to you enough and are trying to ensure you always get his best attention. Well, they are surely in the mood for reconciliation!
Related Reading: 

21 Positive Signs During Separation That Predict Reconciliation
15. They regularly enquire about your health
Your ex once knew all the health issues you had at that time. Even if you are healthy now, they text you and enquires about your health.
Probably, they still genuinely care for you and wants to get back together again.
16. They tell you they miss you
Your ex has openly said that they miss you. They text you and say how their life seems empty and abnormal without you. If they still feels hesitant, they may say that they miss the show you two would often binge-watch together or the movies they enjoyed with you.
All of these comments are signs that your ex is waiting for you.
17. They are always there for your rescue
Wondering, "should I wait for my ex?" Then look at their behavior.
Do they try to help you, even if it means compromising their own life commitments? Are they always there to help you whenever you drop a call?
Then they are trying to prove that they deserve a chance. So, you can consider this act as one of the signs your ex is waiting for you.
18. They try to impress your family members
Even after your breakup, your ex tries to contact your family members. They make calls to your parents or siblings often. They may not try to hint at a reconciliation appeal to you, but they'll surely ask your family members about this.
They try to help them in need and often try to impress them. They know that if they can prove their worth to your family, you will probably give him another chance.
19. They visit those places where you often visit
You have been bumping into your ex for a few days now. You meet them in a coffee shop, a movie theater, or even a shopping mall.
All of these events are not accidental. They are instinctively visiting places where you frequently go to ensure they get a chance to talk with you about the possibility of reconciliation.
20. Their friends tell you that they are waiting for you
You bumped into one of your ex's friends. That person told you that they are still waiting for you and about you often.
It is among the top signs your ex wants you back but won't admit it. If their friends know about that, it is, in fact, true.
In a nutshell
The whole breakup procedure is long and takes a lot of time. It is not easy in the case of waiting for someone to get over their ex. It is not bad to think about giving the relationship another shot. But, you also need to be cautious while giving another chance to your ex.
If they ask for another chance, ensure you two do not make the same mistake again in this new start. Try to understand each other and give each other enough support to sail through the turbulent issues of life.
On the flip side, also repair yourself to face the hard truth. They may not even come back to you. So, it is always better to find the silver lining after the breakup.
Share this article on
Want to have a happier, healthier marriage?
If you feel disconnected or frustrated about the state of your marriage but want to avoid separation and/or divorce, the marriage.com course meant for married couples is an excellent resource to help you overcome the most challenging aspects of being married.
You May Also Like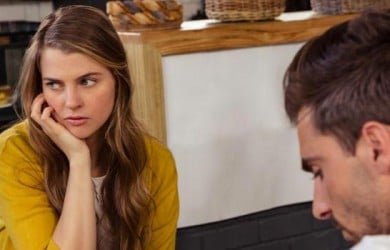 Popular Topics On Married Life