25 Signs He Finds You Irresistible
One of the puzzling questions you might have asked yourself was, what are the signs he finds you irresistible? You might have asked this question because you're trying to have a peek into his mind on what he thinks about you.
So consider this article an eye-opener to know why he finds you irresistible so that you can keep up your game.
What can make a woman magnetic and irresistible
A woman can look magnetic and irresistible to almost anyone when she shows how passionate she is about her personal and career growth. Many people love women driven to succeed in what they do, and this trait automatically charms them. Another factor that can make a woman look irresistible is her physical looks and how graceful she is.
In this research study by Viren Swami and Adrian Furnham titled the Science of attraction, it highlights the various features that makes someone attractive and irresistible
25 strong signs he finds you irresistible
Do you have that special man in your life, and you keep wondering why he is so attached and does not want to let you go? Here are some signs he finds you irresistible
1. He loves to make eye contact
One of the signs a man admires a woman is he finds it difficult to take his eyes off her. If you are in public with him, you will notice his eyes are locked on yours. When you take your eyes away and return them, he's still staring at you.
He is charmed by your presence, and that is why he loves being by your side. But, unfortunately, the same thing happens when you're in a private space; he makes eye contact with you giving the possible impression that he wants to devour you.
2. He admires you when you're dressed
If he pays attention to what you wear and he always finds you attractive, it means he appreciates you. This is why he might be asking about some of your fashion items and accessories to know if you need some additional items or not.
Therefore, when he tells you that he loves your dress sense, it is what men find irresistible.
Related Reading: 

Admiration Is an Essential Part of a Relationship
3. He likes shopping for you
When looking for some signs he finds you irresistible; one of the things to look out for is if he likes getting you things or not. Anywhere he goes to, he thinks of you and gets something you'll most likely appreciate.
He creates a list or keeps them in mind if you have any needs. Then, when he has the opportunity to shop for himself, he will get some of those needs for you.
4. He loves creating memories with you
If you notice that he likes going to different places with you, it could mean that he wants to create several memories with you. On such occasions, you will notice that he is always taking pictures or videos of the two of you.
This means he loves spending time with you, and he cherishes every moment. He has found you irresistible, and he doesn't want to let go.
5. He loves looking good
You might be surprised to hear that when a man takes a great deal of effort to look good, he wants you to appreciate him. Usually, this decision stems from knowing that you look irresistible to him.
Therefore, he doesn't want an unbalanced situation where you are the only person looking great, and he's not. He is inspired by the irresistible vibes you give through fashion and the likes, and he wants to replicate this.
6. He wants to spend time with you
One of the signs he finds you irresistible is when he always want to be with you. You will notice that he'll try to be physically close to you, and this is because he enjoys your presence.
When it comes to spending time with the one you love, it doesn't involve movies, parties and dates alone. It could be getting a product from the shop down the road or going for an evening walk. The bottom line is he cherishes every moment with you.
Related Reading: 

11 Ways to Have Quality Time With Your Partner
7. He suppresses his ego with you
Keeping his ego aside is one of the signs he finds you irresistible. This means that when you make any decision, he would consider them. If possible, he will prioritize your decisions over his to avoid conflict in the relationship. Since he finds you irresistible, his ego means little or nothing because he also loves you.
8. He accommodates your excesses
If he finds you adorable, he will not leave your side even when you give off some unpleasant behaviors.
Some men know how to keep their partners happy even when they act in a discouraging way. You might be surprised to see that he is still there for you after annoying him and trying to make you happy.
9. He doesn't stress your imperfections
Everyone has imperfections, and when they reflect in relationships, conflicts happen. One of the signs he finds you irresistible is when he acknowledges your imperfections without using them against you.
If he truly loves you, he would help you solve those imperfections instead of using them, to sum up, your personality. When conflicts happen, he would prefer to solve the issue instead of playing the blame game.
10. He is always proud of you
One of the most surreal signs he finds you irresistible is when he lets you know that he is proud of you. This means that he does not undermine anything you do even when you think you're not doing well.
On the contrary, he loves flaunting your achievements to anyone because he is happy to be associated with you. And he would never back down from supporting you in every way.
Related Reading: 

20 Steps to Becoming a Supportive Partner
11. He always appreciates you
Giving you the deserved appreciation is one of the strong signs a man admires a woman. You might have some inadequacies, but he doesn't focus on them.
Instead, he prefers to appreciate you for the little things you do to be motivated to do more. Even when he wants to correct you, he still finds a way to appreciate you.
Related Reading: 

8 Ways to Show Appreciation to the Love of Your Life
12. He doesn't compare you
When a man is with an irresistible woman, he will not compare her to anybody. This is because he knows that she has some outstanding qualities that other women don't have.
Hence, he appreciates her uniqueness instead of comparing her to her peers. He also knows that one of the ways to get the best from you as a partner is by commending you instead of comparing.
13. He tries to act the hero
When men were still boys, most were fans of different superheroes. As they grew into men, they subconsciously tried to play superheroes in different aspects of their lives. This is why you discover that he loves to be selfless and puts you first even when it is unfavourable. You will also discover that he wants to be with you at all times.
14. He loves to initiate conversations
Have you noticed that he likes to bring up conversations?
This is one of the strong signs that he finds you irresistible. Even though he has other people he discusses with, his best conversations are always with you. He must have hinted you about this fact to let you know that he would rather spend several minutes talking with you than with other people.
15. He doesn't like potential suitors around you
Many men are jealous when there are prospective suitors around you, and this is because there is an established sexual attraction.
So, anytime he sees anyone around you that might be a threat, he takes caution to ensure that he doesn't lose you to anyone. He understands you need to have friends and acquaintances, but he doesn't let his guard down.
16. You see it on his face
When a man has an emotional connection because he finds you irresistible, you can easily see it on his face. Anytime you are in the room, his face lights up, and his entire body comes alive. He loves being around you, and anytime you want to leave, the displeasure is written all over his face. In addition, he thinks you're beautiful, so that glad feeling is highlighted on his face.
17. He loves sending romantic text messages
One of the clear signs he finds you irresistible is that he sends you text messages that light up your day or make you smile in your sleep. You mean the world to him, and he expresses himself by pouring out his heart through texting.
Related Reading: 

45 Best Hot Romantic Text Messages for Her
18. He calls regularly
When you notice that he calls you frequently, it is one of the signs he finds you irresistible.
He calls to know almost every little detail. This is usually common with long-distance relationships where you are not in the same location. These calls can either be audio or video calls. The main goal is for him to hear from you and be sure you're doing great.
19. He engages you on your social media platforms
If you've noticed that he is always all over your social media accounts on Facebook, Instagram, Twitter, Snapchat and the likes, it means he finds you irresistible.
Unfortunately, he cannot keep his eyes off you at this point, so a better way for him to spend his free time is to monitor your online activities. Also, he would engage your posts so that you will know he is watching.
20. He tells you his secrets
Generally, men prefer to keep their secrets, as they hardly open up to people. However, if he always compliments you and he finds you irresistible, he might open up and tell you some secrets one of these days. He is telling you these secrets because he wants to strengthen the bond between you.
21. He wants to be close with your family and friends
If you notice that he is attempting to be close with your loved ones, it means he finds you irresistible. He wants to be involved in other aspects of your personal life. And one of the good ways to start is by getting close with your family and friends.
22. He talks to his friends about you
When you see a man talking to his friends about the love of his life, people ask questions like what makes a woman magnetic and irresistible. Since he's saying good things about you to his friends, he indirectly tells them that they have no choice but to accept you in his life.
23. He loves going on dates with you
Men love going on dates with people who catch their fancy. So since he finds you irresistible, don't be surprised when he suggests going on a date with you. He wants to be by your side, and a date presents the perfect opportunity.
24. He is interested in your career growth
Most times, what men find irresistible is when you show that you're passionate about your career growth. This would make him view you as an independent partner who would not burden him. Hence, he would follow up on your career plans.
25. He posts you on his social media platforms
No matter how introverted a man is, your picture will find its way to his social media platforms if he finds you irresistible. This shows that he loves everything about you, and he wants the world to see the treasure he has.
In her book titled the 7 Essential Elements of Irresistible Women, Victoria Knightley highlights why some women get played, ghosted and while others are getting the best breed of partners.
Conclusion
After reading this piece and checking out the signs he finds you irresistible, you can be sure of how that man feels towards you. When a man finds you irresistible, it means that you have a special place in his life that nobody can displace.
To get the man of your dreams, you need to become irresistible, here is a book by Lily Samuel titled Dating. This book helps you get the man you've been waiting for.
Watch these secret ways to keep your man happy:
Share this article on
Want to have a happier, healthier marriage?
If you feel disconnected or frustrated about the state of your marriage but want to avoid separation and/or divorce, the marriage.com course meant for married couples is an excellent resource to help you overcome the most challenging aspects of being married.
More On This Topic
You May Also Like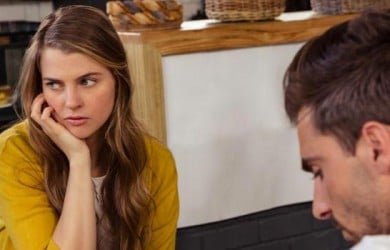 Popular Topics On Married Life