15 Passive Aggressive Examples to Look Out for in a Partner
Communication is important in relationships, but things can become complicated when communication styles are unhealthy. One example of communication that can harm a relationship is passive aggressive behavior.
So, what is passive aggressive communication? Below, find some passive aggressive examples to look out for in your significant other.
What is passive-aggressive behavior?
When we hear the term "aggressive," we probably imagine physical attacks or someone who is verbally harsh. While this is a direct form of aggression, passive aggressive behavior is simply indirect aggression.
Rather than confronting an issue head-on, passive aggressive people will use covert behaviors, such as giving someone the silent treatment, to communicate their anger or frustration. Rather than obvious aggressive acts, passive aggression involves inaction.
How to recognize passive aggressive behavior
So, how do you know you're dealing with passive aggressive behavior? A good indicator is if a person seems to repeatedly hurt you but denies any intent to cause harm.
A person who uses passive aggressive behavior will indirectly express frustration or anger through their inaction. They may go silent, do something deceptive behind the scenes to cause you problems, and then later deny it.
When someone is showing examples of passive aggressive behavior, you will notice a pattern. They are repeatedly hurtful or deceitful, but they continue to deny doing anything wrong. They will also make you quite uncomfortable, even though they never directly communicate their hostility to you.
The examples of passive aggressive communication below provide more insight into identifying this behavior.
15 passive aggressive examples to look out for in a partner
If you're trying to recognize passive aggressive behavior in a partner, knowing specific indicators of this communication style is helpful. The following passive aggressive examples provide clarity.
1. Suddenly disappearing from your life
When a passive aggressive person feels hurt or somehow slighted, rather than addressing the issue head-on, they may disappear from your life completely. A healthy communicator would talk about why they're upset, but the passive aggressive person will go silent, completely ghosting you.
2. Repeatedly failing to follow through
Also, among the examples of passive aggressive behavior is promising to help someone with something and then failing to follow through.
A passive-aggressive person may say they will help you move, but when it comes time, they "forget" to show up as scheduled. This can indicate that they're intentionally getting revenge for something but playing it off as a mistake.
3. Agreeing to things when they don't really
A passive aggressive person may agree to something, such as going to a concert with you, when they don't want to agree. Then, they'll be angry with you after the concert because they didn't really want to go.
What they should have done is directly decline the invite to begin with, but they choose the passive aggressive route instead.
4. Saying they're okay when they aren't
Another example of passive aggressive communication is claiming to be okay with something when the person is actually far from okay. When you apologize for something, for instance, they may say it's fine, only to hold a grudge against you.
5. Using backhanded compliments
A passive aggressive person may not directly put you down, but they will use backhanded compliments to hurt your feelings. This strategy allows them to pretend like they didn't mean to be rude.
For instance, among the passive aggressive communication examples is making a statement like, "I admire your courage to be a trendsetter and wear clothes that are no longer in style!" This comment is actually insulting a person for the way they're dressed while trying to spin it as a compliment.
6. Playing dumb
What is an example of passive aggressive behavior?
One of the prime passive aggressive examples is pretending to be dumb. For example, a passive aggressive person may intentionally sabotage you, then pretend that they didn't know what they did would be so harmful.
7. Using weaponized incompetence
People who show passive aggressive behaviors may use weaponized incompetence to get out of doing things they don't want. This involves pretending not to know how to do something so that people won't continue to ask you to do it.
This could include claiming not to know how to make a certain dish because you won't want to make it for your partner. Or, it might involve telling your team at work that you're unfamiliar with how to perform a specific task so that they will take over it for you.
8. Subtle insults
Another one of the examples of passive aggressive behavior is making subtle insults toward others. For instance, if a friend struggles with their weight, a passive aggressive person might make a dig at them by saying, "I just don't understand how some people find it so hard to lose weight!"
Related Reading: 

What Is Negging 10 Signs That Your Partner Is Negging You
9. Giving the silent treatment
A passive aggressive person who is coping with anger may refuse to speak to you without giving you a reason for their silence. When you ask what's wrong, they'll deny that there's a problem, but it's pretty clear they're avoiding you out of anger.
Related Reading: 

How to Deal With Silent Treatment in Marriage
10. Procrastination
A passive aggressive person who isn't too thrilled about completing a particular task or chore may intentionally procrastinate, waiting until the last minute to get the job done. This is their way of silently protesting while you remain anxious that they won't follow through.
11. Excessive use of sarcasm
Consistently sarcastic commentary is also among the passive aggressive examples. A person may make sarcastic statements to communicate their frustration rather than directly stating that they are upset.
12. Frequent excuses
A person may show their disdain for you by making excuses for why they can't do what you ask. Maybe you're supposed to meet up, but they always claim to be sick. They're avoiding directly confronting the fact that they simply don't want to get together.
13. Poor body language
One of the most obvious passive aggressive behavior examples is negative body language. A person may claim they're not upset, but they cross their arms, roll their eyes, or maintain a scowl.
14. Patronizing behavior
Instead of stating how they really feel about you, a passive aggressive person may indirectly communicate their dissatisfaction by using patronizing statements. They may call you pet names such as "baby" or explain things to you as if you cannot possibly understand them.
15. Silent refusal
Finally, a passive aggressive person may silently refuse to meet your needs rather than directly letting you down. For example, if your partner has agreed to take out the trash each week, and you've decided as a couple that this is their assigned chore, they may repeatedly fail to do it.
If you remind them, they promise to do so, but they continue to not take out the trash. The truth is that they have no intention of taking out the trash, but they don't have the courage to tell you that they just don't feel like doing it.
5 problems with passive aggressive behavior
Now that you've had an opportunity to consider the above passive aggressive examples, you know exactly what this behavior looks like. Chances are that passive aggression leaves you feeling quite uncomfortable and probably pretty upset.
If passive aggressive behavior continues, you're likely to run into problems. Here are some key risks that come along with passive aggression:
1. Loss of trust
When one person in a relationship shows examples of passive aggressive communication, it can erode the trust in the relationship. This is because the words and actions of passive aggressive people often do not align. They may say they aren't angry, but their body language and silent treatment suggest otherwise.
2. Poor communication
Clear, open communication is important in relationships. This means communicating your feelings and directly resolving conflict. Passive aggressive behavior impedes healthy communication.
3. Damage to the relationship
When one person in a relationship indirectly sabotages their partner or refuses to talk about their feelings directly, the relationship cannot grow. Over time, the relationship will deteriorate unless the passive aggressive communicator learns to be more direct.
Related Reading: 

20 Signs Your Relationship Is Beyond Repair
4. It can be indicative of a mental health disorder
Research suggests that passive aggressive behavior is associated with mental health conditions, including borderline personality disorder, anorexia, or adjustment disorder. Someone who repeatedly shows examples of passive aggressive behavior may require mental health treatment.
5. Resentment
Over time, passive aggression can lead to resentment. The person engaging in this behavior may outwardly pretend to be okay with things but inwardly harbor anger. As the relationship progresses, the person will develop nothing but resentment for their significant other.
Watch this video to learn more about how to overcome resentment toward your partner:
How to deal with passive aggressive behavior
You can learn how to deal with a passive aggressive person so that the behavior doesn't take a negative toll on you. The best way to confront passive aggressive behavior is to communicate directly with your significant other about the specific behavior that bothers you.
For example, you might say, "It bothers me when you say you aren't upset with me, but then you give me the silent treatment. Can you talk to me about what is really bothering you?"
When you confront this behavior, be sure not to shame your partner. If you are overly harsh or critical, they will likely shut down instead of communicating with you.
In many cases, people engage in examples of passive aggressive behavior because they've been dismissed or rejected when they try to express themselves directly.
Showing understanding and communicating to your partner that you'll support them in changing this behavior can be helpful. However, if they continue to engage in passive aggression, you may have to set clear boundaries or, ultimately, leave the relationship.
If you've tried to address your partner's passive aggressive behavior, but they continue to communicate this way, you can set firm boundaries, such as telling them you will not reach out to them if they're giving the silent treatment or you're not going to communicate with them when they're giving backhanded compliments or making subtle insults.
Final thoughts
Behavioral passive aggressive examples can be frustrating, and over time, it damages relationships. When your significant other continually engages in passive aggressive behavior, there is a communication breakdown, and you will feel you cannot trust them.
Relationship counseling may be beneficial if passive aggressive communication is causing problems between you and your significant other. In counseling sessions, you can learn healthier communication patterns and express your emotions with the help of a neutral professional.
Share this article on
Want to have a happier, healthier marriage?
If you feel disconnected or frustrated about the state of your marriage but want to avoid separation and/or divorce, the marriage.com course meant for married couples is an excellent resource to help you overcome the most challenging aspects of being married.
Learn More On This Topic
You May Also Like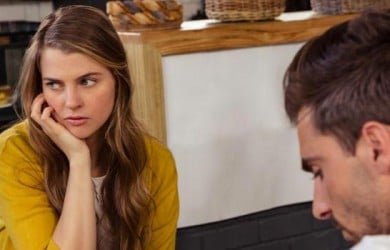 Popular Topics On Married Life