10 Warning Signs of Parasitic Relationships
Although relationships are supposed to be equal for both parties, this isn't always the case in terms of the love and support they receive. At times, you may find yourself in a parasitic relationship.
This means that one person may be getting more attention than another. Here's a look at knowing if you are in this type of relationship and warning signs to watch out for.
How to know if you are in a parasitic relationship
You may be wondering if you are in a type of parasite relationship. One way to know is if your partner seems only to be worried about you initially, and this behavior changes dramatically once you start dating and get serious.
It is thought that narcissists develop parasitic relationships with their mates, which result in the other partner having to cater to the narcissist's needs and wants at all times.
They need to be praised, paid attention to, and regarded regularly, and they will want to be congratulated on every accomplishment they make, no matter the size.
When someone has a parasitic personality like this, it may seem like they are taking all your energy, attention, and time. You might feel like you are more their caregiver than their partner. Think about if this is how your relationship feels to you.
If you want to learn more about one-sided relationships, check out this video:
What is a parasitic relationship?
When you think about parasites you know from the animal kingdom, this can be a useful analogy to help you understand a parasitic relationship in humans. A parasite generally feeds off a host animal, where it may take away its life force, affect its behavior, and more. This is similar to how it works in humans.
For instance, parasitic relationship examples include always doing what your partner wants without compromise and when you don't have time for yourself because you are always catering to your partner's needs.
10 warning signs of parasitic relationships
When it comes to a parasitic relationship, there are several signs to look out for to let you know if you are in one. Here's a look at ten signs that you should be aware of.
1. They wear you out
Occasionally, you may be around your mate, and they wear you out. They might drain all your energy and cause you to feel worn out, both physically and mentally. Taking care of their needs and listening to what they have to say regularly can be tiring when it is one-sided.
You might notice that you don't have the energy you used to, which is alarming to you when you think about it.
2. You are always cleaning up after them
Something else that can occur in a parasitic relationship is that your mate is always causing problems or messes that you have to clean up.
They may be spending too much financially, burning bridges with their friends, or acting in another irresponsible manner that has to be dealt with. It may fall on you to fix these mistakes, even though you didn't make them.
3. You spend a lot of time on their needs
In this type of relationship, you will have to spend a lot of time caring for your partner's needs.
They will likely require you to regularly describe how you feel about them, talk to them about their problems, and do things they want to do. In most instances, they won't do any of these things for you.
4. They won't give you space
Have you ever noticed if your partner needs to know where you are at all times or wants to be in contact with you almost every second of every day? This is another sign of a parasitic relationship.
They need to be able to communicate with you all the time, almost in a controlling manner. This can also wear you out and make you feel like the walls are closing in. In many relationships, individuals need space and time to do their own thing, which is okay.
5. You feel like you are being used
Once you take the time to think about everything you do for your partner, it may cause you to feel like you are being used. You may be only doing what they want to do, eating their favorite foods, going out with their friends, and you don't get a say.
This can cause you to feel like you aren't important to your partner and that they don't care what you want or how you feel. It is okay to feel like you are being used in a parasitic relationship since this could be the case.
6. You dread spending time with your mate
Putting all your time and energy into making your mate happy and ensuring they get what they can is exhausting. It can cause you to feel like you dread spending time with them.
You may wish you had time to sit down and relax instead of worrying about the next thing they will need from you.
7. Your needs aren't being met
When your partner has a parasitic personality disorder or narcissistic personality disorder, there is a good chance that your needs won't be met in your relationship.
This is likely because your mate doesn't regard your needs and wants as real or important. Instead, they feel they need to be loved, taken care of, adored, and catered to above everything else.
Related Reading: 

How to Communicate Your Needs in a Relationship?
8. You are paying all the bills
In some situations, you might pay all the bills in your relationship. This may be because your partner isn't good with money, expects you to pay their debts, or makes irresponsible choices with their own money.
No matter the reason you are footing the bill, it is something you should think about. If your partner has never offered to pick up the check or pay the phone bill, even though they can, you may not be in a healthy relationship.
In many couples, agreements are made ahead of time on who will pay which bills and how funds will be allocated. No one person should be paying for everything unless this has been agreed upon ahead of time.
9. You don't feel heard
You must talk to your partner about what is going on in your life, the problems you are experiencing, and even when you want their attention. However, when it comes to a parasitic relationship, you may be unable to do this.
The relationship may focus more on what your mate wants to talk about and how they feel, and the topic never seems to turn around to what you have on your mind. If this happens to you, it is problematic and may concern you.
10. You don't see your friends anymore
You may be aware that you haven't seen any friends or family members for a while since you have been dating your partner. This could be because they prefer to hang out with their friends and family and never consider what they want to do.
They may also be trying to separate you from the people you are closest to, so they may be able to control you better. It is important to stay in touch with loved ones when you can, who may be able to offer you the support that you are missing in your relationship.
Don't let it consume you
When you are in a parasitic relationship, this can take a toll on your mental health, energy, and even how you feel about your partner. You are unlikely to have your needs met, it may be exhausting to spend time with them, and you might feel like you are being used.
These are all indications that you are in this type of relationship. If you are unsure if you are or not, you should talk to people close to you about how you feel, especially if you think the relationship is one-sided.
They may be able to provide you with their point of view and advice on what they think you should do.
Moreover, you can visit a therapist for further assistance. They should also be able to help you understand if you are in a relationship with a narcissist and what you can do about it. Learning about this type of personality may help you make more sense of the specifics of your relationship.
Additionally, they may help you understand how to interact with your partner, talk to them, and take back control of your life if needed. Then you can determine if this relationship is one you would like to continue or if you want to make a change.
Share this article on
Want to have a happier, healthier marriage?
If you feel disconnected or frustrated about the state of your marriage but want to avoid separation and/or divorce, the marriage.com course meant for married couples is an excellent resource to help you overcome the most challenging aspects of being married.
More On This Topic
You May Also Like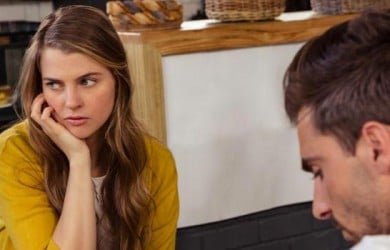 Popular Topics On Married Life