3 Keys to Career Success Along With a Thriving Marriage

1. Golden rule – Time for work, time for family
This might be pretty obvious, but far too often people just don't respect the rule of keeping your work time and your family time separated. Which is why it deserves our attention. It's amazing how many problems one comes to see a psychotherapist about could have been prevented if only the person set aside time when they will work and when they will enjoy some quality time with their family.
You probably already feel the pressure to stop checking your work emails on Sunday, and to leave the devices off when on a vacation. And this most certainly puts a strain on your love life. But this rule protects not only your time with your spouse but also your professional engagement. Although you might get a feeling that if you're constantly available to your boss or your coworkers, you will be deemed a great employee, this could be only an illusion.
How? Well, apart from jeopardizing your marriage, taking your work home causes you to work under conditions of higher stress and lower focus. You will inevitably feel guilty for neglecting your family, and you won't be able to concentrate as you normally would if you stayed at the office. Not to mention the loudness of small children, if you are a parent as well.
Related: How to Not Let Your Work Ruin Your Family Life?
So, the golden rule of career success (and protecting your marriage at the same time) is – work when you are at work, and when you are with your family, just forget about your professional self altogether. If the need for some extra work hours arises, then stay in the office or lock yourself in a room, and finish what you need without trying to engage in a conversation with your spouse at the same time.
2. Make advancing your career a shared project
Another advice that you can get at a psychotherapist's office on how to prevent or mend problems in a friction between your marriage and your career is to make your professional progress a shared project. In other words, include your wife or your husband in designing a strategy on how to get a promotion or be accepted for that amazing job!
Related: 6 Ways to Support Your Spouse's Career
When you include your life partner into what is a major chunk of your life, your career, you can expect only great things to happen! Because now you eliminated your spouse's feeling of being neglected, but also your guilt. And, moreover, you get two heads to figure things out and think of different ways to up your chances of success.
Not to mention how important it is to have the support of the most important person in your life. Aspiring to reach the top in your profession on your own, while feeling that you are robbing your life partner out of your attention can be demotivating and stressful. But, when you are on the same side and your career stops being something that you do on your own but is a part of your shared future, indeed, the sky becomes your limit.
3. Be clear on your availability – At work and at home
Another important advice that you should consider if you're trying to advance your career is to be explicit on your availability both at work and with your spouse. At work, assertively set boundaries on when someone is to disturb you when away from the office. This is a right of every employee, and you shouldn't feel guilty if you say that you are not to be called off work hours. But, the same should apply to your spouse, and you might consider eliminating family calls while you're at work.
This might sound cold when we're talking about your marriage, but it is a sign of respect to your wife or your husband. By setting clear limitations on when you will be available for a call or a video chat, and under what circumstances your meetings can be interrupted and when not, you are not treating your spouse as a small needy child, rather as a grown up as a self-sufficient individual. And this will benefit both your marriage and your career.
Share this article on
Want to have a happier, healthier marriage?
If you feel disconnected or frustrated about the state of your marriage but want to avoid separation and/or divorce, the marriage.com course meant for married couples is an excellent resource to help you overcome the most challenging aspects of being married.
You May Also Like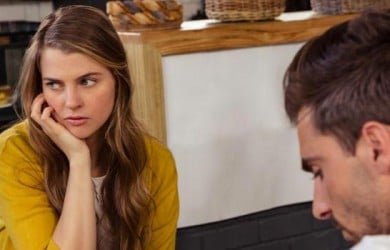 Popular Topics On Married Life