How to Handle Second Marriage Problems Without Getting a Divorce
It's tempting to think about how practice makes perfect for any situation. But that's not true when it comes to official statistics about marriage. For a fact, the divorce rate actually increases during a people's second and third marriages.
Statistics have painted a grim reality of what it's like to marry another individual that you have an intimate connection to.
In the United States, 50% of first marriages end unhappily. And then 67% of second and 74% of third marriages culminate in a divorce.
Second marriages give anyone the chance to enjoy marital bliss again. But after having gone through divorce once already, are you really on board with it happening all over again? Why go through the trouble when you can do something to prevent the second marriage problems?
Second marriage problems & how to handle it
You might be asking yourself, what's in a second or third marriage that makes it less likely to work better than the first? There are various reasons as to why. They can involve normal second marriage problems or harmful ones. (We'll be talking about the former).
The article would also reflect on what to do if you're struggling with a miserable second marriage.
The reasons for being less hesitant to end a marriage the second time around involves a complex combination of a bunch of complicated factors.
1. Unsettled grief
Starting too soon and immediately jumping into a new marriage immediately after divorce never ends well.
Whether you care to acknowledge it or not, the fear, the sadness, and even the loneliness and financial problems still remain. They temporarily go away when you dive into a new relationship.
But the excitement and the emotional high you get can only last for so long. Plus, they often hinder your objective reasoning, and you fail to discern compatibility issues that arise with a new partner.
Grieving at the end of one divorce is normal, and it's not something to be ashamed of. There's no law that says you have to marry the first love interest that comes your way after the divorce.
One of the best strategies to help solve your marriage problems is to take it slow and get to know your new partner first. But above all, focus on your emotional and psychological recovery first.
2. Fickle and partial commitment
Something as big as marriage, if not committed to fully, can cause problems in the long run. With only partial commitment, you can forget having any chances of success.
Entering into marriage with your one foot already placed outside the door is not a good way to get started.
Perhaps you have more assets than you did the first time you married, and you might have a bit of difficulty sharing. After one divorce, people are less likely to want to share their assets the second time around.
This hesitation is coupled with a mindset that things are better elsewhere.
That philosophy, plus your hesitation to fully commit, can be the downfall of what could have been another happy chance at love. Jump ship too quickly when the going gets rough, and you might find yourself in a vicious cycle that would only keep repeating.
When you find yourself reconsidering marriage, think about it closely. And when the time is right, be ready to commit fully. Avoid these common second marriage problems by making sure you are truly and completely ready to get married again.
3. Issues in a blended family
When couples have children as a result of a previous marriage, it can be a bit difficult. Sometimes, one side of the family can develop loyalty issues and may end up pitting themselves against each other.
This can take a toll on a marriage. For this reason, if you're going to enter into a new marriage and are about to be a part of a new family, prepare yourself to take on the challenge of adjustments and co-parenting.
4. Thinking of children as marriage anchors
Most of the time, couples enter into a second-marriage when they're a little older. As a result, children don't come into the equation anymore.
And without physical manifestations of their union, some couples can feel like they're less of a family. In turn, they may feel less of an enthusiasm to commit to keeping their family of two intact.
But know this. Children aren't the definition of having a family.
If you want your second marriage to work, and if you love your partner enough, then you need to put in the effort to be together. Just because you can't have children anymore doesn't mean you can't be a family.
Also watch: 7 Most Common Reasons for Divorce
5. Trust issues rooted in independence
A sense of independence is a good thing. And for a lot of people these days, they're more independent than ever before. It's productive, and it's useful. But independence, where you have a tendency not to trust others, can be detrimental to your marriage.
Committing yourself to be married to one person is all about striking a balance. It's all about making compromises with your partner. And if you can't do that, it may prevent you and your new partner from being joined as one.
If both of you are independent individuals, you need to take time to agree and develop a balance between dependence and independence in marriage. Know when to lean on and confide in your partner, and know when to offer support and be the rock.
Too much independence and you two could end up feeling like roommates rather than a married couple.
Your attitude towards divorce matters
A person's attitude and overall outlook on divorce changes after they've gone through it once. When you start to think, "I've done this once and survived," it can turn divorce into a sort of backdoor.
You begin to look at it as an easy way out if you're confronted with second marriage problems or situations that you think are insurmountable. In fact, if you happen to have a third divorce, you may even come to expect it is taking place sooner or later.
If divorce feels less like a bad option to you, it might convince you to place less effort into saving, preserving, and staying committed to your marriage.
When things get worse, the immediate response is to abandon the ship instead of sitting down with your partner and talking about your second marriage problems.
Keeping a marriage takes hard work, a strong will, willingness, and a serious dedication to overcoming the second marriage problems that might come.
Don't take the route of divorce unless you absolutely have to. (And by that, we mean when your marriage becomes life-threatening, and you need competent divorce lawyers to help you out.).
You've lived through a divorce once. Now it's time to make that second marriage work.
Share this article on
Want to have a happier, healthier marriage?
If you feel disconnected or frustrated about the state of your marriage but want to avoid separation and/or divorce, the marriage.com course meant for married couples is an excellent resource to help you overcome the most challenging aspects of being married.
More On This Topic
You May Also Like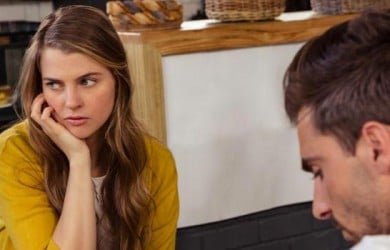 Popular Topics On Married Life