10 Mindful Tips on How to Be More Feminine in Relationships
Everyone has their own special qualities that make them unique and attractive. One of these qualities is femininity. But what does it mean to be feminine?
It's not just about looking a certain way. It's about how you feel inside, how you act, and how you connect with others. Being feminine is about kindness, understanding, and showing genuine emotions.
In relationships, showing your feminine side can make you and your partner feel closer and more connected. It's like adding a special touch that makes everything feel more special and deep. And guess what?
You don't have to change who you are. It's all about embracing and showing the beautiful qualities you already have. So, if you're looking to bring out your feminine side more and wondering how to be more feminine for the sake of your relationship, here are simple ways to do it.
What does it mean to be feminine?
Being feminine is a multifaceted concept that goes beyond just physical attributes. It encompasses a range of qualities, behaviors, and emotions traditionally associated with women. Femininity often embodies traits like nurturing, empathy, sensitivity, and grace.
It's about expressing oneself with softness yet strength, vulnerability yet resilience. While society has its definitions, femininity is subjective and can vary across cultures and individuals. For some, it might be in the way they dress or speak, while for others, it's a deep-seated feeling or mindset.
Importantly, being feminine is a personal choice and doesn't confine one to a specific role or stereotype; it's a unique blend of qualities that one chooses to embrace.
Why might someone want to be more feminine?
Someone might want to be more feminine for various reasons. For some, embracing femininity can lead to a deeper sense of self-awareness and authenticity.
They might feel that being more feminine aligns with their true self. In the context of personal relationships, being feminine in a relationship can build a unique dynamic, enhancing intimacy and understanding.
Being more feminine in a relationship might help in balancing energies, ensuring that both partners feel valued and heard. Some believe that tapping into more feminine energy can lead to better emotional connections, nurturing, and empathy.
Additionally, those seeking guidance on how to be more feminine often do so to cultivate qualities like grace, sensitivity, and vulnerability, believing that these traits can enrich their interactions and relationships.
Ultimately, the desire to be feminine in a relationship or in general stems from personal choices and the perceived benefits of embracing such qualities.
The benefits of being more feminine in a relationship
Embracing femininity in a relationship offers a myriad of benefits, enriching both personal growth and the bond between partners. Here are five advantages of tapping into one's feminine side:
Enhanced emotional connectivity
By understanding how to be feminine, one can tap into a deeper reservoir of emotions, creating a heightened sense of emotional connectivity. This allows for more open communication, understanding, and empathy, creating a foundation for a relationship that thrives on mutual respect and genuine affection.
A balanced relationship dynamic
Embracing femininity can introduce a harmonious balance in a relationship. When both partners recognize and appreciate their unique energies, it paves the way for a dynamic where both can lean on each other's strengths, creating a partnership that's both supportive and empowering.
Cultivation of vulnerability and trust
Learning how to be more feminine and soft can lead to a greater willingness to be vulnerable. This vulnerability, in turn, can be a powerful tool in building trust. When one partner is open about their feelings, fears, and aspirations, it encourages the other to do the same, solidifying the bond between them.
Promotion of nurturing and caregiving
Femininity is often associated with nurturing and caregiving qualities. By being more feminine in a relationship, one can create an environment where both partners feel cared for and cherished. This nurturing aspect can be a cornerstone for a relationship, ensuring that both individuals feel valued and loved.
Enhancement of personal growth and self-awareness
The journey of understanding and embracing one's feminine side can lead to significant personal growth. It's not just about the relationship with a partner but also the relationship with oneself.
By exploring what it means to be feminine, individuals can gain a deeper understanding of their desires, strengths, and areas of growth, leading to a more authentic and self-aware life.
10 tips to be more feminine in a relationship
Embracing femininity can profoundly enrich personal relationships, offering depth, understanding, and a unique charm. Here are ten tips to amplify your feminine essence and strengthen your romantic bond.
1. Embrace your emotional depth
Venturing into how to be more feminine as a woman or how to be more feminine as a man often means wholeheartedly embracing your emotional range.
Allow yourself to feel deeply, express those feelings with authenticity, and use this emotional depth as a tool to foster deeper intimacy and mutual understanding in your relationship.
2. Prioritize self-care rituals
True femininity flourishes in environments of self-nurturing. Regular self-care, whether indulging in spa days, practicing meditation, or enjoying quiet moments with a cherished book, not only rejuvenates your spirit but also fortifies your connection with your inner feminine essence, making you feel more centered.
3. Practice active listening
At the heart of femininity lies empathy.
This depth of communication deepens trust and showcases a compassionate, feminine approach that strengthens relationship bonds.
4. Dress in a way that makes you feel confident
While the essence of femininity goes beyond the physical, dressing in ways that bolster your confidence can amplify your feminine aura. Opt for outfits that resonate with your personal style, ensuring you feel both comfortable and radiant, enhancing your self-assured feminine presence.
5. Cultivate a sense of grace
Grace isn't merely about poised movements; it encapsulates handling life's myriad challenges with dignity and poise. In moments of conflict or uncertainty, a graceful, thoughtful approach stands as a testament to the enduring strength of femininity.
6. Seek balance in your energies
To truly embrace femininity, one must harmonize it with other inherent energies. This means balancing assertiveness with gentleness, logic with intuition, and creating a holistic and genuine expression of self that enriches every interaction.
7. Engage in activities that make you feel womanly
To genuinely feel more feminine, immerse yourself in activities that resonate with your womanly essence. Whether it's dancing, crafting, or gardening, these pursuits should stir your soul, celebrating and accentuating your unique feminine attributes.
8. Nurture your relationships
Central to femininity is the act of nurturing. Dedicate time and effort to nurture not just your romantic relationship but also bonds with friends and family. This emphasis on care, understanding, and deep connection is a testament to the enriching power of feminine energy.
9. Educate yourself on femininity
Delve into resources that elucidate how to be more feminine and attractive. Engaging with books, attending workshops, or exploring personal narratives can offer invaluable insights, guiding you in weaving femininity more intricately into your life's narrative.
10. Celebrate your vulnerabilities
Embracing vulnerability is a powerful testament to feminine strength. By allowing yourself to be open, genuine, and sometimes even raw, you pave the way for deeper connections, fostering an environment of trust, understanding, and mutual respect in your relationship.
Commonly asked questions
Femininity can be a journey filled with questions. Here are some frequently asked questions to guide you in embracing and expressing your feminine side.
How can I speak in a more feminine way?
Speaking in a feminine way isn't just about pitch or tone. It's about expressing yourself with empathy, grace, and genuine interest. Listen actively, choose words that convey understanding, and maintain a calm demeanor. This doesn't mean suppressing strength or intelligence; it's about blending them with warmth and compassion.
This video explains it the right way:
How can I be more assertive in a feminine way?
Being assertive while channeling 'be more feminine energy' means standing your ground with grace and understanding. It's about expressing your needs and boundaries clearly, without aggression. Use open body language, maintain eye contact, and ensure your voice is firm yet kind.
How can I be more flirtatious in a feminine way?
Flirting with a feminine touch is about subtlety and genuine interest. Use soft gestures, maintain engaging eye contact, and employ playful yet respectful banter. Remember, it's essential to feel more feminine from within, letting that confidence shine through in your interactions.
How can I express my emotions in a feminine way?
Expressing emotions in a feminine manner involves being genuine and vulnerable. It's about sharing feelings without overwhelming or suppressing them. In a 'feminine in relationship' context, it means creating a safe space for both partners to be open, understanding each other's emotions, and navigating them together.
How can I be feminine in my own unique way?
Femininity isn't a one-size-fits-all concept. To be feminine in your unique way, first understand what femininity means to you. Embrace activities and behaviors that make you feel more feminine. Celebrate your individuality and remember that your version of femininity is valid and beautiful.
Embracing the feminine energy
Femininity is a concept blending emotions, behaviors, and energies. Whether you're looking to enhance your feminine presence in relationships or understand your own feminine essence, it's about authenticity, understanding, and personal growth.
Share this article on
Want to have a happier, healthier marriage?
If you feel disconnected or frustrated about the state of your marriage but want to avoid separation and/or divorce, the marriage.com course meant for married couples is an excellent resource to help you overcome the most challenging aspects of being married.
You May Also Like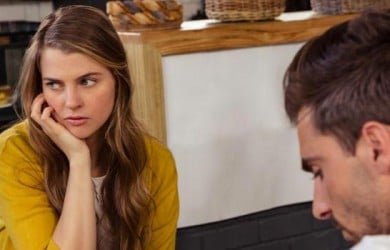 Popular Topics On Married Life