Tips for Marital Bliss and Lots of Laughs
Being married does not always have to be serious. Nor does marriage have to be mundane or boring. A blissfully happy life does not come from tears or anger – it comes from laughter and love!
1. You do not have to like each other to love each other
Marriage can be difficult sometimes, so it is important to remember that while you must love one another always, liking one another is not as great of a necessity. There will be times when liking one another seems too difficult to manage. It is in these moments that it is important to remember why you chose your spouse, and the reasons for which you choose day after day to be partners. There is no requirement, though, that you must always like your spouse. There will be times that you anger one another or annoy one another to the point of being more than angry. Always remember the love, and stick with it despite the challenges!
2. If he/she commits to be home by 11 pm, don't lock the bedroom door until 1 am
Locking the door of the bedroom seems like a cruel punishment to some. You may not be a husband or wife who would utilize is this kind of strategy, but it can be very effective, especially for those spouses who are repeat offenders. A guys night out or a girls night in is never a bad thing, necessarily. But if staying out too late violates the trust of your partner, it can become an issue. Always keep in mind, though, that often time flies when you are enjoying yourself. As the spouse who is sitting home waiting, do not forget this and take great care to provide your spouse with a cushion of time. This window will put your mind at ease as well as give your spouse some flexibility in coming home at a decent hour.
3. You should be yell at each other only if the house is on fire or the music is too loud
It is no secret that couples fight and argue. These disagreements can become carried away and escalate to the point at which both partners are yelling and neither is listening. While this might be a good cathartic release for one or both of you, in isn't necessarily the most conducive to a solution. If your goal is to reach a solution, maintain the general rule that yelling is reserved for fires and loud music. If your marriage involves children, it is important to know how to disagree in front of your children and not go too far. There is a benefit to your children seeing the ways in which you and your spouse are able to compromise. But an argument that quickly escalates to the point of yelling is not a teachable moment. Be aware of your tone of voice and volume, particularly in front of your children.
4. Do not go to bed angry – it is worth it to stay up and fight
Speaking of fighting, the old adage says to never go to bed angry. In keeping with the tone of this old saying, it is important to also note that it is worth it to stay up and fight if that is what the two of you are in need of in that moment. There will be times when one or both spouses simply want to go to sleep, and there is nothing necessarily wrong with this. But it is also important to converse about whether a compromise and conclusion should be made, or if the argument is not worth bringing up once you have both had a good night's sleep. The most important thing to do when choosing whether or not to go to bed angry is to create a mutual understanding between the two of you. This will not only allow you to feel peace about whatever situation you maybe arguing about, but will also allow you to rest knowing that no argument is worth the health of your relationship.
5. Keep the fights clean and the sex dirty!
After fighting, or even as a result of fighting, you will likely have times of passionate physical intimacy with one another. This is not a bad thing! Returning to the previous tip, being able to argue and come to a conclusion allows you to see that the health of your relationship is the most important. Nothing worth arguing about is of enough value to lose whatever intimacy you share with one another.
Share this article on
Want to have a happier, healthier marriage?
If you feel disconnected or frustrated about the state of your marriage but want to avoid separation and/or divorce, the marriage.com course meant for married couples is an excellent resource to help you overcome the most challenging aspects of being married.
More On This Topic
You May Also Like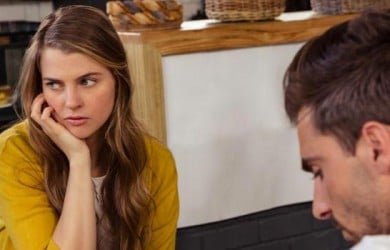 Popular Topics On Married Life