Blueprint to Ending the Argument Cycle  with Your Spouse
Many couples come into therapy ready to argue in front of the therapist. They are each hurt and hoping someone will validate their viewpoints and their invisible finger, that in each person's mind, is pointed at the other person. The therapist, paradoxically, cannot move therapy forward by taking sides.
In order to benefit from any kind of therapy, clients need to feel heard and understood. In relationship therapy, the therapist must make an alliance with both clients, helping both to feel validated, understood and accepted. This can be a near-impossible task when people are in a position of blaming one another and feeling defensive. As the therapist responds with empathy to one partner, the other feels slighted. Arguments continue. Some therapists will ask clients not to talk to one another at first, but to address themselves only to the therapist or for the individuals to come in one at a time to speak freely. Even in these controlled circumstances, people can get hurt and feel invalidated. There is a high dropout rate in couples' therapy. Sometimes people come in with a last-hope kind of gesture but already have one foot out the door. Or, they might continue for several sessions blaming one another and feeling validated a little but overall hopeless.
So how can we break the argument cycle and make better use of relationship therapy time and money?
What does the couple want to achieve in the therapy? Are there any common wants and needs? That is a good start, but sometimes things are so heated that no communication will be effective because an established argument cycle that has taken hold. Greenberg and Johnson, (1988) identified something they called a "Negative interaction cycle"
1. Break the vicious negative interaction cycle
It is a kind of repetitive sequence of reacting to each others' defensive, surface emotions. They talked about the difficulty in getting to deeper core feelings, to be more vulnerable, to repair the bond by responding to one another with empathy again. This is the ultimate challenge in couples' therapy, getting the individuals to feel safe enough to drop the defenses, to stop the arguments and to listen with an openness when they are hurt or mad.
In "Hold Me Tight" (2008), Sue Johnson elaborated on these defensive, repetitive cycles by talking about how people begin to expect it and react faster and faster to cues that the argument cycle is starting without even realizing it. She used the metaphor of a dance and pointed out that people read body cues that it is started and get defensive before they know it, then the other partner steps in with their own defensiveness and they continue to set each other off. She emphasized the importance of regaining the ability to be open and attuned by staying in the present, identifying the repetitious cycle as the enemy rather than each other, and working together to diffuse and redirect when it starts.
2. Get out of content versus process
This is something therapists do without realizing it but clients often struggle with. It means looking at the action and the consequence of what is going on in the here and now, rather than debating about facts, emotions and perspectives in the story being told. It is holding a birds' eye view. To use a metaphor from theatre, imagine if one just paid attention to what was going on in the dialogue in the script and ignored the impact of the actions in the scene? There would be a very limited understanding of the play.
3. Attend to what is going on and how it feels in the here and now
Instead of reacting, reprocessing and reliving old patterns, we need to be able to listen to beginners.
This is the only way to make room for responding in new ways, in healing ways. If we can be mindful of what is happening and respond differently than ever before, with less personal emotion, there is room to express empathy for the other person and rebuild connection. This is much easier if both people understand what is going on, and if a gentle but direct guide such as an Emotion Focused or Mindfulness-Based Therapist can educate clients about this process.
The therapist needs to help to create and hold a safe space for both to learn new ways of related while still feeling validated in having felt hurt. If a couple can learn to let go of arguments and respond in new, empathic ways to each other than therapy can be successful. Not all the content will be processed, not all the past will be reviewed, but the new empathic ways of communicating allows the couple the tools they need to problem solve in ways that feel respectful, safe and nurturing going forward and beyond therapy.
Share this article on
Want to have a happier, healthier marriage?
If you feel disconnected or frustrated about the state of your marriage but want to avoid separation and/or divorce, the marriage.com course meant for married couples is an excellent resource to help you overcome the most challenging aspects of being married.
More On This Topic
You May Also Like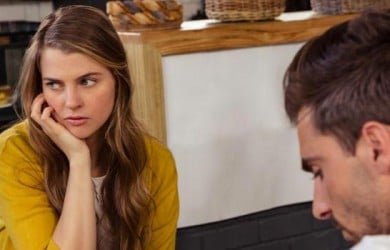 Popular Topics On Married Life