Navigate the Challenges of a Marriage with a Simple Checklist
Is marriage supposed to be easy?
This is a great question for sure. But what is the answer? Perhaps that answer depends on your frame of mind. Most people have early fantasies about their own marriage—that it will be close to perfect, the answer to all previous relationship issues.
We even hope that any problems we have with the person we are engaged to will vanish after the ceremony. We tell ourselves, When we get married, it will be fine.
Does that sound familiar?
But then people also say, "A good relationship takes a lot of work." So how is married life really supposed to be?
Is intimacy a matter of having an easy, perfect fit? Or is intimacy something you have to take on—like a second job?
Marriage is a special state of commitment
I think we hope for the ideal; but as adults, we realize perfect moments are just that: moments. Whether it is your first, second, or even later marriage, all marriages have challenges. That doesn't mean one shouldn't tie the knot.
On the contrary, marriage is a special state of commitment, and it's lovely to know you are not alone. But accommodating two different people's needs wants, and desires can be challenging.
Psychiatrist M. Scott Peck wrote in his book The Road Less Traveled, "Life is difficult. Once we truly know that life is difficult-once we truly understand and accept it-then life is no longer difficult. Because once it is accepted, the fact that life is difficult no longer matters."
The first time I read this quote, I wasn't sure I understood it.
But life has taught me that Peck is trying to teach us about basic reality.
If we accept the fact that life is not usually effortless, and that our lives will always present us with opportunities to grow, we can stop expecting it to go smoothly. I think he is saying that expectations can be our best or worst enemy.
For example, Lisa has a partner who never balances a chequebook, thus occasionally becoming overdrawn.
She can see this as evidence of financial irresponsibility that will ruin their future together. But instead, Lisa puts a focus on the fact that her partner gives her a special level of understanding and attention that no one else knows how to give.
If you think about it, what are your priorities? What do you need the most? (And in Lisa's mind, how quickly does her partner fix that overdraft?)
So you can see that how we frame the situation can change a fatal flaw into a charming eccentricity.
Look at your partner compassionately
Going into marriage means keeping our eyes open. We hope to see our partner for what he or she is, not for what we want that person to be.
Do you get a lot of promises about making changes, but little follow-through? Does your partner support your dreams and help you recover when the world knocks you down?
Don't get seduced by a rose-coloureddream or a handsome face. You are going to spend a lot of time with your spouse, and charm wears thin very quickly.
Do you believe this person has paid enough attention to understand you on a deep level? Do the two of you have shared values? Can your partner hear negative feedback calmly and respect the word "no"?
Know who you are and what your needs are

Know who your partner is and what his or her needs are

Share this information with each other prior to marriage

Realize what your limits are. Some boundaries are not negotiable

Commit to making your goals (as a couple and as individuals) happen

Look at the bigger picture. If you are going to promise "until death do us part," don't marry someone who annoys you every time you have dinner together. Do you like this person as well as feel love?

Realize that change will become necessary at some point in any relationship

Only agree to do what you know you can do

Prepare to become a "we" without losing your individuality. Doing so might take a lot of trial and error, so be patient with yourself and your spouse

Keep love in the air
These are just some ideas of how to live happily ever after with the love of your life.
Keep your expectations realistic and workable
The best things in life do not come the easiest but when they do they are priceless.
You might consider starting a journal about the ideas brought up in this article. Explain in the journal how you feel about these ideas. Write about your deepest hopes and dreams as you embark on a life together.
If ever you feel you have lost your way, you can go back and read your notes. Perhaps with time, you become a bit discouraged; a journal will help you to remember why you fell in love with your mate.
A relationship is like poetry: a good one requires inspiration!
Share this article on
Want to have a happier, healthier marriage?
If you feel disconnected or frustrated about the state of your marriage but want to avoid separation and/or divorce, the marriage.com course meant for married couples is an excellent resource to help you overcome the most challenging aspects of being married.
Learn More On This Topic
You May Also Like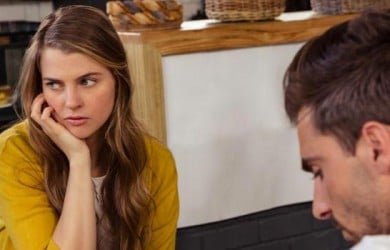 Popular Topics On Married Life