How Is Cheap Sex Causing a Decline in Marriage
When associate professor
Mark Regnerus
wrote his book 'Cheap sex and the transformation of men, marriage, and monogamy' he had no idea how much it will affect the people.
In this book, Mark wrote that the reason for the decline in marriage between the ages of eighteen to twenty-three is due to the cheap value of sex. When Regnerus discussed his beliefs in an article published in the Wall Street Journal, he received a lot of mixed reviews.
One of his main arguments that took the lead was that readily available contraceptives and online pornography are the main reason for cheapening and decreasing the value of sex; thus giving birth to a new term "cheap sex."
With many people being infatuated with this topic, most of them had issues in understanding what cheap sex exactly is. To find out more, keep on reading!
Cheap sex
The word "cheap sex" is an economic term that describes intimacy which is low in cost.
If a person does not have to invest his time and money with someone in order to get sexual favors, then this is known as cheap sex. Due to this, the young generation of today has become wary of marriage.
For men today, sex has become cheap due to the hookup culture being shown and focused on all around us. We can find this culture in movies, shows, news almost everywhere we look. Even movies from the 90's such as Pretty Women create an ideal situation using this prostitution culture.
As compared to the past, even women of today expect little in return of physical intimacy; they no longer want your time, attention, fidelity or commitment.
Similarly, men do not feel compelled to provide these things to their women as they once did.
The new era of contraceptives and online porn has reduced the much-needed dependency of both genders. As the risk of pregnancy has declined, many people no longer want to save themselves for marriage.
This has given birth to a non-religious culture today. So what is the reason for this horrible culture around us?
Why is cheap sex so common?
The main reason for this hook-up culture is the decrease in education in our youth; not only primary education that is provided to us in schools and colleges but also religious education.
Another reason for this culture is the employment rate today. In the past, many women waited until marriage to do the deed and wanted a man who had a good education and a good job.
As a result, men worked really hard in the past and followed the rules of society to be good marriage material.
With the introduction of pornography and prostitutes, sex is readily available so men are not trying to be good marriage material and women are no longer saving themselves anymore.
However, many sociologists and economists claim that the reason for the low rate of marriage among men is because of their wages.
If their wages were high, then young men would be confident enough to get married. There was another hypothesis that claimed that the decline of marriage was due to fear of commitment built in the male population.
But even after having money and being in a happy relationship, men still look for cheap sex; why is that?
What attraction does cheap sex have?
The reason why men enjoy the hook-up culture is that they are driven by the compulsive need to be physical.
Since this compulsion can never be enough, they find solace in prostitutes. Without fulfilling their needs, they tend to get frustrated, and this gives birth to infidelity leading to a decline in marriage.
Since men of today find relationships too risky, they tend to focus on polygamy.
They find it hard to stick with one woman since they can get physical intimacy with multiple women; due to sex being readily available on the roads men opt for cheap sex then loyalty.
Cheap and easy sex being readily available is the reason why men do not stay loyal to their wives, and this leads to a decline in marriage.
Since the male demand for physical intimacy increases so does prostitution and the hook-up culture that is so frowned upon will keep on growing.
To decrease the value of cheap sex, it is important that men of today are educated. They need to have control of their needs and understand the importance of loyalty in marriage.
Once men get the education, the demand for sex trade will decrease, and this will be the ideal solution to this problem. This topic is widely misunderstood and must be given the attention it deserves. Religious education must be given to men and women both so that this culture can be put an end to.
Share this article on
Want to have a happier, healthier marriage?
If you feel disconnected or frustrated about the state of your marriage but want to avoid separation and/or divorce, the marriage.com course meant for married couples is an excellent resource to help you overcome the most challenging aspects of being married.
More On This Topic
You May Also Like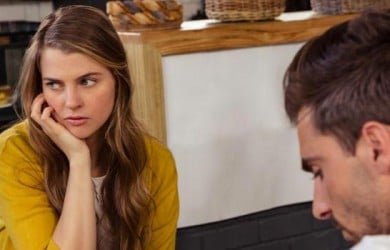 Popular Topics On Married Life