10 Valuable Tips for Dating Someone With ADHD
Attention Deficit Hyperactivity Disorder (ADHD) is a neurological disorder that makes it difficult for a person to pay attention and control impulsive behaviors.
It sounds like a minor issue, but the lack of focus can have a huge impact on an individual's learning ability, and impulsive behaviors could lead to annoying or even legal consequences.
Toddlers and young children have a natural and harmless form of ADHD, but true ADHD is when teenagers and adults never outgrow it.
Teenage and Adult years are also the time when social skills and intimate relationships form as part of the life cycle. Disorders like ADHD can have a huge impact on them.
So, how to navigate dating someone with ADHD? Let's discuss this in detail.
How ADHD can impact your relationship
Dating a person with ADHD is like having an intimate relationship with a child. Unless you have some sort of sick fetish, most people would want their romantic partners to pay attention to them and their relationship.
If the person is not aware that their partner has ADHD, it would appear that their partner is a larger-than-life individual with a rebellious attitude. Funny as it may seem, a lot of people can actually be attracted to that.
Overtime, impulsive behavior, and a lack of focus will have consequences, and it can be generally perceived as irresponsible behavior.
Overall, ADHD can significantly impact relationships, causing challenges with communication, attentiveness, impulsivity, and emotional regulation. Understanding and support are essential for navigating the unique dynamics associated with ADHD in relationships.
How to improve your relationship if a partner has ADHD
Having ADHD in a relationship doesn't mean a balanced and fulfilling partnership is impossible. It requires teamwork, mutual support, and compromise. Seeking couples counseling, implementing strategies to address challenges, and practicing acceptance can help create a healthy and harmonious relationship.
Both partners should reflect on their strengths and areas of challenge. If one partner excels in a task where the other struggles, consider redistributing responsibilities accordingly. The goal is to create a sense of fairness and equality in sharing the workload.
10 tips for dating someone with ADHD
Love, after all, is about accepting your partner and adjusting to create a happy living environment for the two of you.
Here are some tips for dating someone with ADHD.
1. Find their passion
People with ADHD are known to have short attention spans, however, it is not the case 100% of the time. There are things that they are passionate about and can focus on such topics.
If you have an ADHD girlfriend, for example, they may appear narcissistic and conceited, but they are passionate when talking or learning about fashion or shopping.
Success in life means you have to be an expert in one thing. It is a much better approach than being a jack of all trades.
World-class experts in boxing, football, gaming, programming, fashion, and extreme sports earn a lot of money and respect.
Even if some of these people are considered deficient in other departments, it is fair to consider them winners in life.
Direct their energy to their passion and support it. Guide them to turn their passion into a constructive endeavor.
2. Forgive and forget
How to handle dating someone with ADHD? Practice forgiveness.
Dating a woman with ADHD (or some men for that matter) requires a lot of patience. Act as a sheath to their sword. Ignore their little eccentric behaviors that are just manifestations of their ADHD.
It will hurt. If they are forgetful, insensitive, and frankly, it looks like they don't care. If you love the person enough, you can look past them and support your relationship.
3. Act as a guide
People with ADHD are hard to control, but they are not stupid. If they love you, they know that they have responsibilities and obligations to you and your relationship.
ADHD will get in the way, but if they care about you, they will try their best. If you're able to use that influence to improve your lives both as individuals and as a couple. It gives not just your relationship, but you are giving success a chance.
4. Ask for help
Professionals that specialize in ADHD and peer groups exist worldwide. Consult a professional through couples therapy privately before attempting to bring your partner into the mix.
A lot of people with ADHD do not believe there is something wrong with them, (but there's something wrong with the world instead) and if they see you as an ally, breaking that trust by introducing them to strangers "who want to help" is counterproductive.
Slowly develop their trust and make them want to change on their own before opening up the possibility of outside support.
In the meantime, peer groups and professionals can advise you on how to get your partner to seek help. They would not be surprised if you come into a session and say "My girlfriend has ADHD," and support you and your relationship.
5. Don't forget to have fun
Dating someone with ADHD is not all fun and games, but all relationships are like that. What is important is that you enjoy each other's company and develop your intimacy.
The earlier advice would seem like one partner is babysitting the other. It is partially true. However, do not forget to enjoy the love that both of you share.
Even if your relationships have problems, all relationships do, make sure to keep the romance alive.
Once conflicts take over a couple's life, both of you may develop anxiety, and dating someone with ADHD and anxiety will not end well.
Find the time to be spontaneous and exciting. ADHD people with their impulses and short attention spans would love it. Like children, they get bored easily, so mixing things up all the time will keep them interested.
Make sure to do something that is also fun for you, otherwise, there's no point. You are a loving intimate partner, not a babysitter. Dating someone with ADHD can be exciting in this way. Encourage your partner to do the same.
6. Educate yourself
Loving someone with ADHD calls for efforts to know them better. Learn about ADHD to gain a better understanding of your partner's experiences and challenges. Familiarize yourself with common symptoms, treatment options, and coping strategies.
Learn not only about ADHD but also about dating with ADHD.
7. Structure and routine
Create a structured and predictable environment for your partner. Establish routines for daily activities, meals, and bedtime. Consistency can help your partner manage their ADHD symptoms and feel more grounded.
8. Encourage self-care
Support your partner in maintaining good self-care habits. Adequate sleep, exercise, healthy eating, and stress management techniques can positively impact ADHD symptoms and overall well-being.
9. Break tasks into manageable steps
Help your partner break down larger tasks or projects into smaller, more manageable steps. This approach reduces overwhelm and improves focus. Offer assistance or create a supportive environment to facilitate task completion.
10. Foster positivity and celebrate achievements
How to date someone with ADHD? Find joy in the little things. Don't plague your thoughts with the pros and cons of dating someone with ADHD.
Recognize and celebrate your partner's accomplishments, no matter how small. Positive reinforcement and encouragement can boost their self-esteem and motivation. Show appreciation for their efforts in managing their ADHD symptoms.
Also, here are some valuable tips for understanding a partner with ADHD from marriage and family therapist Susan Tschudi:

Some common questions on dating someone with ADHD
In this section, we address some common questions that often arise when dating someone with ADHD. Gain insights and guidance on navigating a relationship with a partner who has ADHD.
Can a relationship work if one partner has ADHD?
Yes, a relationship can work if one partner has ADHD. With understanding, communication, support, and the implementation of strategies to manage challenges, couples can build strong and fulfilling relationships despite ADHD-related obstacles.
Also, breaking up with someone who has ADHD just because of their inability to focus is not truly fair.
What to expect when dating someone with ADHD?
When dating someone with ADHD, expect occasional forgetfulness, distractions, and impulsivity. Communication challenges may arise, but with understanding, patience, and open dialogue, you can navigate these hurdles and build a strong connection based on support and understanding.
Breaking the barriers and creating healthy boundaries
Love knows no bounds, and having a partner with ADHD can be a journey filled with unique challenges and rewards. By understanding, supporting, and embracing the strengths of your partner, you can cultivate a deep and meaningful connection that transcends the impact of ADHD.
Share this article on
Want to have a happier, healthier marriage?
If you feel disconnected or frustrated about the state of your marriage but want to avoid separation and/or divorce, the marriage.com course meant for married couples is an excellent resource to help you overcome the most challenging aspects of being married.
Learn More On This Topic
You May Also Like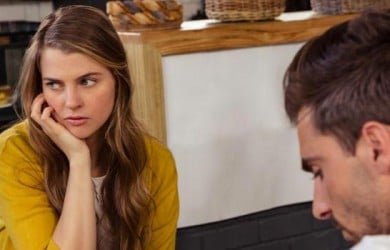 Popular Topics On Married Life