Pathways to Greater Intimacy in Any Relationship That Actually Works
When you're in a relationship, it's normal to have misunderstandings and disagreements because any normal and healthy relationship will go through this process.
However, their confidence in their relationship is tested when they no longer feel connected with each other. You may have experienced this once before and you know that without that connection, your relationship wouldn't survive.
Intimacy is one of the terms that is often associated with relationship and marriage and often times, when we hear the word intimacy, we associate it with being physically close or having sex but did you know that intimacy isn't limited to physical and sexual connections?
Did you know that the pathways to greater intimacy in any relationship can save it and keep it stronger?
Get to know the different types of intimacy
Before we can truly understand the effects of lack of intimacy in any relationship, we first need to understand how important intimacy is and of course the different types of intimacy that each relationship should have.
To have a better understanding of the different pathways to greater intimacy, we first need to get familiar with the different types of closeness.
Physical intimacy
Physical Intimacy is definitely not the same as sexual intimacy. This type of connection with your partner is all about being close physically without being sexual.
What do we mean by that? Holding each other's hand, hugging, and even gestures like massaging your partner's hand is already being physically intimate.
Emotional intimacy
Emotional Intimacy is a deeper level of being intimate. Lack of intimacy in marriage especially emotionally will make you feel like your strangers living in one house.
Emotional intimacy means you are able to be comfortable with your partner in sharing your thoughts, feelings, and being open to them.
You have that deep emotional connection. A marriage or relationship without intimacy or emotional connection will not last.
Intellectual intimacy
Intellectual Intimacy is another type of intimacy in marriage where you can share your thoughts, your ideas, and your dreams with your partner.
It is where you are on the same level of goals, dreams, and priorities. It's a whole level of contentment being able to share goals for your future.
Sexual intimacy
Sexual Intimacy is something we all know and familiar about. While there are different types of intimacy without sex, it's still as important as all the others because loss of intimacy in marriage will mean that something is wrong.
When we make love or have sex with our partners, we become one. We are as close and as vulnerable when we have sex so this allows us to be most intimate with our partners thus our connection is renewed every time.
Spiritual intimacy
Spiritual Intimacy is another level of intimacy without getting physical. It's a deeper connection that will bond our spiritual beliefs that will ultimately guide us in living our lives.
It's how the both of you will understand the values of the teachings of the bible and help each other make sure that you're doing the right thing.
No intimacy in marriage – no matter which one of these types of intimacy would be absent, will make any marriage or relationship challenging and difficult as each one of these are connected with each other.
Effects of lack of intimacy in a relationship
We all want to know the secret pathways of greater intimacy in our relationship and who wouldn't? With the different levels of intimacy, it's indeed a challenge to know how to increase intimacy and maintain it as well.
Being in a relationship and seeing the effects of lack of intimacy in a relationship is just devastating. Some relationships already start with this and some happen overtime.
There can be many reasons why some couples drift apart and the sad part here is that the other is left clueless to what happened.
Drifting apart and realizing that you lack intimacy can cause miscommunication, arguments, resentments, hate, infidelity, deceit, and lost of respect for each other.
The effects of losing grip in all levels of intimacy can differ but one thing's for sure – it's never good news.
Pathways to Greater Intimacy in Your Relationship
We've seen many types of intimacy exercises for couples and all will lead to the pathways of greater intimacy between spouses or partners.
Knowing these tips will surely make a difference. So, if you're ready to commit to change and work on your relationship – read through.
Communicate
The most popular advice about marriage and yet still the most effective. Communicate with each other.
No matter what you're going through your marriage – if you talk to each other it will get better. Couples with no emotional intimacy in marriage may find this challenging but believe it or not, it's not too late.
Compromise
If you both want to do it, there's always a way. If you want to work on your intimacy issues may it be lack of emotional intimacy or spiritual, then you have to compromise and work together in resolving your issues and practicing the ways in which the both of you can open up with each other again.
Be there for each other
If you can't be with your partner, then who would? Emotional intimacy in marriage needs to have a strong foundation so this can work out.
Start from there and build the rest all together. Being there for each other, helping each other be strong and be a better person uplifts not just our confidence but also our souls.
Being a spouse or a partner, makes it our duty to be there for them and helping each other be a better person.
Forgive
Another thing that makes spouses drift apart is resentment. One lesson in the pathways to greater intimacy is to strengthen our spiritual bond and part of this is all about forgiveness.
There's no perfect spouse or person. We all make mistakes, we all hold grudges, and resentments at some point but what will make it all better is the ability to forgive. If we learn to forgive, we enable ourselves to be open to intimacy once again.
We all have our challenges in our relationships and understanding the pathways to greater intimacy helps us not just in resolving our issues but will also help us to be a better partner or spouse.
Share this article on
Want to have a happier, healthier marriage?
If you feel disconnected or frustrated about the state of your marriage but want to avoid separation and/or divorce, the marriage.com course meant for married couples is an excellent resource to help you overcome the most challenging aspects of being married.
More On This Topic
You May Also Like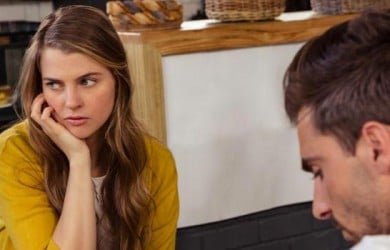 Popular Topics On Married Life