9 College Relationship Advice That Every Student Needs
Going to college doesn't just mean that you're off to a new beginning of learning how to deal with life, your chosen field, and a lot of reports. Fact is, you're learning much more in college than just academics.
Being in college also means that you will now face the real deal in life.
It is the best time to actually fall in love and be in a relationship – sounds exciting? Of course, it is!
This is also the time where we should absorb all the college relationship advice that we can get as it can dramatically mold us into who we are as an adult.
Finding love in college
Starting your college life is already overwhelming. The same feeling is likely to expand if you realize that this is also the time where dating in college starts.
Don't worry! In fact, it's perfectly normal to feel anxious and nervous with all the big changes going on with your life. Aside from academics, reports, and projects, you'll start knowing more people and if you're lucky, this is also the chance of finding love in college.
We will also have our own set of challenges in college.
There are challenges in academics, in our social life and of course in finding love. For some, admitting to someone that you like them comes off easily, but there are also instances where the fear of rejection is greater than the courage that we have in admitting our feelings.
Each and every one of us will go through these trials.
That's why it's best to listen to college relationship advice that isn't just for dating but also on how we can juggle our studies and love life.
Finding love in college isn't a requirement but we should also be open and ready to meet someone who we might fall in love with.
Studies and dating in college
Most of you who are just starting off college would definitely want to know "How does dating work in college." Who wouldn't?
Boys or girls should be aware of the college dating rules so we won't get lost with the fast-paced life that we'll be getting into.
College relationships have changed over time.
Today, college students are more open to dating and even flirting. It's the so-called fun part of college, a stress-reliever and just because it's that time where we are all exploring ourselves and our sexuality.
One thing to expect from college relationship advice is to attain knowledge and wisdom not just in dating but on how we handle relationships as well.
Love can make your college life amazing but if you can't handle having a relationship and focusing on your studies, this can have a great effect on your future.
Today, college students are more aware of what they are doing and most parents already allow their children who are in college to have their own space and love life but we must also remember the top college relationship advice that will make this a little bit easier for us.
College dating advice for you
If you're just on your first year of college and you somehow feel that you're also ready to start dating someone in college then this is for you.
Remember, it doesn't matter how millennials are liberated or open-minded, college relationship tips are still worth your time because believe it or not, if you love the wrong way – even your studies will be affected.
1. Having a partner is not the requirement
The first college dating advice that you should remember is that having a boyfriend or girlfriend isn't a requirement in college.
Of course, we understand how it's "cool" to be in and to be one of those who are in a relationship but if you are doing it just for this purpose, then it's not advisable.
2. Choose someone who will contribute
Another college dating tips for guys and girls is that the person you'll choose to date should also be someone who will contribute to your overall well-being.
This person should be good for you and not someone who will make life hard.
Falling in love with the wrong person can give you stress that can cause you to even fail your studies.
Don't let this happen.
3. Seek respect, not attention
Seek respect from the person who you will date, not attention.
Yes, attention is great for a while but respect is bigger and is one of the best things that love can teach us.
We may not all have serious relationships in college but we should at least make sure that we are firm on what we want to have.
4. Always value your studies
Another college relationship advice that we should remember is that both of you should still value your studies.
Fact is, it's so easy to get distracted with love that our academics become a second priority. This shouldn't happen, instead, both of you should help each other be better in your studies.
5. Be sure of yourself first
Before deciding to court someone or to get into a relationship, we should first be sure of ourselves.
Entering a relationship, when you're not ready won't work out. Jealousy, insecurities, and unnecessary fights are bound to happen when you're not ready to enter a relationship.
6. Have goals and set priorities
Being in college is stressful enough. So don't let your relationship take a toll on your stress levels. It's important for you and your partner to have goals that you can work together.
7. Can you handle studies and relationships?
If you want to know how to start dating in college, then you have to ask yourself if you can handle both your studies and your relationship.
If you can, then maybe you can start accepting suitors or court the girl you like. If not, then maybe you still need to focus on your studies first.
8. Think better
If you feel that you're showing more interest with someone than they do to you – think better. Why rush to have a relationship?
9. Heartbreaks never make a lesser person
Break up or heartbreaks will never make you a lesser person. It also doesn't mean that you are unlovable too.
So, if this happens, remember that you are still capable of loving and being loved.
We decide for ourselves
We also know that no matter how many college relationship advice and tips that we come across, at the end of the day, we're still the ones who will decide for ourselves.
Being a college student is both thrilling, hard, stressful, and unforgettable that's why we're here – to live our lives and prepare for our future.
Finding love along the way would be awesome but also a little reminder that we need to be a little wiser too.
Share this article on
Want to have a happier, healthier marriage?
If you feel disconnected or frustrated about the state of your marriage but want to avoid separation and/or divorce, the marriage.com course meant for married couples is an excellent resource to help you overcome the most challenging aspects of being married.
More On This Topic
You May Also Like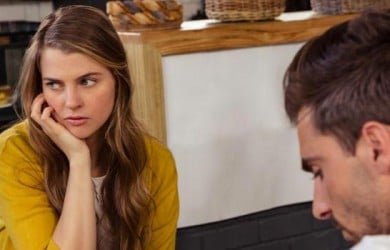 Popular Topics On Married Life