What Causes Pre-Wedding Jitters and How to Tame Them
Have butterflies in your stomach every time you think about the BIG day? Get trouble sleeping and eating? Quarrel with your sweetheart about the scenario or how to
make your wedding website
? The sight of the wedding dress makes you doubt you are doing right tying your life to this person? Pre-wedding stress is quite normal; however, there is always a possibility that the anxiety is caused by something more serious than just nerves.
If you feel that this bad feeling overtakes you, you need to sort yourself out right away. You don't want it to steal your happiness before the best day in your life, do you? Some urgent inner work is required to help you understand the real cause so that you could fix the issue and truly enjoy being a bride and a groom.
We'll begin with possible reasons for pre-wedding anxiety and then move on to managing pre-wedding jitters with simple techniques that help dispel all worries.
Possible causes of pre-wedding jitters
1.

The wedding day itself
Although so long-awaited, well-planned, and absolutely the most beautiful, the wedding day can hide lots of challenges that causes pre-wedding jitters.
For example, the reason can be the perfectionism of a bride or a groom when too much energy is wasted on details instead of focusing on and enjoying the whole picture. Another stress factor that causes pre-wedding jitters can be the presence of many family members with their whims and expectations.
Even being at the center of attention the whole day can be worse than death for some future brides and grooms.
2.

You are afraid of repeating your parent's mistakes
Our parents have a huge impact on how we approach the married life. Some of us come from imperfect families where violence, neglect, anger, or estrangement was a norm that can wedding panic.
If you have fears associated with following this blueprint and doubts before marriage, you have to understand that, after all, you don't have to. It's up to you to decide what will be the norms of your own family.
3.

You still don't have a plan
The wedding day is around the corner, but you haven't discussed some key points yet such as where you are going to live, the budget, career, how many kids you want to have and when, time with the relatives, etc.
If this uncertainty depresses you and causes pre-wedding jitters, you should sincerely talk to your sweetheart about those "big" things to make sure you are on the same page when your married life starts. This is important for managing pre-wedding jitters.
4.

The threat of abuse
If you have already experienced violence or another form of abusive behavior from your husband-to-be and you are afraid this can repeat again, you need to listen to your heart. Please, seek advice from a therapist who will help you understand whether or not you should stay in the relationship.
How to deal with pre-wedding jitters
Unless the marriage and engagement jitters are caused by serious things like a threat of abuse, it can be easily calmed using these tips:

Remind yourself of the reasons why you decided to marry this person and the things you love about your intended. Take old photos of you two and recollect the great time you had together.

Speak your mind to your spouse-to-be. Tell him about your anxieties. Your fiancé needs to know what you are going through. Maybe, he has the same feelings. It's a great opportunity for you to know each other on a deeper level and master the art of support.

Get enough sleep. Most often, anxiety has a down-to-earth, physical reason: you are simply exhausted with the preparations and need some good sleep. Read his

article

on how to minimize stress before the wedding.

Spend more time together but don't talk about the wedding. Go to the cinema, have a workout at the gym together, visit a cooking masterclass, or have a pampering, romantic getaway in a beautiful place. The idea is to live for today instead of living for the wedding day.

If something depresses you at your wedding – feel free to remove it. It's YOUR DAY, and it doesn't have to be traditional. Ashley Seeger, a relationship psychotherapist and LCSW once

shared

how one bride who hated being in the center of attention had made a decision to get rid of the aisle for her wedding ceremony. Instead, she walked into the wedding hall with her fiancé and enjoyed the relaxed atmosphere as they were saying their vows in the middle of the hall surrounded by family and friends.
God doesn't give you the people you want but the people you need. To help you, to hurt you, to leave you, to love you and to make you the person you were meant to be.
Trust the timing of your life.
Marriage lets you annoy one person for the rest of your life!
Pre-wedding jitters aren't uncommon before the D-day. Don't let the butterflies in your stomach overwhelm you. Pre-wedding period is meant to be enjoyed, so don't fret over little things and the happiness seep in.
Share this article on
Planning to get married?
Just engaged or contemplating marriage? Discover how to transition smoothly into the next phase of your relationship with Marriage.com's Pre-Marriage Course. Begin your incredible journey with this guide designed by experts and lay a strong foundation for your path of togetherness - forever!
More On This Topic
You May Also Like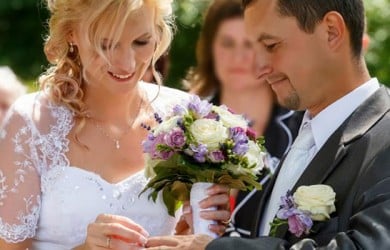 Popular Topics On Getting Married