How Does Witnessing Domestic Violence Affects Children
Witnessing domestic violence can have profound and lasting effects on children. Exposure to such trauma can lead to emotional, psychological, and behavioral challenges. But the question is, "Is witnessing domestic violence abuse?" Children who witness domestic violence may develop anxiety, depression, and low self-esteem.
They might exhibit aggressive or withdrawn behavior, struggle with academic performance, and have difficulties forming healthy relationships. These experiences can shape their worldview and perpetuate cycles of violence.
Early intervention, counseling, and support systems are crucial in mitigating these impacts, helping children heal and thrive. Addressing parents' domestic violence repercussions on children is essential for breaking this distressing cycle and fostering healthier futures.
How does seeing violence affect a child?
Exposure to violence significantly impacts a child's development and well-being. Witnessing violence can lead to emotional distress, anxiety, and trauma. Children may internalize the aggression they observe, resulting in aggressive behavior or difficulty managing their emotions.
Cognitive development can be hindered, leading to academic struggles. Additionally, self-esteem and self-confidence may be compromised. The constant stress of violence can disrupt the brain's normal functioning, potentially causing long-term psychological issues.
It's crucial for caregivers to provide a safe environment, open communication, and access to therapy to help children process their experiences and mitigate the adverse effects of witnessing violence.
4 psychological impact of witnessing domestic violence on children
Witnessing domestic violence inflicts profound psychological consequences on children, leaving enduring scars that can shape their lives. Following are some primary psychological impacts that emerge from such traumatic exposure:
1. Emotional distress
Children who witness domestic violence experience intense emotional turmoil often. They may feel fear, helplessness, and confusion as they witness the aggression between caregivers. These emotions may lead to anxiety, depression, and post-traumatic stress disorder (PTSD), affecting their overall emotional well-being.
2. Behavioral problems
Adults' aggressive and hostile behaviors in violent situations can become normalized for children, leading them to mimic such conduct.
Children might display aggressive behavior towards peers or siblings, struggle with anger management, and exhibit defiance towards authority figures. Conversely, some children might internalize their distress, resulting in withdrawal, isolation, and an inability to express their feelings effectively.
3. Cognitive impairment
Witnessing domestic violence can impair cognitive development. The constant exposure to stress and fear can hinder a child's ability to concentrate and learn, leading to academic difficulties. Their cognitive resources become diverted toward processing the traumatic events, compromising their capacity to engage fully in educational activities.
4. Interpersonal challenges
Growing up with domestic violence can hinder the development of healthy interpersonal skills. Children may struggle to form secure attachments, trust others, or communicate effectively. Their exposure to unhealthy relationship dynamics might normalize toxic behaviors, increasing the likelihood of entering abusive relationships in the future.
4 physical consequences of domestic violence on children
Domestic violence by parents has not only psychological but also profound physical consequences on children who are exposed to such traumatic experiences. Here are four primary physical impacts that can result from witnessing domestic violence:
The chronic stress and anxiety caused by witnessing domestic violence can lead to a range of health problems. Children may experience headaches, stomachaches, and sleep disturbances.
Their immune systems may weaken, making them more susceptible to illnesses. Long-term exposure to stress hormones may contribute to a higher risk of having chronic conditions like heart disease and diabetes later in life.
Constant exposure to violence can impact a child's brain development. The stress response system can become overactive, leading to alterations in brain structures and functions. If this continues, it can affect memory, learning abilities, and emotional regulation. These neurological changes might persist into adulthood, influencing cognitive and emotional functioning.
Delayed growth and development
The chronic stress associated with witnessing domestic violence can disrupt the body's growth and developmental processes. Hormones responsible for growth can be affected, leading to potential delays in physical growth and maturation. This can result in shorter stature, delayed puberty, and other developmental concerns.
Children who witness domestic violence might inadvertently become caught in the crossfire, putting them at risk of physical harm. They might be injured during violent incidents or attempting to intervene or protect a parent.
Additionally, the stress and emotional turmoil they experience may lead to impaired judgment and decreased awareness, potentially increasing their susceptibility to accidents and injuries.
5 ways domestic violence impacts children's education
Domestic violence profoundly and multifacetedly impacts children's education, impeding their academic progress and overall well-being. Here are some ways in which domestic violence can negatively affect a child's education:
1. Attendance and engagement
Witnessing domestic violence can lead to increased desertion from school due to emotional distress, fear, and physical health issues. These absences disrupt regular learning routines, affecting a child's classroom engagement and ability to keep up with coursework.
2. Concentration and focus
The emotional turmoil resulting from exposure to domestic violence can hinder a child's ability to concentrate and focus on their studies. Their minds may be preoccupied with the trauma they've witnessed, making it difficult to engage in learning activities and retain information.
3. Academic performance
The cumulative effects of disrupted attendance, diminished focus, and emotional distress can lead to declining academic performance. Children exposed to domestic violence are likelier to experience lower grades, reduced test scores, and difficulty completing assignments.
4. Behavioral challenges
Children who witness domestic violence may exhibit behavioral problems at school, such as aggression, withdrawal, or difficulty following rules. These behaviors can lead to disciplinary actions, social isolation, and strained relationships with teachers and peers, further affecting their educational experience.
5. Long-term educational attainment
The academic setbacks caused by domestic violence can have lasting effects on a child's educational trajectory. Lower grades and missed opportunities may limit their access to higher education and future career prospects, perpetuating cycles of disadvantage.
What are the short-term effects of witnessing domestic violence as a child?
Witnessing domestic violence as a child can result in immediate and distressing short-term effects. These include heightened emotional responses like fear, anxiety, and confusion. Children often experience difficulties sleeping and eating, as well as recurring nightmares.
They might exhibit changes in behavior, becoming withdrawn or exhibiting heightened aggression. Concentration and focus on daily activities, including school, may diminish due to preoccupation with the traumatic experiences.
Additionally, children might attempt to intervene or protect the victim's parent, putting themselves at risk of physical harm. These short-term effects can significantly disrupt a child's sense of safety and stability, impacting their emotional well-being and day-to-day functioning.
Addressing these effects through timely intervention, counseling, and creating a nurturing environment is crucial for helping children cope with the immediate aftermath of witnessing domestic violence from parents.
Understanding the long-term effects of domestic violence on children
It's seen that the long-term effects of domestic violence on children can be profound and enduring. Such experiences can contribute to a range of psychological, emotional, and social challenges that persist into adulthood.
Children who witness domestic violence are at significant risk of developing mental health issues like anxiety, depression, and post-traumatic stress disorder (PTSD). They may struggle with forming healthy relationships, exhibiting trust issues, and difficulty with emotional intimacy.
Academic performance and educational attainment can also be negatively impacted, leading to limited career opportunities. Furthermore, the cycle of violence can perpetuate, as children who're exposed to domestic violence are likely to become victims or perpetrators of violence in their relationships.
It's essential to recognize the potential long-term consequences and provide appropriate support, counseling, and resources to help these children heal, develop resilience, and break the cycle of trauma.
7 ways to protect children from domestic abuse
Protecting children from domestic abuse is of paramount importance to ensure their safety and well-being. Below are some practical strategies that can be employed:
1. Prevention and education
Raising awareness about the detrimental impact of domestic abuse on children is essential. Providing education to parents, caregivers, and communities about healthy relationships, conflict resolution, and non-violent communication can help prevent domestic abuse and its adverse effects on children.
2. Early intervention
Detecting signs of domestic abuse and its impact on children early is crucial. Healthcare professionals, educators, and social workers should be trained to promptly identify and address these signs. Early intervention may help mitigate the long-term effects on children's development.
3. Safe spaces
Establishing safe shelters and resources for children and their abused parents can provide a refuge from violent environments. These spaces should offer counseling, therapy, and support services to aid children's healing and recovery.
4. Legal protections
Strengthening legal measures to protect children from domestic abuse is vital. Restraining orders and custody arrangements should prioritize the safety of children and their non-abusive parents.
5. Support networks
Creating support networks for children, including peers, mentors, and counselors, can help them express their feelings and cope with their experiences. Encouraging open communication can provide emotional relief and build resilience.
Domestic abuse is extremely harmful to children, both mentally and physically, and it should not be ignored. Watch this video as NSPCC experts explain why domestic abuse is a safeguarding and child protection issue:

6. Therapeutic interventions
Offering specialized therapy and counseling for children who have witnessed domestic abuse can aid their emotional recovery. Trauma-informed care can help them process their experiences and develop healthy coping mechanisms.
7. Family therapy
Engaging the entire family in therapy can address underlying issues and rebuild healthier dynamics. This approach may come in help to break the cycle of violence and strengthen family bonds.
Commonly asked questions
Discover the answers to common questions about how domestic violence affects the victim, childhood trauma and domestic violence, and domestic violence affects the family. Learn about the impact on children, babies, and adults, and understand mental health issues that might arise from witnessing traumatic events.
What are the psychological effects of witnessing violence?
Witnessing violence can lead to a range of psychological effects, including anxiety, depression, and post-traumatic stress disorder (PTSD). These experiences can create a heightened sense of fear, desensitization, and a distorted perception of safety.
Being a witness to domestic violence may also develop difficulties in forming healthy relationships, managing emotions, and coping with stress, impacting their overall mental well-being.
How does domestic violence affect a child's brain development?
Children exposed to domestic violence often experience disruptions in their brain development. Constant stress and fear can affect emotional regulation, memory, and learning.
These children may exhibit behavioral problems, cognitive deficits, and emotional challenges. The impact can extend into adulthood, leading to increased vulnerability to mental health issues and difficulty forming stable relationships.
What usually happens when babies are exposed to violence?
Babies exposed to violence, even in utero, can suffer adverse consequences. This exposure might lead to premature birth, low birth weight, and developmental delays.
After birth, infants might display irritability, sleep disturbances, and difficulties in bonding with caregivers. Such early exposure can set the stage for long-term emotional and behavioral issues as the child grows.
What are the symptoms of witnessing a traumatic event?
Witnessing traumatic events can trigger a range of symptoms, including intrusive thoughts, nightmares, flashbacks, and emotional numbness. Individuals might avoid remembering the event, experience heightened anxiety, and have difficulty concentrating.
Physical reactions like increased heart rate and sweating can occur. These symptoms collectively point to the development of post-traumatic stress reactions, impacting an individual's daily functioning and quality of life.
What is a mental disorder that is developed after witnessing a traumatic event?
One common mental disorder that can develop after witnessing a traumatic event is post-traumatic stress disorder (PTSD). Individuals with PTSD experience intense fear, helplessness, or horror related to the traumatic event.
Symptoms can include re-experiencing the trauma, avoidance of triggers, adverse changes in mood and thoughts, and heightened arousal. Timely intervention, therapy, and support are crucial in managing and recovering from PTSD.
Supporting children who have witnessed domestic violence
Witnessing domestic violence, especially childhood domestic violence, can have profound and lasting psychological effects. These effects range from immediate distress to long-term difficulties in emotional regulation, relationships, and overall mental well-being.
Early interventions, therapy, and support systems are essential for mitigating the impact of witnessing violence and promoting healthy development. Addressing the psychological consequences of such experiences is vital for building resilient individuals and fostering a more compassionate society.
Share this article on
Want to have a happier, healthier marriage?
If you feel disconnected or frustrated about the state of your marriage but want to avoid separation and/or divorce, the marriage.com course meant for married couples is an excellent resource to help you overcome the most challenging aspects of being married.
Learn More On This Topic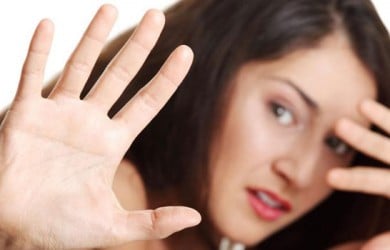 You May Also Like