Child Development: The Do's and Don'ts of Motivating Kids
As a pediatric mental health counselor, I see many ways professionals and caretakers attempt to motivate their children. Teachers continually use sticker charts, evaluations, and level systems, hoping to gain desired behaviors. Parents implement behavior tracking, allowances, and down-right bribery, hoping to drive their kids to success. I even see therapists use candy to keep kids focused and on track. The immediate gratification of a shiny reward may work in the short term, but do these extrinsic motivators really help our children develop motivation and support their creativity in the long run? Don't we want children to approach a problem for the sheer joy and pride of being able to tackle and solve it, rather than for an external reward someone else has offered them? We are all born with this intrinsic motivation. Babies are motivated to lift their heads, roll over, crawl, and eventually walk; not because of an external goal, but because they are intrinsically motivated by the appeal of mastery itself! Research shows by providing external motivation, we are killing our children's internal creative spirit, drive, and confidence to take risks. A 2012 study by Lee and Reeve actually found that motivation can come from different parts of the brain, depending on if it is extrinsic or intrinsic. Intrinsic motivation activates the prefrontal cortex, where personal agency & executive functions happen (our thinking brain). Extrinsic motivation is linked to the area of the brain where lack of personal control is centered. Extrinsic motivation quite literally is detrimental to success in problem-solving!
Intrinsic motivation
It is through intrinsic motivation that children's creativity flourishes, autonomy, and confidence is developed, and children learn how to persevere. Richard M. Ryan and Edward L. Deci have done extensive research on both intrinsic and extrinsic motivations. Through their research, they have confirmed Self-Determination Theory which explains that the core components of fostering intrinsic motivation include instilling competence, autonomy, and relatedness, or what I call connection. This is vital in a child's development. Richard Rutschman of Northern Illinois University teaches that meeting a person's psychological needs actually increases intrinsic motivation, leads to positive thoughts, and maximizes neural integration that leads to optimal learning and increased resilience! So toss those sticker charts aside and follow these guidelines for a more driven and motivated child!
DON'TS
Offer rewards:

Keep the candy in the cabinet! Rutschman stresses that "Offering people extrinsic rewards for behavior that is intrinsically motivated undermines their intrinsic motivation because it is perceived as undermining their autonomy."

Evaluate:

Professor of Psychology, Beth Hennessey writes that focusing on your child's successes may result in your child giving up when the going gets tough. Teacher evaluation and surveillance tend to overwhelm the intrinsic motivation of the child. "Rather than relying on teacher feedback, students must be taught to monitor their own progress."

Create competition:

While competition may be healthy and normal in some environments when the goal is building intrinsic motivation, keep your child's focus on her own growth and abilities. Competition is extrinsic in nature and usually, a reward or prize is waiting for the winner. Feelings of shame and inadequacy are also at risk if your child doesn't perform to other's standards.

Restrict choice:

By taking away a child's opportunity for choice, you are taking away their feelings of

autonomy

. The focus becomes more on completing your goal and less about achieving theirs.

Restrict time:

Time is pressure and shifts your child's ability to think inward and focus on the here and now. Your child may become more concerned with the ticking clock than how she can succeed at problem-solving. Restricted time releases stress hormones that may actually hinder your child's ability to perform at their greatest potential.

Micromanage:

Hovering and being critical is a sure fire way to kill your child's confidence and creativity.

Force completion:

The message of "No Quitters Allowed" switches the focus from motivation, to please you.
DO'S
Allow failure:

Connect with your child and empathize with the feelings that come with failure. Then, encourage your child to try again, and again, and again.

Praise your child's efforts:

as you allow your child the space and time to persevere. Dan Siegal shares in his book, The Developing Mind: How Relationships and the Brain Interact to Shape Who We Are, "…not all encounters with the world affect the mind equally. Studies have demonstrated that if the brain appraises an event as "meaningful", it will be more likely to be recalled in the future". If we give our children the

time to persevere

, their successes will be long lasting and imprinted in their memory, making them confident in their abilities and more likely to be motivated in future tasks.

Encourage teamwork

. Being part of a team encourages children to connect with others, engage in conflict, communicate, and collaborate in order to solve a problem. Children are motivated by the shared experience and feelings of accomplishment within a group.

Provide choices

: Encourage autonomy and experimentation by allowing your child to share how he plans to accomplish his goal. Beth Hennessey writes in her article, "Nurturing Creative Mindsets Across Cultures-A Toolbox for Teachers", that children "must be encouraged to become active, independent learners, confident in their ability to take control of their own learning process."

Embrace patience

. Give your child the ability to develop the competence that comes from having the time to truly immerse herself in the difficult task or problem.

Encourage your child to solve his own problems:

Help your child by being curious about the different ways he postulates a task can be solved.

Give your child the freedom to try new things:

Yes, even if that means she found out that karate wasn't as cool as she originally thought…maybe piano is the call of her heart!
Above all, keep your expectations reasonable. No one is 100% motivated all the time. Even adults have days where motivation and productivity is low. Our children are no different. They are learning what motivates them and what doesn't. It is important to give them the space and time to work and rest that motivational muscle! It will be hard to change your extrinsic motivating ways, and no parent is perfect. Use extrinsic motivators sparingly and focus on your relationship and your connection to foster the growth of your child's competence and autonomy. Soon enough you will be delighted in seeing your child set and push her own limits, reaching for the (non-sticker) stars!
Share this article on
Want to have a happier, healthier marriage?
If you feel disconnected or frustrated about the state of your marriage but want to avoid separation and/or divorce, the marriage.com course meant for married couples is an excellent resource to help you overcome the most challenging aspects of being married.
Learn More On This Topic
You May Also Like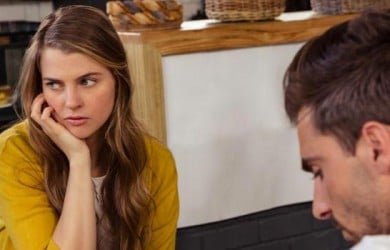 Popular Topics On Married Life