Wedding Letter Tips: How to Write a Letter of Wedding
In the age of digital communication, writing letters has become somewhat outdated. Most people nowadays just send text messages and use emails almost purely for professional communication. That being said, we still send holiday cards to congratulate each other on different occasions. It's also not uncommon to add a card to a gift.
Indeed, letter writing is still around even though it isn't as popular as it used to be. And that's why special occasions such as weddings definitely deserve special treatment.
How to write a letter of wedding?
When a person close to you gets married (especially if it is someone very dear to your heart), it's a good idea to write them a letter. Hence, here's how to write a letter of wedding to someone who is getting married.
Why should you write a letter?
Apart from it being a special occasion, there are some other reasons why you would want to write a letter of wedding to someone who is getting married:
It's just something that person loves. Maybe you know that this special someone is in love with the idea of sending letters. How to congratulate someone on getting married? Write them a heartfelt letter.

You enjoy writing letters and cards. If you like giving presents and attaching cards to them, you will probably enjoy writing a longer letter.

It shows that you genuinely care about them. The best

way to show that you love someone

is by doing something special for them. By going out of your way to write a letter, you demonstrate your love for that person.

You can convey your emotions better. Maybe you already congratulated that person, but you still feel like you didn't properly convey your emotions. This is why a letter can be the perfect solution to show your sincere happiness about the occasion.
Writing a letter also has a few therapeutic benefits for the writer.
If the above sounds like it describe your situation, then writing a letter is a good decision from your side. It doesn't matter what age, gender, nationality, etc., you are – or what kind of person that special someone is.
Writing a letter will be considered a wonderful gesture from your side in any situation.
Related Reading: 

100+ Funny Wedding Wishes, Messages and Quotes
5 tips on writing a letter of wedding
If you wish to write a letter of wedding to someone special in your life, here are some tips that can help you come out with the best results. While you may have already thought about the things to write in a wedding card, you may not be sure how to go about writing your letter of wedding. Check out these tips.
1. Make it handwritten
The first thing you should consider about your letter of wedding is whether you want to type it out or handwrite it. It's better to go with the second option for several reasons:
Handwriting the letter will make it more similar to a card and signify the occasion's special nature.

Handwriting will make it more personal and genuine. Even if your handwriting isn't perfect, it brings out your character in the words you put on paper.

Handwriting will make it feel more traditional. Nobody had computers when sending letters was popular – everyone wrote them by hand.
Handwritten letters are also known to be the best technique for learning to read.
On the other hand, you can still opt to make your letter of wedding digital. This will make sending it more accessible and cheaper (in fact, it will be free to send it by email).
Alternatively, you can type out the letter of wedding and then print it out and send it as you would a handwritten one. This option is ideal for those whose handwriting is unintelligible or those who simply prefer the digital format.
2. Start with the outline
After you decide whether you want to make your letter handwritten or typed, you will need to outline a wedding letter to the bride and groom.
Having an outline is essential at the first stages of writing your letter because it allows you to structure your thoughts and ideas. It organizes your letter and prevents it from being chaotic. According to Zach Dawson, an expert, "Outlining whatever you want to write is not an option – it is a necessity. In fact, for many people, it is the only way to make their writing coherent. But even if you are a professional, outlining can help you take your writing to the next level."
Remember that an outline is not your finished letter. This means that you don't have to write every single detail down.
Instead, focus on your main ideas and briefly describe what you want to cover in each paragraph or section of your letter. Though letter writing is a simple task, you still need to do it the right way to enjoy writing the letter honestly.
Related Reading: 

100 Inspirational and Funny Wedding Toast Quotes to Make Your Speech a Hit
3. Write from your heart
What to say when someone is getting married?
Once your outline is ready, you can start writing your letter of wedding. Because this is such a special occasion and you are writing a letter to someone you care about, you need to remember to write from your heart. After all, the main purpose of this letter of wedding is to convey the way you feel about the upcoming wedding.
If you are at a loss for words and keep staring at the blank piece of paper, take a step back. Don't stress about it too much. Writer's block is real. Here are some tips on how you can overcome this writer's block:
Think about why you love the person and why you are happy about the occasion.

Think about what that person means to you (a friend, a family member, a mentor, etc.) and why you want to support them now.

Think about some synonyms about the feelings, emotions, and thoughts you have. You don't always have to choose the most common words, but you shouldn't use pretentious ones either to avoid making your writing feel insincere.
Related Reading: 

Save the Day With Funny Wedding Advice For The Groom
4. Show that it is personal
Another thing to always remember when writing your letter is that you should show that it is personal to you. Remember to keep the focus on the person you are writing to – not on yourself.
However, while writing your wedding messages to couple, you should also focus on your relationship with them and the occasion itself. It's a fine balance, but it's a necessary one to be achieved.
Sam Hicks, another expert says, "Letter writing is always personal. It's a lengthy message you address to a single person – who does that on a daily basis out of work? You put in your own time and love, and that's what makes the letter so special to you and your recipient. It's not the same as just saying these things out loud."
In addition to your text, there are other ways to show that this letter is very personal. You can add details to the design of your letter instead of only using a blank piece of paper. Moreover, consider using a decorated envelope or adding something else to the envelope. You can even use perfume on your letter.
For more inspiration on writing your wedding letter, watch this video.
5. Mail or deliver the letter
Last but not least, you should mail or deliver your wedding day letter once it is completely ready. This last stage is also an opportunity for you to show how special the occasion is and how much you care about the person you wrote the letter to.
For example, you can send flowers along with the letter and have both the flowers and the letter delivered with express delivery.
Alternatively, you can even deliver the letter yourself. When delivering the letter this way, you can say even more things that are on your mind. In other words, it's the perfect way to make the occasion extra special. Just don't go overboard with it – if you feel like it's "too much", take a step back.
The bottom line
Coming up with what to write in marriage card is one problem, but writing a whole letter can definitely be a task. But at the end of the day, writing a letter is not as difficult as it may appear at first. Obviously, the more you practice, the better you will be at letter writing. But even if you aren't so confident about your abilities, you should still remember that it's the act that matters. The tips in this article are only meant to help you perfect the craft.
Share this article on
Want to have a happier, healthier marriage?
If you feel disconnected or frustrated about the state of your marriage but want to avoid separation and/or divorce, the marriage.com course meant for married couples is an excellent resource to help you overcome the most challenging aspects of being married.
More On This Topic
You May Also Like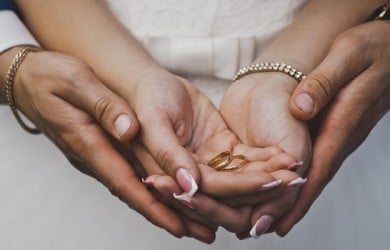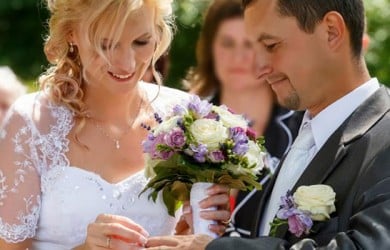 Popular Topics On Getting Married