30 Best Wedding Anniversary Gift Ideas for Wife
Gifting is a major attraction when you have many blessings relations. Your care, love, appreciation, and innermost feelings are communicated to your friends and family by giving sometimes surprising gifts or presents at any occasion or event.
Be it a birthday or anniversary or any other celebrating event, it helps in your heartwarming feelings conveying surprisingly.
A wedding anniversary gift is a great idea that will surprise or astonish your spouse and create more romance in your relationship, as everyone is keen on surprises.
How can I surprise my wife for our anniversary?
Giving and receiving are the rules for passing an amazing or peaceful life. Sometimes in a boring or dull life, gifts bring freshness and give hope; these tiny gifts of happiness are the real assets in life.
To cherish your relationship is another thing, but a nice gift with a bouquet of roses is a truly memorable time. Your anniversary is the best approach to share it with an amazing gift.
A wedding anniversary is a special event, and the purpose of celebrating this day is just to relive that beautiful day again in memory.
So if your wedding anniversary just comes in a few days, then tries to create some terrific moments that will leave a durable and meaningful feeling, and she will be lost for words.
There are several anniversary gift ideas that you can select on this day, but some are rare, so you must choose the best one for your beloved.
There are some authentic meanings behind each wedding anniversary gift for wife ideas.
What is the best anniversary gift for wife?
Whether it's your first wedding anniversary or fifth, sixth, and some other one, here is a list of the best anniversary gifts for her by year.
First anniversary –

Paper is a traditional gift for your first anniversary just represents the story of one year, it's only a paper, but it means a lot more.

Second anniversary –

Cotton shows that your relationship stays strong even when a hurdle comes in your way.

Third anniversary –

Leather symbolizes security, or it might be any leather product like a leather bag or something else.

Fourth anniversary –

Flowers and fruits as your marriage starts to blossom or ripen.

Fifth anniversary-

Wood signifies wisdom, time, and strength, so different items that stand for wood like a wooden board or having lunch in the woods is great.

Tenth anniversary-

Aluminum attains a decade of thrilling life and shows the ability to last through time and flexibility.

Thirtieth anniversary

– Pearl that hides in the deepness of the ocean and shows the beauty of relation is a

perfect anniversary gift for wife.

Fiftieth anniversary

– Gold demonstrates married life's worth, wisdom, and prosperity, so a gold-themed gift is perfect as it is the most precious metal.
Every anniversary connotes its value and significance. It's the best opportunity to express your love or adore with a cute gift for her faithfulness and closeness.
If you are looking for your first wedding anniversary gift ideas, watch this video.
Related Reading: 

25th Wedding Anniversary Gifts for a Joyous Celebration
30 wedding anniversary gift ideas for wife
No doubt it's tricky to pick the best wedding anniversary gift for your wife, but timely gifting means you make your relation more strong and more cherished.
For couples, the anniversary is a milestone, and along with the family, it calls a grand celebration. Couples have precious memories associated with the celebrations and like to exchange wedding anniversary gifts to make those memories even more special.
A unique and thoughtful wedding anniversary gift for her will show that you are thinking about her, and it will bring a sweet smile on her face.
Now as well know that women are better at picking gifts than men, so to help you along, here are some awesome anniversary gift ideas that you can choose for your loving wife as a tremendous gift for her wedding anniversary.
Romantic anniversary gift ideas
Here are some romantic anniversary gift ideas for wife.
1. Personalized cursive wedding vase
Vase encourages the couple to make their life like fresh flowers and fragrant. It is a great anniversary gift idea to remind them of the happy memories of the early days.
2. Gold-plated double hearted tabletop ornament
The heart shape anniversary gift idea symbolizes companionship and a beautiful reminder with a stable base and a room décor.
3. Jum way coffee mugs
The best wedding anniversary gift idea is the pair of mugs with Mr. and Mrs. engraved in gold.
4. Excite non-stick thermo-spot
The married couple's life typically moves around cooking. For a foodie couple, this cookware might be the perfect anniversary gift idea for her after spending many good years of life together.
5. Collage picture frame
If a picture frame comes with a story of true love never ends, it helps revive some old memories.
6. Love art kit
If your wife loves art, it will be a suitable anniversary gift idea for her. This is a very romantic anniversary gift for wife.
Unique anniversary gifts for wife
Here are a few unique anniversary gift ideas for your wife.
7. Picnic table carrier
It is nice to have a romantic picnic with your spouse in a field, cherry wood, or backyard. It's a good anniversary gift for her.
8. Sharper image wooden smartphone dock
Listening to music in an old-fashioned manner becomes a cute conversation piece and best to entertain you.
9. An indoor garden
You can set up an indoor garden and surprise your wife. Plants can make one feel lively and happy and add a great touch to your home.
10. Cashmere wrap
If you live in a cold place, a cashmere wrap may be the perfect anniversary gift for your wife.
11. Sound wave wall art
You can turn your voice or a favorite song into a sound wave wall art to gift your wife on your anniversary.
12. Birth flower necklace
You can gift your wife a necklace with her birth flower engraved on the pendant.
Related Reading: 

Wedding Anniversary Gift Ideas for Wife
Intimate anniversary gift ideas
Here are some intimate gifts for wife.
13. Silk pajamas
Pajamas are the ultimate comfort outfit, and silk pajamas just make them more luxurious and fun.
14. A custom song
You can ask a professional to write your love story into a song and gift it to your wife.
15. Personalized chopping board,
A chopping board with a recipe engraved on it is the perfect, most thoughtful gift.
16. Cozy blanket
Help your wife stay warm and miss you every time she wraps herself in a cozy blanket gifted by you.
17. Sunset lamp
Sunset lamps can make any room look and feel romantic.
18. A bracelet
A bracelet with charms, or something your wife holds close to her heart, can make your wife happy on your anniversary.
Related Reading: 

7 Best Sex-Positive Gifts for the Holiday Season
Thoughtful gift ideas
Here are some thoughtful anniversary gift ideas for your wife.
19. Bouquet subscription
Instead of just a regular bouquet, get your wife a bouquet subscription where flowers get delivered to her on a monthly basis.
20. A travel makeup bag
Does your wife love makeup and travel? Mix the two and gift her something with a lot of utility.
21. Watch accessories
If your wife wears a smartwatch, you can gift her watch accessories such as charms, straps, etc.
22. Diffuser
A diffuser will set your wife in a happy mood and keep the room smelling and feeling nice.
23. A robe
A nice lounge or bathrobe that she can chill in sounds like a great anniversary gift for your wife.
24. A handheld massager
A massager that she can use on her own, or sometimes, you can give her a massage with sounds like an ideal gift.
Related Reading: 

20 Thoughtful First Anniversary Gift Ideas for Couples
Trendy wedding anniversary gifts for wife
Here are some trendy gifts for your wife.
25. Rose ring
A ring with a rose engraved on it sounds like a very trendy and special gift for your wife.
26. Pasta dinner subscription
A pasta dinner subscription sounds like an ideal and trendy gift idea for your wife.
27. Phone sanitizer
Given today's times, a phone sanitizer sounds like a perfect trendy gift for your wife.
28. A plant subscription
A plant subscription sounds like a perfect and trendy gift idea for your wife.
29. A push-pin map
A map where you can push pins and mark places you have been is quite a trendy gift idea for your wife.
30. A love letter necklace
A necklace with a letter-engraved pendant is trending quite a lot on social media these days.
Conclusion
With passing, every year is a milestone, and these passing years tell you the secret of a peaceful life, and no one can understand the implication of a gift except your partner.
It doesn't matter what anniversary gift idea you choose for your beloved spouse when it is given with love and sincerity; then, it almost touches her heart and becomes precious.
Share this article on
Want to have a happier, healthier marriage?
If you feel disconnected or frustrated about the state of your marriage but want to avoid separation and/or divorce, the marriage.com course meant for married couples is an excellent resource to help you overcome the most challenging aspects of being married.
More On This Topic
You May Also Like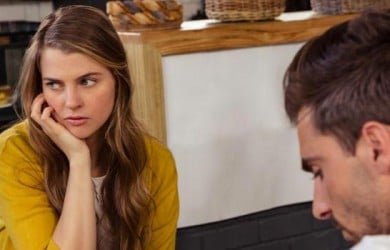 Popular Topics On Married Life