Myth vs. Fact: Debunking 12 Beliefs About Modern Marriages
Marriage is a social institution as well as a cultural practice that has evolved throughout history in many nations and cultures. Its origins are unknown. However it is thought to have existed in various forms for thousands of years.
Marriage was frequently considered in ancient civilizations as a means of establishing political connections, securing property rights, and providing legitimacy to offspring. The notion of romantic love as a foundation for marriage arose in the Middle Ages and progressively extended throughout Western civilizations.
Changes in legislation and cultural views in the nineteenth and twentieth centuries resulted in more equality & independence for women in marriage, including the freedom to own property, vote, and use birth control.
Marriage is now interpreted and conducted in various ways, reflecting various cultural, religious, & legal conventions. Same-sex marriage has been legal in several locations, indicating shifting attitudes toward LGBTQ+ rights.
When we talk about myths and facts about marriages, there is a lot to debate and it can vary from couple to couple.
Myth vs. Fact: Debunking 12 beliefs about modern marriages
Let's deep dive into some of the common beliefs about modern marriages. We will segregate myths and facts about marriages and understand what they could mean for a couple and how much reality they hold.
It's possible that you might be holding on to a myth considering it to be a reality without a trace of doubt.
1. It's simple to maintain a healthy relationship
Too frequently, partners sometimes make the mistake of assuming that if they're destined to live together, the relationship would emerge spontaneously. But the fact is that every healthy and long-lasting relationship needs a lot of effort.
Myths about marriage and family almost always include the notion of everything being 'easy' within a household.
If you wish to develop your relationship to thrive and break the cycle of myths and facts about marriages, then the couple must be willing to take an active part in its maintenance and care for the rest of their lives.
Related Reading: 

21 Ways to Keep Your Relationship Strong, Healthy, and Happy
2. For partners in love, romance never dies
People frequently believe that sentiments of passion, romance, and sexual yearning never leave partners who are truly in love. But the fact is that as partners get more acquainted with one other, the depth of their relationships gradually decreases.
Do not confuse comfort with a lack of chemistry when talking about myths and facts about marriages. A little exploration & playfulness may reignite desire in a stale relationship.
Related Reading: 

30 Ways on How to Be Romantic in Marriage
3. Soulmates should always understand each other's thoughts
We do not get mind-reading talents by being in love. Whenever you expect your spouse to foresee your feelings, interests, and desires, you are looking for a mind reading and setting yourself up for dissatisfaction and anger.
As grownups, you both are accountable for verbally articulating your emotions and thoughts. We are both accountable as a pair for responding to those ideas and emotions.
4. Healthy couples do not argue
Arguments are a major part of the 'myths and facts about marriages' debate. Many couples mistake disagreement for a bad indication, claiming that a joyful, healthy partnership would never quarrel.
A complete lack of disagreement in your professional and personal relationships you are not addressing significant concerns. Knowing how to dispute in a positive way is an important component of developing a long-lasting and jovial relationship.
Related Reading: 

Healthy Arguments Are Necessary to Make a Marriage Work
5. Having a baby brings you more closely together
Having a kid is a massive effort that brings with it a slew of latest changes, problems, and issues – as well as a lot fewer sleep! Although you won't cease loving one another as young parents, one can't expect a baby to cure your relationship troubles.
6. Separate lives brought you together
To keep a marriage new and fascinating, both you & your spouse must have your own interests, hobbies, and contacts. If you maintain completely different lives and do not allow your spouse into yours, you might find yourself slipping away gradually.
Myths and facts about marriages can be really confusing. That is why it is necessary to attempt new things and pursue new interests both together and alone.
7. Constructive criticism always benefits relationships
One of the constructive and interesting facts about marriages is that criticism can be productive for both partners at times but not all the time. It is important to be honest and open with your spouse without provoking sentiments of inadequacy & defensiveness.
Even if you possess noble motives, giving your spouse "substantial" criticisms on a regular basis might generate a lot of space between you.
8. A passionate relationship requires jealousy
Partners sometimes misread jealousy as proof that their spouse genuinely loves them. Jealousy is a sign of insecurity & a lack of trust as an individual and as a partnership.
You didn't alter your partner's personality, but you can help them work over their insecurity issues and get out of the 'myths and facts about marriages' debate.
9. If your spouse changed a certain way, your marriage would improve
During difficult times in our relationships, it's simple to start pointing fingers and blame our spouses for their difficulties.
It takes seconds to make a marriage work, and both parties must choose what they can do to create improvements and changes.
10. Happy couples are always happy
Marriage myths include considering a couple to be always happy and madly in love. It is ridiculous to expect to be pleased in a marriage no matter how healthy, joyful, or deepening your connection is really with your spouse.
Although being in a committed relationship can surely help your joy, your mental well-being is dependent on a variety of factors outside of your partnership.
11. When you meet your soulmate, things get simpler
"Soulmates" are co-created via mutual effort rather than discovered or found.
Conscious couples recognize that conflict is a normal part of life and a chance for healing and progress rather than a negative idea or an indication of a failing relationship. Nobody can simply get married. Rather, knowledge, talents, and effort are required for 2 people to marry.
12. Marriage counseling should only be used as a last resort
After a lengthy period of hardship or strife, many couples sought marriage therapy out of despair. However, even the nicest and happiest couples may benefit immensely from therapy since it strengthens their interpersonal ties and helps them foresee potential issues.
Relationship counseling should be considered a prophylactic approach rather than a treatment.
Regardless of how strong your existing relationship is, you & your partner might both profit from a marriage checkup. If you're thinking about trying out marriage counseling, then you must go for it. You can discover significant outcomes for your relationships or marriage via some exercises, & group activities available on the internet.
Marriage is what you experience, not what you believe
Now that we have seen the concept of modern marriages is often clouded with myths and misconceptions, it might get a bit easier to base your beliefs on experience and not what is popular.
While it is true that the dynamics of marriages have changed over time, it is important to separate fact from fiction. This way, you will be in a better place to determine what works for your marriage and what doesn't.
About the Author Monika Tak, a mental health advocate and blogger at Calmsage. With a background in psychology and personal experience with mental illness, Her passion is to destigmatize mental health and provide resources for self-improvement.
On her blog, she shares her own struggles and triumphs, as well as expert advice and practical tips for managing mental health. Through her writing, she hopes to empower others to prioritize their mental well-being and seek help when needed.
Share this article on
Want to have a happier, healthier marriage?
If you feel disconnected or frustrated about the state of your marriage but want to avoid separation and/or divorce, the marriage.com course meant for married couples is an excellent resource to help you overcome the most challenging aspects of being married.
More On This Topic
You May Also Like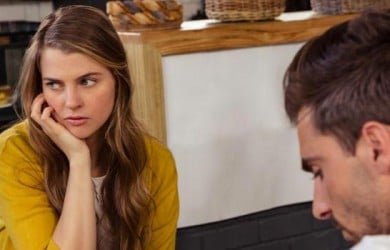 Popular Topics On Married Life