Things to Know About Domestic Violence and Divorce
Nobody knows what goes on in a marriage behind closed doors. From the outside, what may seem like a happy, loving couple may actually be harboring a deadly secret – violence and abuse.
Domestic violence and divorce are commonly linked. Statistics show that 10 million women and men (majority female) are physically abused by an intimate partner each year in the United States alone.
Abuse in marriages should not be tolerated. Many seek a divorce to end the abuse they are suffering, but leaving a violent spouse is not always as easy as signing a court document.
What are domestic violence and divorce rights? How do you go about divorcing an abusive husband?
What is a smart divorce strategy? How can you file for a divorce protective order?
Your lawyer will be able to help you with many of these answers, but it is smart to get informed before hiring an attorney.
Types of domestic violence
Domestic violence and divorce are extremely emotional and sensitive topics, especially if children are involved in domestic abuse.
However, it is important to define domestic violence in marriage if you wish to use this as the basis for your divorce.
There are several different kinds of domestic violence.
Deciding where a partner goes and who they speak to. This is how an intimate partner expressed dominance over their victim.
Sexual abuse is any unwanted or unconsented sexual act against a partner. This includes exploitation of a victim who is sleeping, impaired by drugs or alcohol, or who has been guilted into a sexual act.
It includes hitting, biting, slapping, and other forms of physical restraint, as well as blocking exits or trapping a victim.
It includes threats, name-calling, manipulation, blame.
Isolation involves keeping a partner from loved ones who might otherwise rescue them from their ordeal.
Economic abuse entails using finances, food, or shelter to control a partner.
Exploiting a partner's vulnerability or using intimidation to get one's way is categorized as emotional abuse.
Spousal harassment includes stalking, online spying, harassing friends, family, or co-workers.
Any form of abuse in marriages is emotionally damaging and can affect your mental health. Research shows that victimization leads to higher rates of suicidal behavior and depression.
Violence and abuse within a marriage can also be deadly. Research reveals that 72% of murder-suicides involve an intimate partner. Of the victims, 94% are female.
With such serious statistics, it is no wonder that domestic violence and divorce go hand in hand.
Related Reading: 

How To Stop Domestic Violence
Is domestic violence a ground for divorce?
Depending on where you live, a divorce may be filed as either "Fault" or "No-fault."
What is a Fault Divorce?
Fault means that one party is claiming the other as responsible for the breakdown of the marriage.
If filing for a "Fault Divorce," the following instances would qualify as legal grounds for divorce:
Adultery

Being legally separated/Living separately for a minimum of one year

Mental or physical cruelty / Domestic violence / Divorce abuse in marriages
What is a No-Fault Divorce?
A no-fault divorce means that the dissolution of the marriage does not require either party to admit to wrongdoing.
In this instance, whether domestic violence was present in your marriage may not matter when it comes to the court granting a divorce.
What should you do?
Laws regarding domestic violence and divorce differ from state to state.
Check with your lawyer or local laws to see whether domestic violence is grounds for divorce where you live. Knowing the answer will be important when planning your divorce strategy.
Related Reading: 

Types of Divorce
How does domestic violence affect divorce?
Domestic violence will make a big difference during divorce proceedings when it comes to deciding on financial and child custody issues.
If you are citing domestic violence as your grounds for divorce, you must be able to prove that your spouse's poor conduct resulted in the breakdown of your marriage.
For this reason, it is important to keep good records of abuse in the months leading up to leaving your spouse/asking for a divorce.
Confide in trusted loved ones about domestic violence and divorce so they may speak as your witness. It is also important to document any physical abuse with photos, police reports, and hospital visits. Recordings of abusive arguments may also be helpful.
Statistics show that 1 in 15 children are exposed to intimate domestic violence and divorce abuse. A staggering 90% of these children personally witness a violent act.
If this has happened in your family, a court will want to know about it. This will help them decide who the child or children will be safest with.
In the case of domestic violence and divorce involving children, it should be noted that it may not always sway a judge's ruling when it comes to child support or custody issues.
Related Reading: 

Causes of Domestic Violence in Relationship
How to stay safe while divorcing an abusive spouse?
Whether you are only thinking about domestic violence and divorce or are already preparing for divorce, you must take care of yourself and your family.
This is where a divorce strategy comes into play.
The most dangerous moment for a victim in an abusive relationship is the day they leave their spouse. Therefore, you must plan this step carefully.
There are many domestic violence and divorce rights you can consider when staying safe. If your spouse is violent, take action. Call the police and file a report against your partner.
There are many different reports you can choose from:
Rape and sexual offense

Domestic trespassing

Stalking or harassing phone calls

Assault and battery

Verbal threats
Having a record of past attacks will help you in your legal battle. The threat of the police may also dissuade your partner from taking further physical action against you.
If you are in fear of your or your children's safety, leave the house with them.
Make preparations to leave. The day you decide to leave your spouse, have someone else present with you. This could be a police officer or trusted family and friends. Having witnesses around will hopefully prevent your partner from taking violent action against you.
Have a safe place to go. There are many women and family shelters, but it would be wiser to stay with friends or family members.
Only when you are in a safe space should you begin focusing on legal matters.
It should be noted that if you choose to leave the house, this may affect that court's decision on whether or not to grant you alimony or the house – however, material possessions should never outweigh the safety of you and your children.
Related Reading: 

How to Win a Divorce
Divorce abuse in marriages and the Domestic Violence Act
Domestic violence and divorce rights are important, and you should be aware of the details if you or your loved one is facing any abuse.
The Domestic Violence Act is designed to protect men, women, and children from abuse. It was meant to provide a quick means of separation for victims of abuse. This act is defined as threatening another person or attempting to cause or commit bodily harm to another person.
There are different avenues of the Domestic Violence Act that we will not look into.
1. Victims Assistance Orders
Whether divorcing an abusive wife/husband, this act is there to help victims of abuse in moving on with their lives—for example, monetary compensation.
Partner violence can interfere with your ability to perform at work, especially if you are being hit in visible places. Statistics show that victims of intimate partner violence in the USA lose 8.0 collective days of paid yearly. Between 21-60% of these will lose their jobs because of partner abuse.
Under the Victims Assistance Order, victims would receive monetary compensation from their abuser for moving, medical, dental, and other expenses.
When there is domestic violence in marriage, a Victims Assistance Order can also allow the victim legal access to take possession of their personal property without interference from their abuser.
This will allow them to return to the home and grab identification, their vehicle, clothes, and other such personal items.
More importantly, this order will also prohibit the abuser from attending a residence, business, or school where the victim or victim's family go. It also restricts the abuser from contacting the victim, their family, employer, employees, or co-workers.
2. Emergency Intervention Orders
This order is available at all times from a judge or Justice of the Peace. Such an order can prevent an abuser from communicating with their victim or their victim's family.
Direct a law officer or court official to remove the abuser from home or accompany the victim to the home for supervised removal of personal identification or other belongings.
3. Warrants of Entry
This act is unique in that it can be enacted by someone who is not a partner within the marriage. This could be a friend, family member, or even co-worker.
This is enacted when there is cause for concern regarding a victim who may not be able to speak for themselves. This includes people who are:
Disabled

Elderly

Beaten/physically unable to move

Being isolated from others
This warrant allows police officials to enter the marital home to do a welfare check to check for divorce abuse. If necessary, the officer will remove the victim from the home to provide them with help or medical attention.
To be granted any of the orders listed in the Victims of Domestic Violence Act, the victim (or family/friend/associate acting on behalf of the victim) must apply for the order.
A judge will then send the application to the police or crisis worker. The order must then be granted before police, or other officials get involved with assisting the victim.
When experiencing abuse and divorce, you can apply for a Victims Assistance Order through your lawyer or by going directly to your local courthouse.
What happens if the abuser does not abide by the orders received by the Victims of Domestic Violence Act?
If the abuser refuses to comply with the court orders, police will be authorized to arrest the abuser without a warrant.
Related Reading: 

What Does A Domestic Violence Lawyer Do?
Filing for protective orders during a divorce
There are legal safety measures you can take when experiencing divorce abuse in marriages.
Outside of the Domestic Violence Act for Victims, you may also wish to file a protective order during your divorce.
A protective, or restraining order, is a court order instructing the abuser to desist from harassing the victim. This usually involves being legally removed from the marital home and avoiding all contact with each other outside of the courtroom. It also includes children being removed from the abuser's custody.
When there is domestic violence and divorce, a protective order can be highly beneficial for victims who fear retaliation from their abuser.
When enduring domestic violence and divorce, you can file a protective order through your lawyer, who will ask the judge in your case to grant the order. In some places, you can even file the order over the phone.
To qualify for a restraining order, you must:
Be married or have lived with your abuser for any period

Be in fear of your partner/former partner hurting, stalking, or abusing you

Be in fear of your partner/former partner hurting or abusing your children
Again, you cannot apply for a restraining order if you have never lived with your partner.
Restraining orders help keep your abuser out of your life during your difficult divorce. However, they do not guarantee that your abuser will not break the law.
It is recommended that you create a safety plan for you and your family, even when a protective order is in place.
Domestic violence and the division of assets and custody
Even when dealing with divorce due to abuse, violence within a marriage does not always guarantee that marital assets are fairly distributed.
When divorcing an abusive husband/wife, the separating of marital assets will depend on where you live, as some places carry the law that marital assets should be divided equally, no matter the circumstances.
Domestic violence and divorce rights stipulate that if there has been economic abuse or financial manipulation, this may work in favor of the victim – such as if the abuser has prevented the victim from working or earning an education.
In such cases, a victim may be awarded a greater amount of support from their abuser to get back on their feet.
Domestic violence in a marriage does not necessarily guarantee the victim full custody of their children. However, it will be difficult for a violent abuser to prove that they can provide a safe environment for their children.
In extreme cases, an abuser may be granted to see their children only when there is court-ordered supervision from a social worker. In other cases, an abuser's parental rights may be terminated altogether. Keep these in mind when planning your divorce strategy.
Related Reading: 

Solutions To Domestic Violence
Conclusion
Divorce after domestic violence can happen to anyone.
Both men and women are victims of intimate partner violence and divorce due to abuse. 1 in 7 women and 1 in 18 men have been stalked or abused by an intimate partner to the point of fearing death.
Types of domestic violence include control, sexual, emotional, economic, or verbal abuse, as well as physical violence.

When divorcing an abusive spouse, Fault or No-Fault divorces will determine whether or not domestic violence is grounds for divorce. Check your local laws to see what to file for in your area.

Keep records, photos, and recordings of divorce abuse in your divorce strategy. This will be invaluable evidence when filing for divorce or protection order.

Stay safe when experiencing divorce abuse in marriages. Use police intervention when necessary, plan an escape, inform loved ones of your intentions to leave your spouse, and have a safe place to live after separating.

The Domestic Violence Act/divorce protection order is intended to help victims leave their abusive spouses. Look into what orders are available in your areas to help keep you safe.

You can apply for a protective order when divorcing an abusive husband by contacting your judge, lawyer, or in some cases, calling your order over the telephone. To gain this order, you must have lived with your partner.

Accusing your spouse of domestic violence does not always guarantee a fair division of assets or child custody.
You deserve more than abuse. If you are leaving an abusive spouse, be safe, and have a plan in order.
Also Watch:

Share this article on
Want to have a happier, healthier marriage?
If you feel disconnected or frustrated about the state of your marriage but want to avoid separation and/or divorce, the marriage.com course meant for married couples is an excellent resource to help you overcome the most challenging aspects of being married.
More On This Topic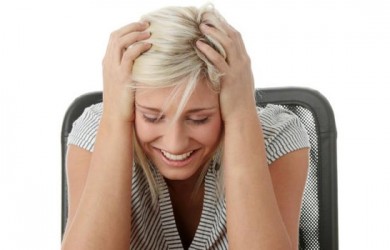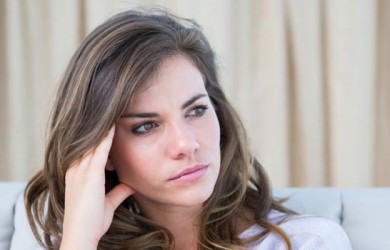 Recent Articles
You May Also Like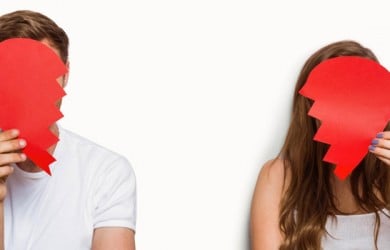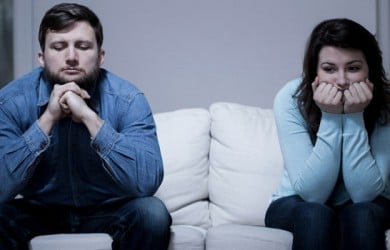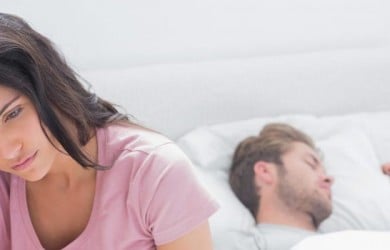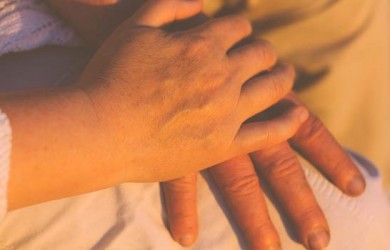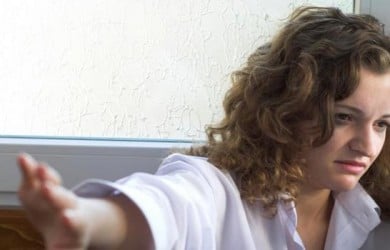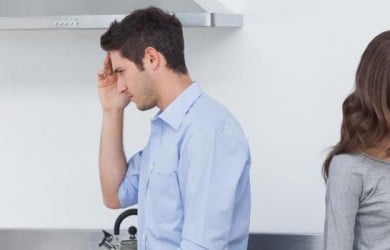 Popular Topics On Marriage Help