What Makes a Man Attractive? 15 Scientific Ways
When someone looks attractive to you, there is a chance that you will develop feelings for them faster than a regular person. Sometimes, some partners get tired of each other because either of them never had the attractiveness or charm in the first place.
In this post, you will learn what makes a man attractive and how to apply it. Knowing these tips will increase your value as a partner or a potential one.
What are the traits that make men most attractive?
What are the most attractive traits in a man?
When it comes to what makes a man attractive mentally and physically, it depends on what women prefer. For instance, some women prefer men with beards, while others don't appreciate facial hair. Also, some women prefer muscular guys, while others just want little muscles in addition to being shredded.
Although there are some general features like wearing a nice cologne, having a good sense of humor, using great pickup lines, etc.
So, what makes a guy attractive to women or men?
When it comes to the most attractive qualities in a man, one of the things to always check is your gait. You need to make sure that you have a well-postured and confident gait. Potential partners are often quick to judge your worth as a man from your gait.
Another trait that makes a man attractive is his humor game. If you know how to make someone laugh, you become more attractive than those who lack humor. This trait makes a man attractive because it shows that you can cheer people up during their bad days.
To learn more tips on how to be attractive as a man, read Adam Kisiel's book titled: How to be an attractive man. This book contains timely tips that help you step up your attractiveness.
Do you want to be friends with a guy you find attractive? To learn how to be friends with a man, watch this video:
What makes a man attractive? 15 scientific ways
Generally, an attractive man would become more pleasing to potential partners. Even though different things make men attractive to people, there are some conventional scientific-backed ways.
Here are some scientific ways on what makes a man attractive
1. Have a sense of humor
According to a published 2006 study in Evolution and Human Behavior, the participants were asked how much they treasure their spouse's sense of humor. This study showed that partners are generally happy when their second half makes them laugh.
Therefore, if you are great at making people laugh, you will be more attractive to them. This trait increases your chances of getting a partner because most people want to have spouses that will make them laugh naturally.
Related Reading: 

10 Benefits of Couples Laughing Together in Relationships
2. Wear a nice cologne
If you are wondering about one of the most important attractive traits in a man, do not leave out the place of cologne. To become attractive to everyone as a man, you need to wear a great cologne.
Regarding a study in the International Journal of Cosmetic Science, the participants who wore a cologne had a confidence boost. Additionally, they were more attractive.
When you wear a nice cologne and walk into a place, you will feel heads turn. This is when you know that you have made a mark because you will feel more confident and attractive.
3. Move in groups
It has been scientifically proven that you are deemed more attractive when you travel or move with an entourage than your counterparts. From a published study in the University of California, San Diego, people were said to look better when they moved in groups than walking individually.
The researchers of this study called this observation the cheerleader effect. This means that individuals look more attractive when they are in groups. So, even if one person is not attractive, the group's comeliness will make up for it.
When you are an attractive man, you are likely to attract anyone you want. In Niel Schreiber's book titled: How to be an Attractive Man, you will learn the guide that helps you become attractive and confident.
Related Reading: 

10 Characteristics of a Good Partner
4. Play with babies
Another habit that constitutes sexually attractive men is their preference for babies. Generally, many men do not carry babies frequently as women do. The primary reason is that women are more involved in the childbearing process than men. This makes many men spend less time with babies because they have little or nothing to offer at that stage.
When prospective partners like women notice that a man loves carrying babies, he becomes more attractive to them.
The reason is that when they see a man bonding with a baby, it gives them the impression that he would be a great father and a husband. Therefore, it is one of the things on what makes a man attractive.
5. Walk confidently
When you see a guy who walks confidently, it is one of the most attractive personality traits in a man. Someone who walks hurriedly would not look confident to a prospective partner because they give off the impression that they are scared.
A man who walks confidently shows his prospects that he has a purpose and is bold about it. Therefore, he would be viewed as someone who knows what he is doing and not some confused man. This would make him more attractive to people searching for a relationship partner.
Related Reading: 

How to Be More Attractive to Your Partner: 20 Effective Ways
6. Be a nice guy
The impression many people have about nice guys is that they receive the shorter end of the stick. Most people think that being a nice guy doesn't equate to an attractive guy because they end up losing.
However, studies have shown that nice guys win eventually. Nice guys engage in many selfless acts that win the heart of prospective partners. Therefore, they are more likely to attract people who would find them attractive.
This study was carried out at the University of Guelph and Nipissing University, where the participants engaged in some selfless acts. The men who did the selfless acts out of the goodness of their hearts had more bed partners.
Beyond this, prospective partners find it as what makes a man attractive when a guy has a selfless and pure heart.
7. Reduce your selfies
According to a survey on Zoosk.com, guys who had selfies as their display pictures on dating profiles got fewer messages than their counterparts. From the interpretation of the survey, women and prospective partners see shirtless selfies as being more attractive.
Additionally, people look forward to seeing what your entire body looks like instead of seeing your head or face. Hence, someone who likes a handsome and tall guy would not be moved by a selfie until they confirm the guy's height.
Therefore, to apply what makes a man attractive, ensure you take full pictures. This would make prospective partners know you for who you are.
Related Reading:

 10 Ways to Find a Good Man
8. Build moderate muscles
If you hit the gym regularly, you are more likely to be attractive than those who don't visit the gym. According to a 2007 study published by the University of California, Los Angeles, more women preferred to have relationships with muscular guys than the non-muscular ones.
However, the study did not stop there. It also mentioned that less-muscular men were more likely to be the best catch for a long-term relationship. This was because most prospective partners did not prefer guys who go overboard to build muscles.
Therefore, on what makes a man attractive to a woman, it would be best to build muscles at a moderate level.
9. Grow a beard
When it comes to having beards, many people have diverse views about it. Some prospective partners think that beards are one of the most attractive features of a man because it makes him look more masculine.
On the other hand, some people do not like beards for reasons best known to them. Therefore, it is best to strike a balance by growing a light beard so that you can appeal to a broad category of people.
Since many people like guys who look older, having a light beard would give you an advantage. Also, a light beard portrays you as someone independent, confident, and responsible.
Related Reading: 

How to Attract Women and Be Irresistible
10. Stay around music or participate in music
It is interesting to note that many people like men who play musical instruments or are seen with one. They are equally attracted when they notice that you compose songs or you sing.
Hence, one of the tips on what makes a man attractive to a woman is to integrate music into your life.
You don't have to be an active contributor in this aspect. All you need to do is ensure that prospective partners see you around music.
According to a study in 2014, the end result of the research showed that most women found a music composer attractive. Therefore, you are likely to score a point when you involve music in your life.
11. Engage in volunteering activities
As regards how to look attractive as a guy, one of the measures to implement is doing volunteer work. According to a study in 2013, women preferred to have men who showed altruistic behavior as more appealing than those who didn't.
In this study, the women were presented with profiles of men, showing their hobbies. Eventually, those who had activities that showed their altruistic side were preferred for a long-term relationship. Hence, if you are looking to get the partner of your dreams by being attractive, you can begin by volunteering.
12. Show your battle scars
In most battle-themed movies, men who had battle scars were given a special reverence compared to their counterparts who had nothing to show for their involvement. When a prospective partner sees your battle scars, it portrays you as someone who will be ready to fight for the right thing.
Additionally, it highlights your masculinity more than before. If you want to look more attractive as a man, ensure you don't hide your scars. Instead, be proud to flaunt them, and you will attract more prospective partners.
13. Don't use regular pickup lines
If you know how to sweep someone off their feet, you are scoring a huge point because you could be seen as being attractive. When it comes to what makes a man sexually attractive, they can use sweet and flirty pickup lines instead of using the regular ones.
Some men go to browsing corny or cheeky lines on the internet to impress a prospective partner. Guys who use predictable lines are less confident and intelligent because they didn't put much effort into wooing the prospective partner.
In addition, they are seen as less trustworthy because those lines do not reflect their true intentions.
Related Reading: 

How to Flirt with Class and Look Good Doing It
14. Don't smile too much
It is great to smile because it shows a pleasant and positive disposition. However, studies have shown that you are less likely to look attractive if you smile too much.
According to a study at the University of British Columbia, Canada, guys who smiled a lot were ranked behind men who kept a straight face and a proud disposition.
Hence, if you want to look attractive to a prospective partner, it is important to begin to practice your straight face.
15. Own a dog
Another factor on what makes a man attractive physically is when you own a dog. Being the owner of a dog suggests that you can sustain commitments in the long run.
It portrays you as a responsible man who can take care of his partner when he has one. Also, having a dog makes you more approachable and increases your confidence level.
To understand more about male attractiveness, check out this research study by Gregory A Shuler and David M. McCord titled Determinants of Male Attractiveness. This helps you understand the various indicators that are used to determine attractive men.
The bottom line
Now that you know what makes a man attractive, you need to step up your game by implementing some of these steps.
It is important to learn that being attractive as a man increases your chances of getting a good prospective partner. This is because you will look satisfying to them in all ramifications.
If you need more tips on how to increase your attractiveness, consider seeing a therapist or going for a grooming course.
Share this article on
Want to have a happier, healthier marriage?
If you feel disconnected or frustrated about the state of your marriage but want to avoid separation and/or divorce, the marriage.com course meant for married couples is an excellent resource to help you overcome the most challenging aspects of being married.
You May Also Like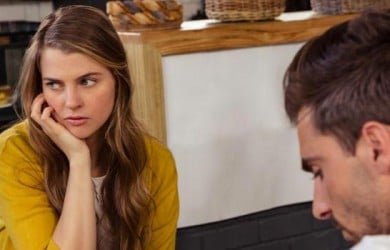 Popular Topics On Married Life